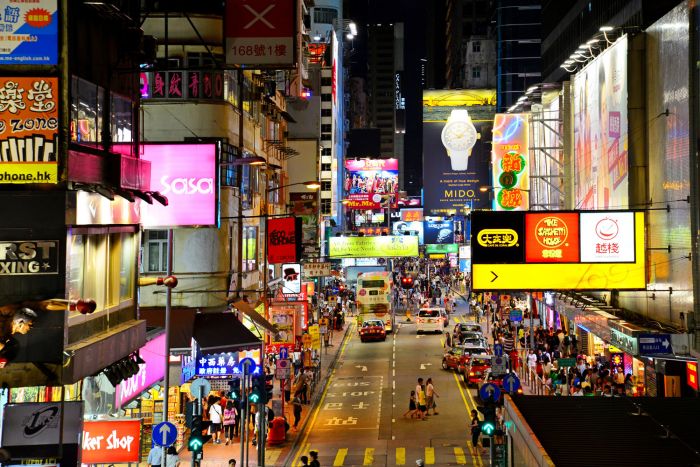 Photo Credit: Littlewormy/Shutterstock.com
So you're heading to Art Basel in Hong Kong this weekend. Your wardrobe is picked out, you've mapped out your must-see galleries and chosen which parties to attend over the three days—but have you considered what to do during down times? With a city as big and exciting as Hong Kong, it's easy to feel overwhelmed when trying to navigate your way through it. Instead of relying on typical guidebooks, we put together a list of seven off-the-tourist-path attractions, restaurants and activities to experience while in the Pearl of the Orient.
Photo Credit: Chingleung/WikiMedia Commons
Hiking — Tai Long Wan Beach and Waterfalls
Tai Long Wan Beach is one of Hong Kong's best kept secrets and can only be reached by foot. It is located in what is known as the New Territories and is a beautiful break from the city's concrete jungle. To get there, take a taxi from Sai Kung to the Sai Wan pavilion (about 30 minutes), and from there, it's about a strenuous one-hour hike to the beach. If hiking isn't your cup of tea, the area can also be reached during weekends and some weekdays by speedboat from Sai Kung Pier for around USD $200. There are four beach towns within the area, the southernmost is called Sai Wan and from there you can reach a picturesque waterfall and rock pool. Travelers Digest has great turn-by-turn directions. Once there, enjoy the fruits of your labor and swim in the fresh water pools or go cliff diving. Otherwise, head to Ham Tin which has two restaurants and surfboards for rent. Either way, you won't be disappointed.
Photo Credit: Hong Kong Philharmonic Orchestra
Music — Hong Kong Philharmonic Orchestra
Many visitors to Hong Kong will make time to check out the Cantonese opera. The traditional and much-loved art form is definitely one to include in your travels, however, for something new, check out the Hong Kong Philharmonic. The group puts on more than 150 performances a year and over the weekend will be offering Pictures at an Exhibition during the Swire Maestro Series. Russian composer Modest Mussorgsky's much-loved piano piece arranged by French composer Ravel, depicts Russian fairy tales in 10 movements. Conducted by Hans Graf, Russian star violinist Dmitri Makhtin will join the league of exceptional performers to bring to life this orchestral work of art.
Photo Credit: Kowloon Tang
Dining — Peking Duck at Kowloon Tang
Enjoying Peking duck is pretty much a given. Although there are plenty of restaurants offering the infamous Beijing dish, Kowloon Tang is one of the city's best and a local hotspot. Although it is inside a shopping mall, don't be fooled by its location. Kowloon Tang is the only Michelin-starred eatery offering Chinese haute cuisine and Cantonese dishes. The restaurant brought in a Peking duck specialist from Beijing and 24-hour's notice is required should you want to dine on the Asian dish. Kowloon serves the duck three ways (USD $82): crispy skin served with a bowl of sugar, duck meat without skin alongside hoisin sauce and finally the traditional offering. The latter boasts a rich golden surface and a sweet, melt-in-your-mouth taste.
Photo Credit: Broadway Cinematheque
Film — Broadway Cinematheque
One of the quirkiest movie theaters in Hong Kong, Broadway Cinematheque is found inside a private housing estate in Yau Ma Tei. It is considered one of the best spots for avid cinephiles to fulfill their film cravings since it plays non-mainstream flicks. Along with its range of diverse range of films each week, the venue also hosts a number of festivals such as the Lesbian and Gay Film Festival, Asian Film Festival, and the Korean Film Festival. Because of this it has become a local cultural landmark. Over the years, the art house has also introduced movie goers to filmmakers such as Yamada Yoji, Krzysztof Kieślowski and François Truffaut through retrospective programming.
Photo Credit: Blanc de Chine
Shopping — Blanc de Chine
Tourists are quick to head to Shanghai Tang for their retail needs. But in-the-know fashionistas prefer to find their couture at the locally-renowned boutique Blanc de Chine. The flagship specializes in women's silk dresses and men's jackets, either off-the-rack or made-to-measure. The brand boasts a loyal international following which includes Michelle Yeoh, Eva Longoria, Chris Tucker and Juliette Binoche. Blanc's styles feature modern interpretations of the cheongsam and introduce the virtues of Zen Buddhism into its east-meets-west, minimalist designs. A sequined gown will take about four weeks to complete, including a fitting, and can be shipped once done. Prices range from $500 for accessories to $20,000 for embellished dresses.
Photo Credit: Olaungdtauck/WikiMedia Commons
Drinking — Circle Tower
One way to meet the locals is to share a conversation over drinks. Located within Causeway Bay (a shopping mecca), this vertical bar complex is a favorite among residents and provides a unique way to bar crawl. The structure features over 20 bars (one to each floor) within its walls, so patrons never even have to leave the building to check out the next watering hole. One of its best bars is the 15th-floor Chocolate Bar owned by Model-turned-entrepreneur Jimmy Wong. The venue boasts floor-to-ceiling views of Times Square, decadent chocolate cocktails and premium Scotches.
Photo Credit: Cheung Chau Windsurfing Center
Extreme Sports — Cheung Chau Windsurfing Center
On the weekends, you'll find locals heading to the island of Cheung Chau. Tung Wan Beach is a windsurfing mecca and is home to Cheung Chau Windsurfing Center run by Olympic gold medalist Lee Lai Shan's uncle. Shan-Shan, as she is affectionately known, brought home the city's first gold medal from the 1996 Atlanta Games. Visitors can find her regularly chatting up guests at the center's outdoor café or hanging out at her uncle's shop. The center rents out surfing, windsurfing, SUP, kayaking and canoeing equipment as well as offering beginner classes. Windsurfing begins at $90 per hour with a $500 cash deposit for all rentals.