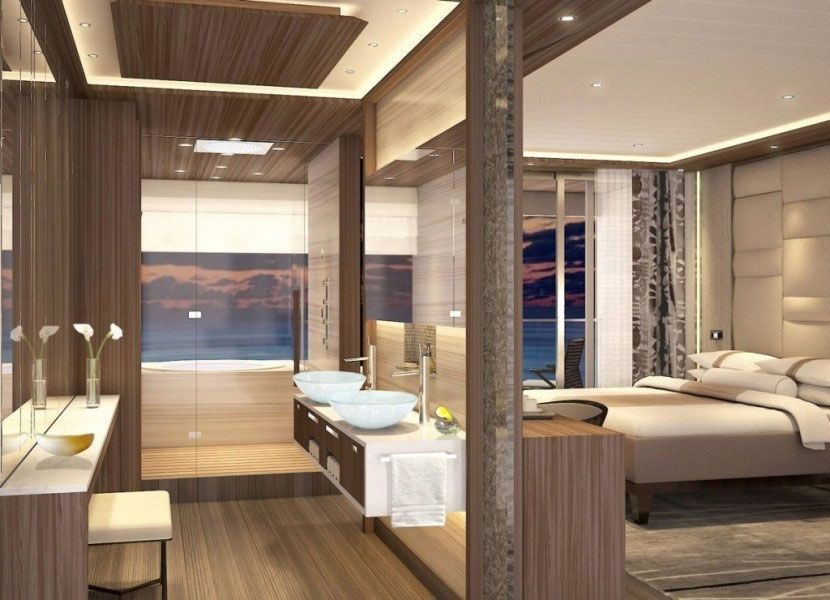 Photos Credit: Azamara Club Cruises
What's the best way to stay on the top of "Best of" lists? To keep topping yourself. Already one of the world's most luxurious ship lines, Azamara Club Cruises is making sure its petite fleet of top-rated sea vessels remains ship-shape with a just-completed bow-to-stern refurbishment across nearly every department both on-board and off. "We're taking what was already an incredibly good product and are devoted to making it absolutely exceptional," says Azamara's President Larry Pimentel who calls Azamara his "baby boutique brand."
Also proud of the brand's ships is British captain Magnus Davidson who has steered both the Journey and Quest, two identical R-class vessels built in the shipyards of St. Nazaire, France. We recently tagged along with the captain for an insider tour of the refreshed 690-passenger Azamara Journey while final decorative and technological upgrades were being completed on its twin sister Azamara Quest. "We looked good before, but now I'm even more impressed," Davidson said as we strolled through scenic deck 10 with its elegant Drawing Room and new Living Room lounge featuring evening wine and tapas bars. "Everywhere there's a lighter, more contemporary feel, and the details are second to none," remarked Davidson.
In synch with the common areas, all cabins have vanquished the old, dark décor in favor of refined grays, beiges and taupes in most of the richly-textured furnishings, fabrics and flooring. Every stateroom has been upgraded, including the grand Club World Owners suites and impressive Club Ocean suites with marble master baths, whirlpool tubs, and dressing rooms. "They were designed after the Captain's quarters," Davidson winked.
Two extra-luxe Club Spa Suites have been added on each ship, right next door to the new Sanctum Spa and Terrace featuring a ship-front thalassotherapy whirlpool. The 357-square-foot suites each have a large bedroom with a gracious sitting area, a private veranda, a 55" TV, and a jaw-dropping bathroom suite featuring a double vanity, two sculptural glass sinks, a glass-enclosed soaking tub, and separate rain shower—all with expansive ocean views. With direct access to the ship's most secluded space, the Sanctum Terrace, these suites include a $200 credit at the spa and 24-hour room service. So there's no reason for guests to dress for dinner in anything but their Frette robes and slippers.
Next to the thalassotherapy whirlpool, a private butler was preparing drinks and a romantic supper for a couple who would have the whole terrace to themselves for the night to sleep under the stars. Champagne, canapes and candlelight set the scene, as well as a curtained cabana bed discretely tucked into a private corner. This intimate new "Nights in Private Places" add-on service is offered by reservation only for $395 per couple.
Along with its ships, what the brand is doing differently is making it possible for cruisers to engage deeper with each port destination. Instead of accepting the cruise ship habit of leaving ports before dinner each day, Azamara slows the pace to allow passengers to fully explore and enjoy local culture with longer destination stays, more in-port overnights and nighttime touring.
Several expanded in-port programs now include "Insider Access Excursions" which take small groups to private venues where they can mingle with locals at family farms, master chef kitchens, monasteries, and other historic venues such as a 17th century hunting retreat in Florence, Buddhist retreats in Myanmar, the Haifa University office of an esteemed professor in Israel, or a private lunch with a Venetian countess in her palazzo on the Grand Canal.
"Az-Amazing Evenings" stage on-shore entertainment with special traditional music and dance productions performed by regional masters. Guests can enjoy a flamenco show in Barcelona, village folk dancing in Vietnam, a concert by the Royal Gibraltar Regiment Band inside a limestone cave, an exclusive red-carpet ballet in St. Petersburg, reliving Beatle-mania at the Liverpool Cathedral, or an orchestra performance on the ancient stage of Ephesus, Turkey. For those who travel on their stomach, Azamara's new dining series, "Cruise Global, Eat Local," provides transportation or directions to each port's best locally-owned restaurants serving authentic cuisine.
After dark, "Nights and Cool Places" excursions offer after-hours access to significant museums and UNESCO sites including Venice's Doges Palace and Amalfi's Marine Museum, an evening that climaxes with a musical production. In Lisbon, it's a memorable visit to a pre-eminent Portuguese equestrian center for a private performance by high-stepping stallions. The icing on the cake is the just-announced "Overnight Adventures." Azamara is introducing immersive itineraries that let cruisers stay ashore up to three days for bucketlist-worthy, guided land excursions. The first on offer are expeditions to explore ancient temples in Myanmar; follow in the footsteps of Jesus in Nazareth, Galilee and Jerusalem; sleep in a Bedouin tent on the dunes of Oman; or embark on a grand Italian adventure in Florence and Venice.
"Because we are the largest ship allowed to dock at many of these smaller ports, it's always a privilege to bring guests to special places most cruise ships just can't go," said Captain Davidson, whose favorite off-the-beaten-path destinations include Patmos, Greece; Sardinia, Italy; and Osaka, Japan. "And because we rarely repeat the same voyage twice there's always the thrill of new adventure every time we drop anchor."