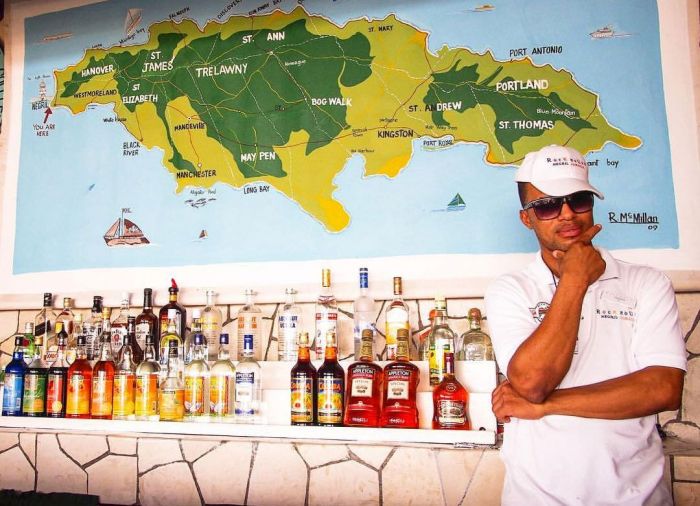 Photo Credit: Rockhouse Hotel
When Melbourne-born Paul Salmon first visited his girlfriend in Negril in 1991, the Jamaican holiday hotspot was merely a fishing village, known by few others than backpackers, hippies and lovers of the island. "I went to visit my Australian girlfriend there in 1991, right before I moved to New York to work on Wall Street," he remembered as we dined on fresh juices, patties, fried fish, spicy corn and jerk chicken sandwiches at Melvin's Juice Box in the West Village. "We stayed in a roots bamboo shack on the beach in Negril and traveled the island in a minivan. I fell in love with it."
That trip changed his life. Salmon eventually quit banking, and decided to open a boutique hotel in Negril. "There was a growing trend of people coming to Jamaica," he said, "and it was around the time when boutique hotels were launching—small, design-conscious, cool hotels on beaches were just starting to open around the world. We initially bought about two and a half acres, and created a small retreat, targeting younger, art-aware, fashion-aware, music-loving travelers."
Photo Credit: Rockhouse Hotel
Opening the eco-conscious, bohemian-chic Rockhouse boutique hotel in 1994, Salmon and his partners transformed Negril into a bustling destination for sunshine, culture and music lovers. Along with a group of hoteliers including Chris Blackwell of Golden Eye, Strawberry Hill and The Caves, and Jon Baker of Geejam, he helped shape a new brand of Jamaican cool, attracting celebrities, artists and tourists and inspiring them to experience the authentic culture of the island.
"It was an easy commute from the United States and many travelers were already aware of Jamaica," explained Salmon, "but we offered a new experience, one of sustainability and commitment to the community. For example, we helped build the kitchen at the Trenchtown Culture Yard in Kingston and sponsored a school in the area with our Rockhouse Foundation."
Photo Credit: Miss Lily's NYC
With Miss Lily's and Melvin's Juice Box in Soho and the Lower East Side, decorated by artistic director Serge Becker of La Esquina and Joe's Pub, the team later took the experience to a higher level, celebrating Jamaican food, music, and style in New York, the Island way of life.
"Becker and I had developed Joe's Pub together in the late '90s and became friends. He also loved Jamaica. We talked about opening a Jamaican restaurant in New York for a long time, to capture an experience that was more transportative, diverse and reflective of downtown New York," said Salmon. "Around five years ago we opened Miss Lily's and then expanded with the private dining room, juice bar and jerk shack. We saw that Jamaican culture was so powerful that there was an opportunity to create a space with incredible style, and to serve delicious food with rich spices and flavors."
Photo Credit: Miss Lily's NYC
Becker infused the spaces with a glamorous, colorful vibe, decorating them with photographs of Grace Jones, diner-style furniture and massive speakers. The bar and restaurant immediately became a hotspot for the creative downtown scene and the team soon opened Miss Lily's in the Lower East Side, now serving around 5,000 people a week between the two locations.
"Many of our guests already have a love for Jamaica, but some of them are trying the food for the first time; the experience expands their minds and resonates with them," shared Salmon. "Sometimes they visit us in Negril too. Our chef here travels to Jamaica and works with our Rockhouse team on cocktails and food, so the connection between the two locations is strong."
Photo Credit: Rockhouse Hotel
Salmon says Jamaica is a life-changing experience for many travelers. "It's obviously a tropical paradise, and unlike most Caribbean islands, it has a strong identity and culture, an interesting history. The most interesting and exciting thing about it is the people—their energy and positivity and enthusiasm for life," said Salmon. "That's why we try to encourage people to go out of the hotel and experience something beyond the beach. Now more than ever, people want to have a more authentic traveling experience and they enjoy these experiences."
Now, in a vibrant, tourist-filled Negril, Rockhouse has expanded from its initial twelve rooms to over 30 and runs an organic garden and a charity. The Rockhouse Foundation rebuilds schools, expands libraries and helps local youths. The property's creative director Matt Goias has given the hotel a bright, playful look and designed a reggae playlist and live music program that celebrates Jamaican culture. He also created a new "passport" with local tips, distributed to guests in their rooms.
Photo Credit: Rockhouse Hotel
The property's restaurants are open to non-guests, who mingle on the terrace over fresh cocktails and local dishes. And while the team in New York tries to recreate the laid-back, cheerful vibe of Jamaica in the city, the chefs and bartenders in Negril look to their American counterparts for new trends and techniques that they can adapt to local classics. The dialogue, said Salmon, is the best part of the job.