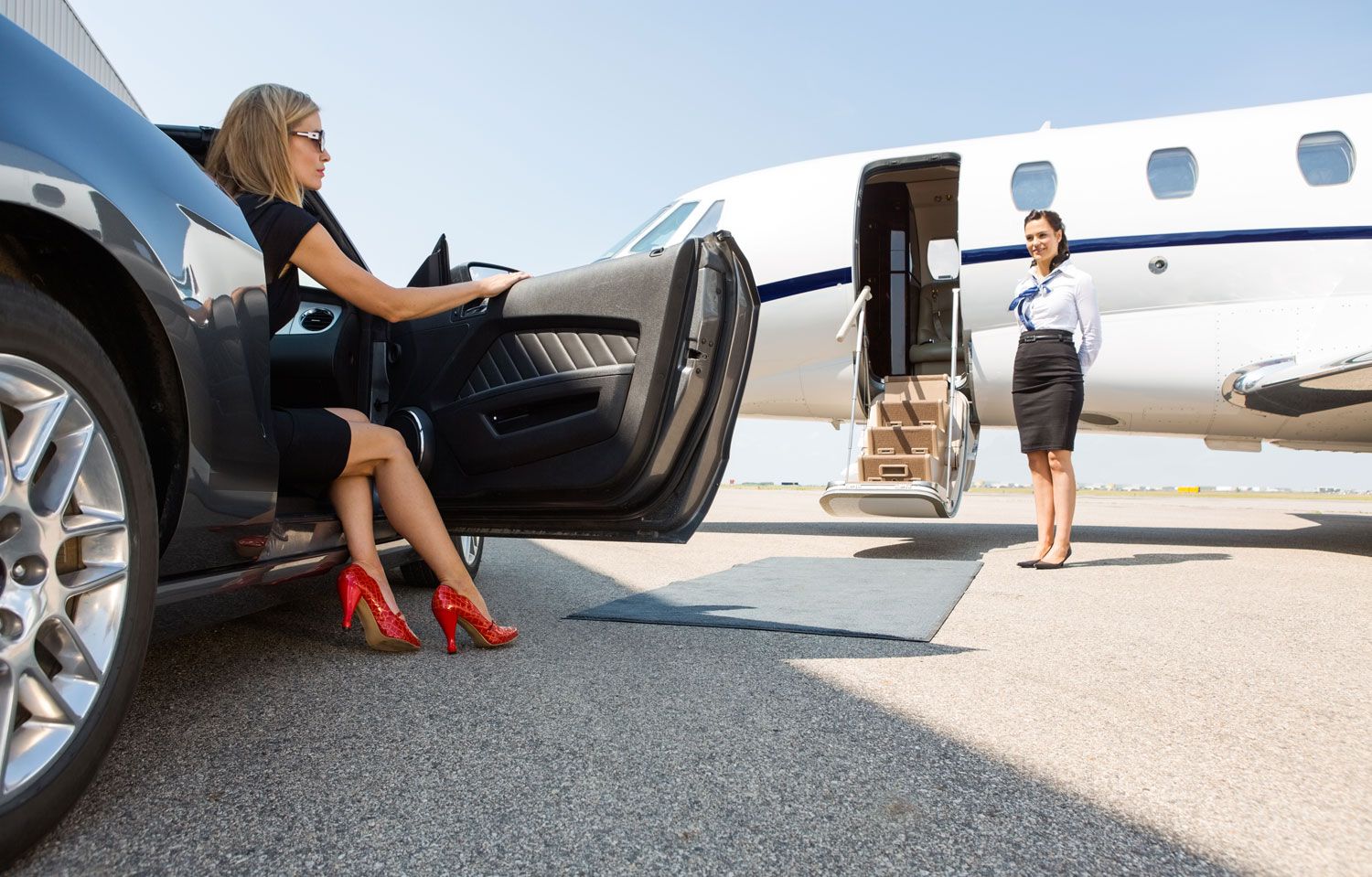 Photo Credit: Shutterstock.com
Luxury hotel brands and private jet partnerships seem like a natural collaboration, yet the number of high-end properties partnering with aircrafts is pretty slim. Other than Las Vegas which has its fair share of jet alliances (makes complete sense), many of our favorite global brands have yet to jump on the trend.
These days, flying private is not only standard for many affluent travelers, but companies like JetSmarter, Wheels Up and PrivateFly have made it a lot easier to book these trips just by grabbing your smartphone. In the past couple of years, demand for these chartered flights has gone up since travelers don't have to endure layovers, delays or long security lines.
Photo Credit: Four Seasons Hotels & Resorts
In 2012, STR Global estimated that there were about 187,000 hotels in the world offering 17.5 million guest rooms. Of course, four years later, that number is likely much higher. When it comes to accommodations, guests want the same benefits as private jet passengers: ease of access. Although there are plenty of partnerships out there, with what we can assume is over 200,000 properties in the world, the lack of private jet and hotel alliances shows us that we're just scratching the surface of what can be achieved with these programs. So what's so advantageous about these partnerships, why isn't the industry keeping up with the times and who's already on-board?
Photo Credit: Shutterstock.com
By The Numbers
If we look at the demographics of most private jet fliers, passengers are typically UHNW individuals who are made up of around 60 percent leisure and 40 percent business travelers. "This demographic is C-Suite executives, corporate America, Wall Street and those with roughly a minimum net worth of around $30mm," said Michael Farley, Chief Revenue Officer of Private Jet Services (PJS).
If I'm a luxury hotelier, those are exactly the types of guests I want walking into my lobby. It would appear, however, that they are not quite seeing the potential of these programs. "I think that this has not been a focus, because the hoteliers don't always see the market as being large enough, and it is a question of priorities," shared Troy Martin, Vice President of Sales, Marketing and Business Development for Miami Air International.
Photo Credit: Golden State Warriors
Adding to Benefits
Private jet fliers already get a slew of perks by being members. FlexJet and NetJets offer VIP hospitality areas at The Masters, NetJets gets you exclusive access to members-only clubs such as the Stone Eagle Club (for a day), Wheels Up gives away freebies and discounts at Kwiat jewelers, and XOJET has stated that when Virgin Galactic launches, their members will be able to experience space travel.
What these companies already know is that today's affluent traveler values experiences over materialistic things. Creating these bespoke offerings is not only a value-added approach, but also helps establish a stronger relationship between client and company. In data collected by Four Seasons called the Luxury Trend Report, the brand identified that 34 percent of affluent US travelers (household income of $200-$500K+) expect products and services to be customized to their needs. Thirty-two percent want surprise and delight from their experience. It'd be pretty hard to forget that time you hung courtside during the NBA Finals and watched Steph Curry swish those threes (XOJET). In the same way, the perks guests can receive at hotels will be just as beneficial to those luxury brands in the long run. You'll not only remember these experiences, you'll want to continue having those moments with those preferred hotels.
"With Exclusive's partnership with luxury hotels, I can assure my clients will receive the same luxury treatment during their stay as they do during their flight. It's all about adding value, convenience and unparalleled service to guarantee the ultimate experience from beginning to end," said Jason Johnson, Owner of Exclusive.
Photo Credit: Wheels Up
Who's Already On-Board?
Sentient Jet partners with iconic properties like The Little Nell in Aspen, Meadowood in Napa Valley and Peninsula hotels. "By partnering with these brands, we've been able to offer our Cardholders unique ways to discover different regions of the globe," said Andrew Collins, Sentient's CEO & President. Six years ago, JetFlite and the Gansevoort Hotel Group joined hands to offer their members and guests exclusive offers such as discounted hotel rates.
In 2015, The Greenbrier Resort in West Virginia formed a partnership with Wheels Up. The collaboration allows select hotel guests and Sporting Club members a one-time opportunity to book flights at Wheels Up member rates. Meanwhile the private jet company's members will receive perks such as complimentary room nights, preferred tee times and access to some of the resort's most-coveted golf tournaments (PGA Tour, The Masters) plus other VIP benefits.
"Wheels Up initiated hotel partnerships to provide added value to members through our curated benefits platform. We are a complete resource for our members' lifestyle, both in the air and on the ground. These relationships enhance our value proposition and provide members with exclusive benefits in popular travel destinations. Partners benefit by gaining exposure to a like-minded audience of discerning travelers, who know that we will introduce them to trusted brands that are the right fit," said Mark Sage, Chief Brand Officer for Wheels Up.
Photo Credit: Victor
Victor, an on-demand private jet booking service, cozied up with Shangri-La this year to form a new partnership with the brand. Victor's members are encouraged to take up Jade membership of Shangri-La's Golden Circle (GC) loyalty program. GC members are able to take advantage of priority upgrades, guaranteed room availability, complimentary Wi-Fi and breakfast, and preferential booking rates at any of the brand's 97 hotels. In return, those booking charters through Victor will receive a $1,500 charter discount.
Private Jet Services has a strong network of hotel partners that they work with. The business development team vets each property prior to including them in the program. Some brands on offer are Rosewood Hotels & Resorts; Four Seasons Resorts in Nevis, Costa Rica, Punta Mita and Jackson Hole; and Viceroy Snowmass and Anguilla. "With our hotel partners, these perks can range from preferred pricing to preferred access to accommodations that may not otherwise be available to a traveler," shared Farley (PJS). "From time to time we design packages for net-new Card Members with certain hotels/villas/properties. This may include complimentary stays, special ground transportation, and/or perks on the property grounds (golf, horse riding, spa)."
Photo Credit: Four Seasons Nevis
Focusing on group travelers, Miami Air International caters to larger parties chartering flights and needing accommodations. Because of the size of their planes, they are able to fit more passengers and in return they work with hoteliers to provide a seamless transition to the properties. "We focus on luxury hotels that emphasize group travel (Four Seasons Nevis, Atlantis Paradise Island, and others). In our situation, we are able to "make lift available" in markets where these resorts may not otherwise be able to get 50 to a few hundred people in on their schedule," said Martin.
According to Forbes, "A big reason that these luxe hotels are rolling out the red carpet is the hope that the Ultra High Net Worth private jet fliers will come back and whip out their wallets." Exactly. So what's the hold-up, hoteliers? We're definitely off to a good start here, but it's 2016, and these collaborations should be more than a handful at this point. It just makes sense. Give us the experiences and exclusive perks, and you'll have our devotion. Simple as that.