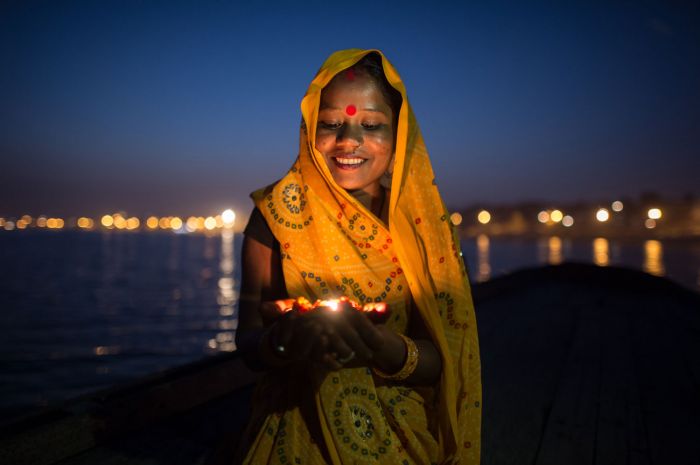 Photo Credit: Theskaman306/Shutterstock.com
It's been said that if you die in Varanasi you will attain salvation, no matter how you lived your earthly life. This holy land is considered one of the most sacred in the world and is regarded as one of Hinduism's seven holy cities. It's regularly visited by religious pilgrims year-after-year to wash away a lifetime of sins in the sacred waters of the Ganges River or to cremate their loved ones. Situated on the southeastern Uttar Pradesh state in northern India, it is also one of the globe's oldest continuously inhabited cities.
Photo Credit: Shutterstock.com
Sometimes called Kashi (City of Light), the destination is more than 3,000 years old and its earliest settlers were Aryans. By the 2nd millennium BCE, Varanasi became known for its muslin and silk fabrics, sculptures, perfumes and ivory works. Even with its booming trade industry though, it was its spiritual roots that continued to attract tourists, around a million pilgrims each year.
All along Varanasi's riverfront are four miles of ghats (steps) lining the water and are used for religious bathings while the surrounding 2,000 temples and shrines pay homage to Hindu gods. To get around its inner streets, travelers are relegated to foot traffic or rickshaws only since the avenues are narrow, winding and impassable for motor vehicles. If you're considering a similar pilgrimage or are an avid traveler looking to visit unique places, here's a quick guide to navigating the holy city:
Photo Credit: Filmlandscape/Shutterstock.com
Essential Information:
The best time to visit is from February to April when the temperatures range between 80-100 F or September to October which offer similar temps. The easiest way to get to Varanasi is by air from Delhi, a 75-minute flight. The airport is 14 miles from the Cantonment area, where you'll find most of the brand-named accommodations. From there it's about a 20-minute drive to the riverfront. In the city, your primary mode of transportation will be auto and cycle rickshaws.
Photo Credit: Taj Gateway Hotel Ganges
Where to Stay:
For hotels, the Taj Gateway Hotel Ganges and Palace on Ganges are a couple of our recommended picks. The Taj is an easy choice because it is a trusted brand and offers spacious rooms, some facing the adjacent Nadesar Palace. Each morning guests are treated to complimentary yoga sessions, mats are included in each room. Although the property is on the quieter side, it tends to be busy with tour groups, something to keep in mind. For something a little more authentic, the Palace on Ganges sits inside a century-old Assi Ghat. Guestrooms are themed by Indian states; Assam features lots of bamboo while Gujarat offers brightly colored furnishings and mirrorwork.
Photo Credit: Shutterstock.com
What to Do & See:
Kashi Vishwanath Temple, dedicated to Lord Shiva, is one of the most famous Hindu sanctuaries. Located on the western bank of the river, the temple is one of the 12 Jyotirlingas, the holiest of Shiva shrines. It stands as a symbol of peace and harmony among men, a reminder of the bonds of universal brotherhood. Be sure to check times when the general public is allowed to enter.
Next make your way over to Gyan Kupor Well near the temple. It is believed that those who drink of its water will are led to a higher spiritual plane. Nowadays, however, visitors are prohibited from doing so and a strong security screen sits around it. To dive into the city's history, visit Ramnagar Fort & Museum which is a 17th-century fort and palace on the eastern bank of the Ganges. Inside the museum, called Saraswati Bhawan, you'll find vintage American cars, a vast selection of old weaponry, medieval costumes, elephant saddles made out of silver and a rare astrological clock. The timepiece was made in 1852 by the astronomer at the Court of the Royal Palace of Varanasi. It not only shows the time but also the year, month, week and day; and the astronomical details of the sun, moon and other planets.
Photo Credit: Alexandra Lande/Shutterstock.com
Throughout the year, the city is filled with numerous art and religious festivals. Each March, the five-day festival of dhrupad (a classical Indian vocal style) takes place, attracting artists from all over India to the city's Tulsi Ghat. Held in November or December, the Ganga festival is dedicated to the goddess of the Ganges River and locals send thousands of lamps down the river during the affair. Commemorating the reunion of Lord Rama with his younger brother Bharat, the Festival of Bharat Milap takes place in either October or November. Each year, thousands gather in the streets to see the procession of Lord Ram and his brother who had been in exile for 14 years. People pay their respect by putting Tilak on their foreheads and by placing garlands on Lord Rama idols.
Since the city is known for silk weaving, visit the Mehrotra Silk Factory to score a few silk scarves, pashmina, saris or breadspread sets. The factor is tucked away down a small alleyway near the main train station, so be sure to check in with locals while there so you don't miss it. Located nearby is also Shapuri Mall which offers many international brands, restaurants and entertainment centers.
Photo Credit: Shutterstock.com
If you'd rather bypass all the planning and mapping out of your excursions, Kensington Tours offers a few different packages for travelers. The 12-day Ganges, Tigers & Taj Signature tour is an adventure through India with stops in Delhi, Varanasi, Jaipur, Ranthambore and Agra and stays in four- or five-star hotels. Guests will get to experience the jungles of Ranthambore (where tigers roam among 13th-century temple ruins), the Taj Mahal and various palaces, and a cruise across the holy Ganges river. The package is priced at $4,250 per person.
The agency's India Exclusive tour is a 15-day excursion through Delhi, Varanasi, Khajuraho, Agra, Jaipur, Udaipur and Mumbai, and only five-star hotels. Included are private tours of the Taj Mahal, Amber Fort and Ganges; sailing to the rock-cut cave temples of Elphanta Island; and exploring the Eklingji temple complex, home to 108 temples. The package is priced at $7,350 per person.