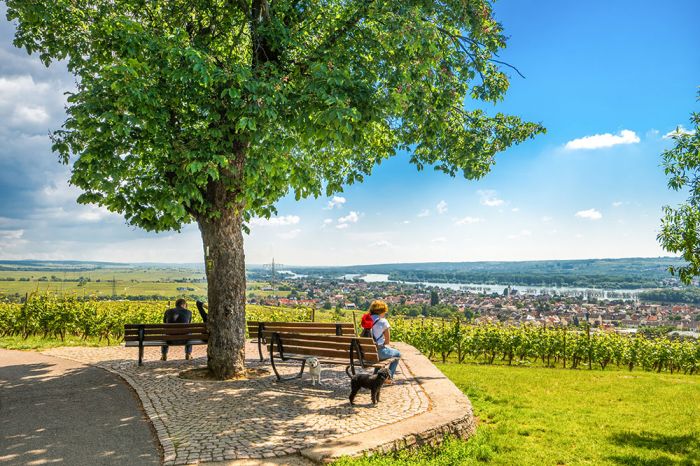 Photo Credit: Shutterstock.com
All within reach by an hour train ride west of Frankfurt along the Rhine River, Germany's Rheingau is a patchwork of historic villages, vibrant cities, and the country's most distinctive Reisling wine-growing region.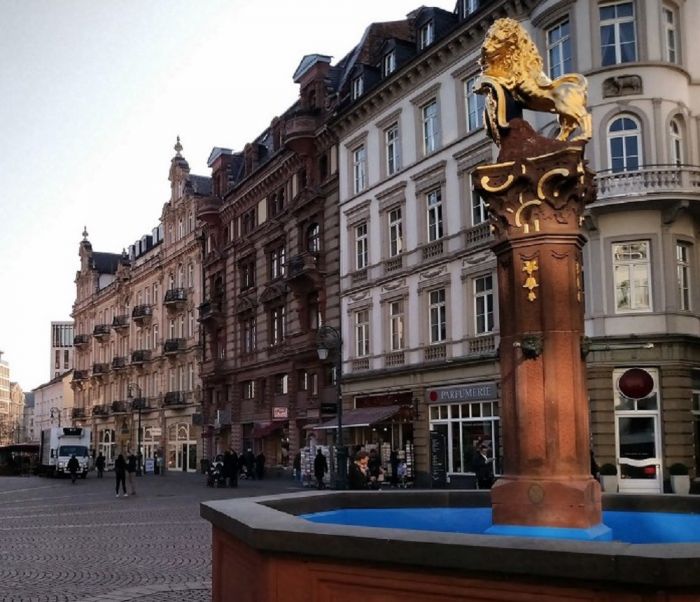 Photo Credit: Steve Mirsky
Wiesbaden
Gateway city Wiesbaden serves as cultural and transportation hub to the Rheingau. Even if you're exploring by foot, the 200-mile Rheinsteig hiking trail head begins next to the Baroque palace of Schloss Biebrich on the banks of the Rhine, taking you past numerous vineyards, palaces, castles, and monasteries along its way to Bonn. While this approach will of course be more arduous, your intrepid spirit will be rewarded by a richer, more personal connection to the landscape and people around you. Grape-picking season in autumn gives you more in-depth exposure to vintners when they open their doors for tastings and festivals.
Photo Credit: Steve Mirsky
Wiesbaden's most readily apparent panache is its attractive mix of old world charm and vigor of a modern metropolis. Elegant villa districts, a magnificent State Theatre, extensive parks like 'Bowling Green' with cascade fountains and walking paths situated right next to the Kurhaus and Casino reflect a time honored grandeur. Inaugurated by Kaiser Wilhelm II when it opened in 1907, Kurhaus's marble floored grand pillared events & concert venue contains 12 halls and salons featuring one of Europe's oldest and most architecturally ornate casinos.
Photo Credit: Steve Mirsky
You'll soon discover that Wiesbaden has a rich spa culture dating back to the Romans, that wasn't popularized until the mid-1800s when elites like Russian Tzar Nicholas II and Empress Elisabeth, Johann Wolfgang von Goethe, and Johannes Brahms began soaking in the therapeutic effects of the city's 26 thermal springs. Today spas like Thermalbad Aukammtal and the Kaiser-Friedrich-Therme as well as more private under-the-radar places like Das Badhaus Spa—which originally opened in 1486 and now part of Radisson Blu Schwarzer Bock Hotel—attract thousands from across the globe.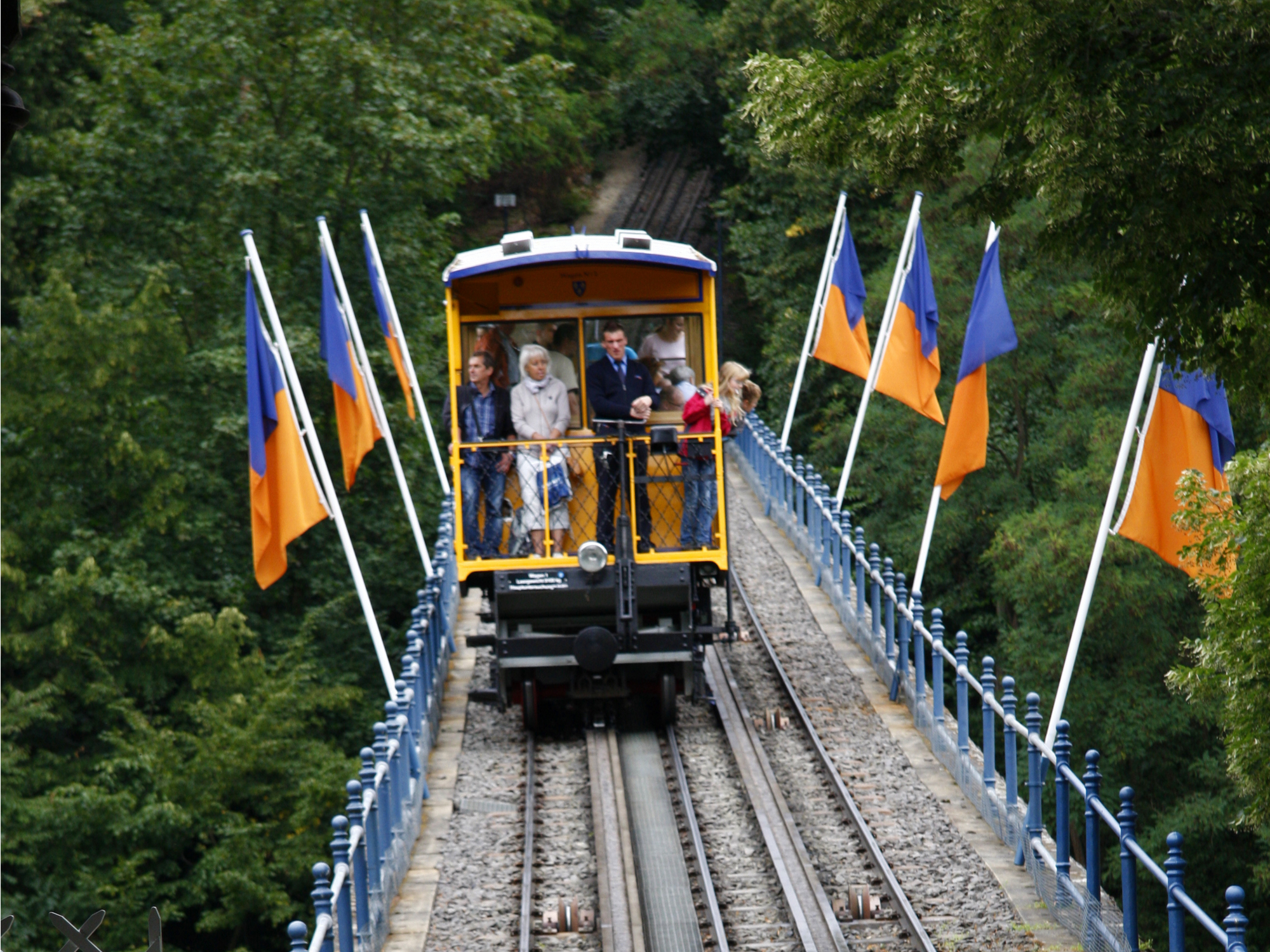 Photo Credit: 360b/Shutterstock.com
During summer, Opelbad Bath, a 15,000 square metre Bauhaus-style spa on Wiesbaden's Neroberg Mountain, offers spectacular views of the Rhine Valley and Taunus foothills in the distance. The most scenic and expedient way to reach the top of Neroberg in just under four minutes, is aboard the Nerobergbahn Mountain Train, Germany's oldest hydro-powered cable car dating back to 1888. A Russian-Byzantine style Orthodox Church crowned with five golden onion domes is another can't-miss landmark seemingly placed there out of a fairy tale. Still used for church services to this day, it originally opened in 1855 as a tomb for the mortal remains of Duke Adolph's wife Grand Duchess Elisabeth Michailovna and her child.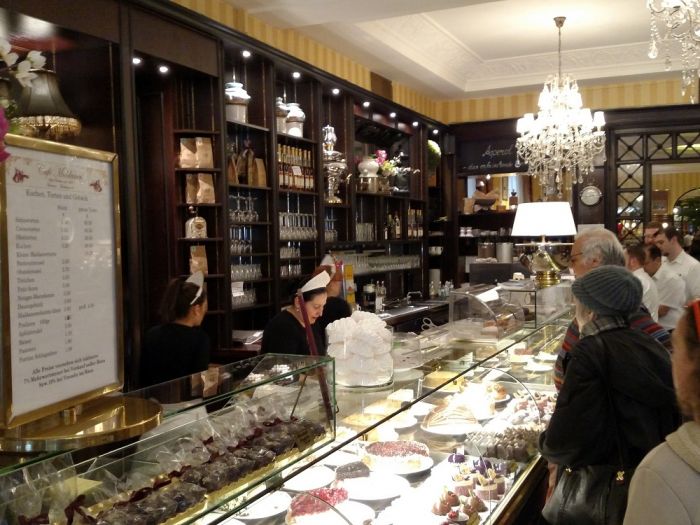 Photo Credit: Steve Mirsky
When you're back in town craving a sweet treat, Café Maldaner preserves the traditional coffee house ambiance that originated here in 1859. Plush sofas and chairs overlooking the wide variety of artfully prepared treats on display behind the glass of their impressive cake counter make you want to linger and get social. If you're in town Wednesday or Saturday, an open air market on Dern'sches Gelände square features a wide array of fresh produce and hand crafted specialties.
Rüdesheim
A historic village featuring medieval architecture, Rüdesheim is a town built into a hillside, with the Drosselgasse serving as the main thoroughfare flanking the river on one side. The area offers boutique shopping, eateries, wine taverns, and beer gardens all connected by narrow lanes trailing off to vineyards rising up in the distance; the area offers plenty to explore within its compact street grid.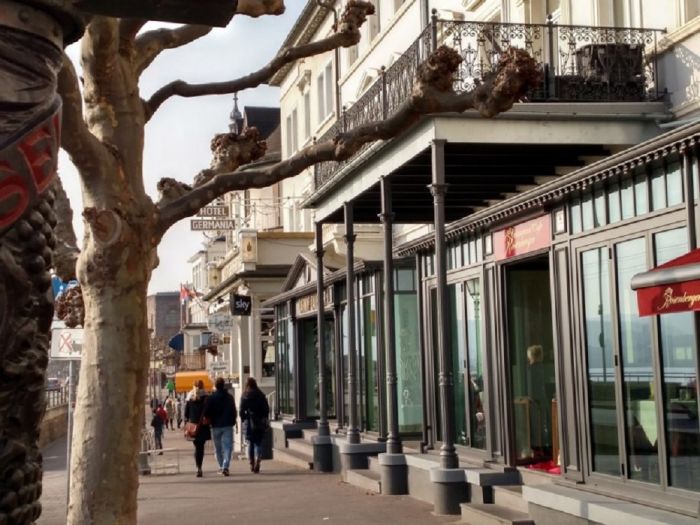 Photo Credit: Steve Mirsky
Near the train station you can catch a cable car/chairlift taking you up to Niederwald Monument overlooking the Rhine Valley. This supremely ornate 125-foot tall hilltop memorial built between 1877 and 1883 commemorates Germany's unification after the Franco-Prussian War. Passing right behind the monument and into the forest, the renowned Rheinsteig hiking trail continues onward towards Hotel & Restaurant Jagdschloss Niederwald.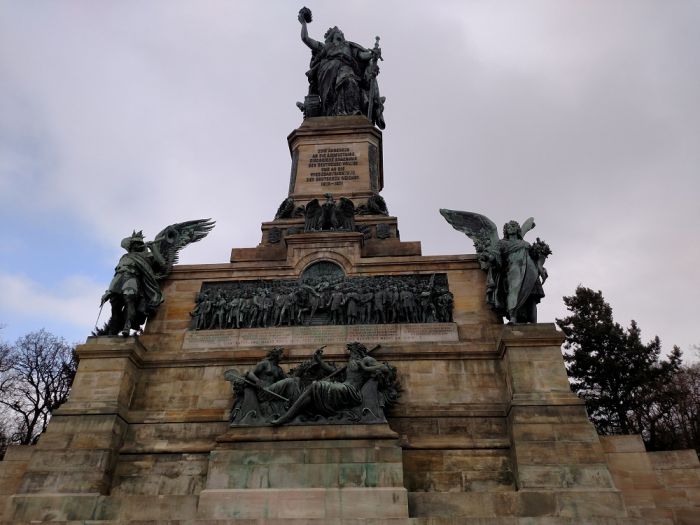 Photo Credit: Steve Mirsky
Be sure not to miss Seigfried's Mechanical Music Cabinet located in what used to be a 15th-century noble manor. Boasting over 1,000 square feet of exhibit space showcasing more than 350 mechanical instruments dating from the 18th-20th centuries, you can see and listen to self-playing devices ranging from delicate music boxes to self-playing pianos and organs. The museum is also home to the world's largest Doll Automaton calliope ever built containing 27 automatic dolls, each one playing a different instrument. A workshop filled with tools for repairing essential components like cardboard music cards, piano rolls, and musical box plates occupies one corner of the museum's second floor.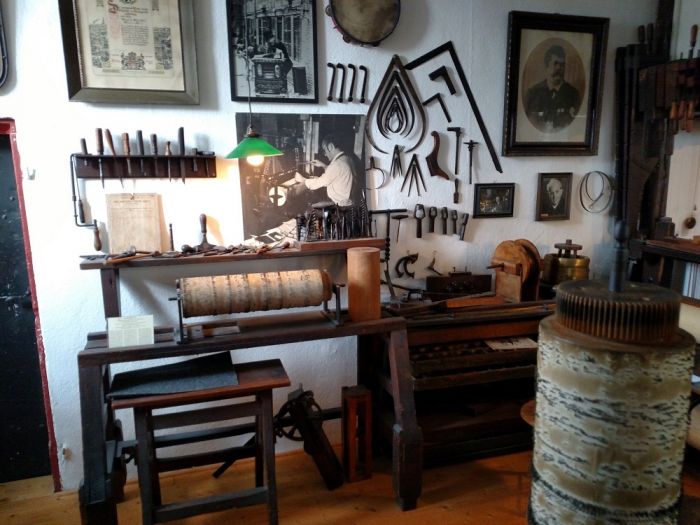 Photo Credit: Steve Mirsky
The engineering genius behind these devices is all the more amazing considering they were created during an era of limited technology. Just keep in mind that guided tours need to be arranged in advance.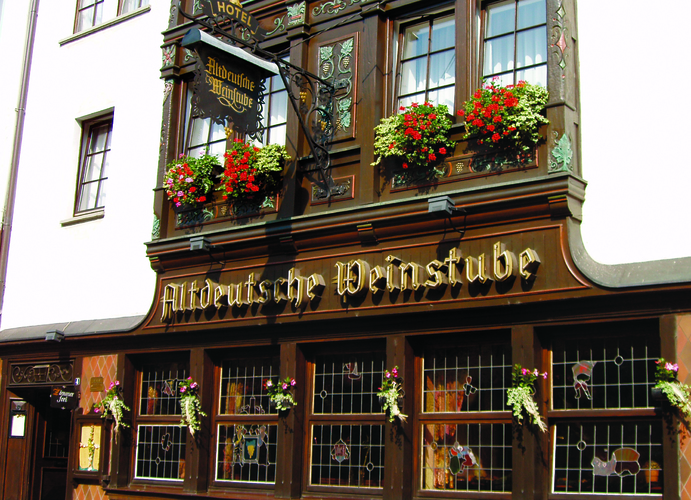 Photo Credit: Altdeutsche Weinstube
Ehrhard-Malgouyres family has run the hotel Altdeutsche Weinstube for five generations and a stay there means you are only a block away from the Drosselgasse, with a wide selection of rooms to pick from. Wrought-iron ornamentations and leaded stained glass windows invite you to gather in their onsite "Weinstube" where a French chef de cuisine creates regional and French delicacies with in-season, market-fresh ingredients like Ingelheimer asparagus during summer, chanterelles and different pumpkin dishes in autumn as well as roast duck and goose during winter. Wines on their list feature vintages from their family-owned Carl Ehrhardwine growing estate.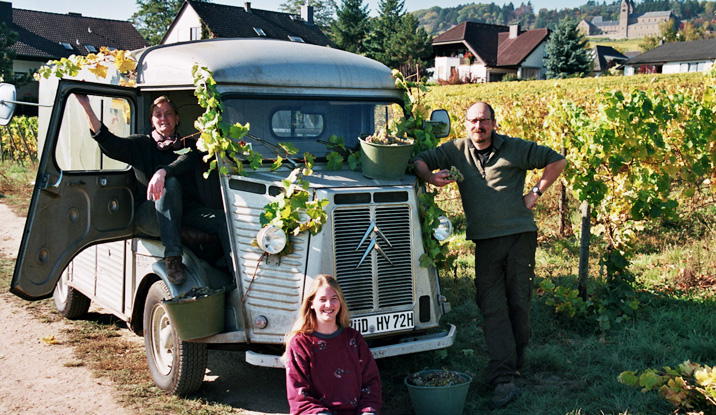 Photo Credit: Weingut Jacob Christ
Another dining option for authentic German favorites and biodynamic wines is right up the street at Weingut Jacob Christ. Chef Dagmar and her winemaker husband Rainier Hass combine assets conjuring seasonal creations from local ingredients like the greens in their salads to pork in their bratwurst pate, sausages, brook trout, and Hessian goat and sheep cheese specialties. Their vegan, organic wine selection draws from off-the-radar Reingau grapes reflecting subtleties of the region's ever changing climate. Interestingly enough, Rainier believes that climate change is now impacting flavor profiles much more than other terrior attributes like soil and vine age.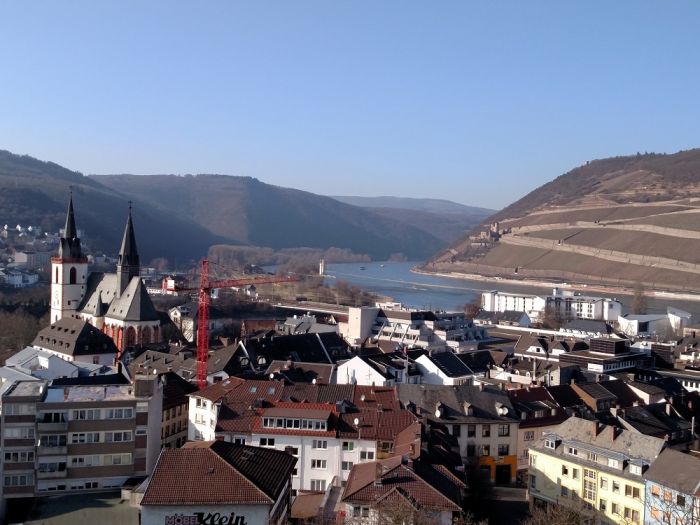 Photo Credit: Steve Mirsky
Bingen
Accessible by ferry across the river from Rudesheim, Bingen is situated at the confluence of the Rhine and Nahe Rivers. This once medieval and now UNESCO World Heritage village is perched high on a ridge surrounded by many architectural treasures like theMouse Tower, a former toll station overlooking the Rhine, and the historic home of St. Hildegard of Bingen, a famous 12th-century Abbess of mythical proportions who advised emperors and bishops.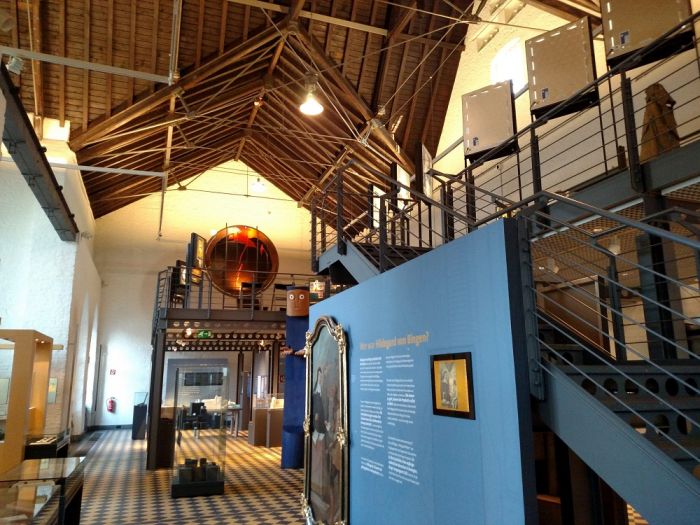 Photo Credit: Steve Mirsky
Bingen's Museum on the River, located in a re-purposed factory hall dating back to 1898, dedicates more than 300 square meters of exhibit space to the saint featuring models of long obliterated monasteries, paintings, original documents, and audio accounts that put the visionary world of Hildegard into perspective.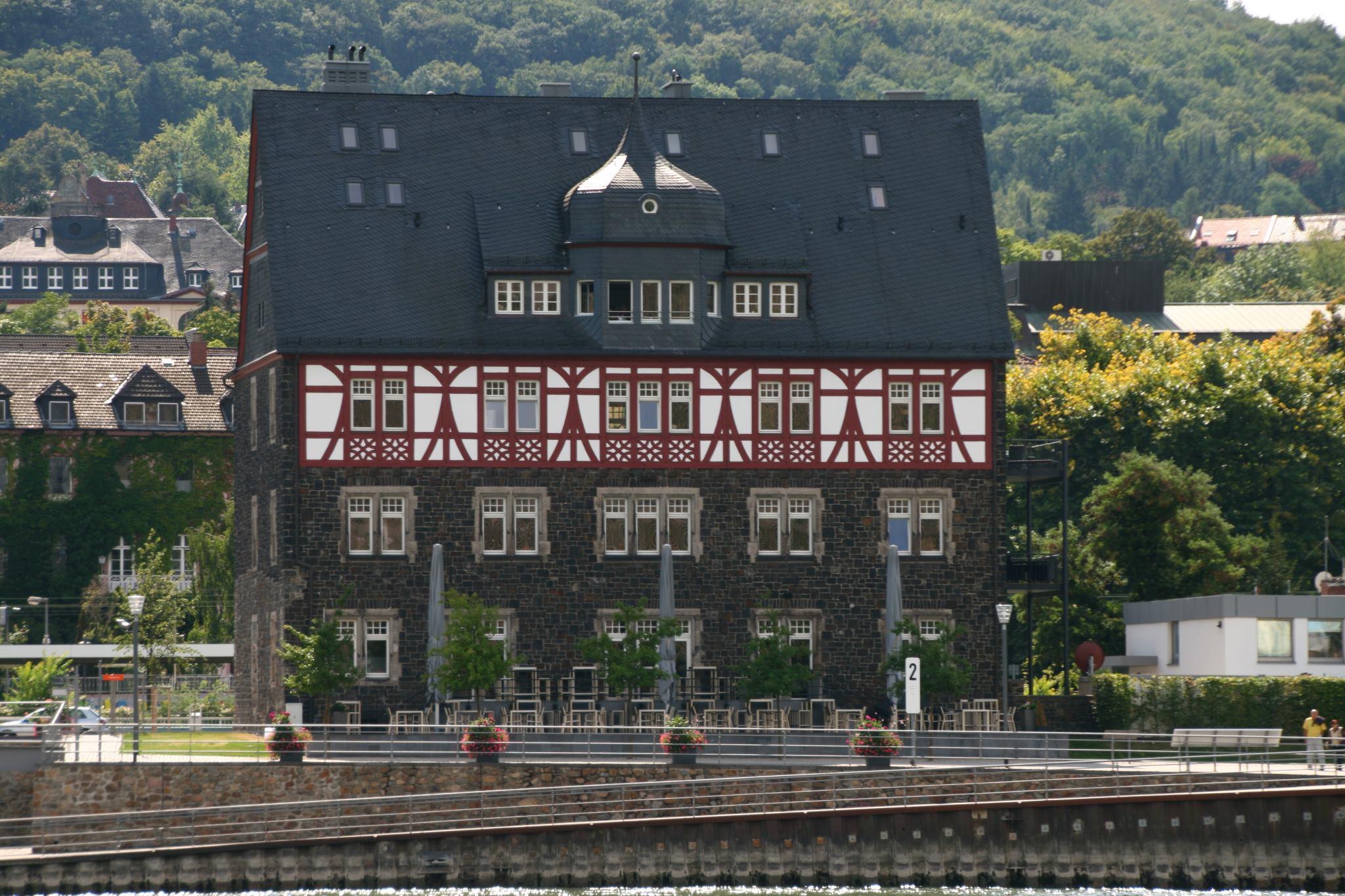 Photo Credit: Zollamt
While strolling along Bingen's pedestrian riverfront walkway, you're sure to see a well preserved 500+ year old freight crane on display that also lights up at night. Right next door is German steakhouse Zollamt occupying a former customs office built in 1906. The menu here specializes in 'shock heated' Kobe and other prime cut steaks sizzled in a uniquely designed grill/oven combo searing meat up to 1,400 Farenheit, via an intense combination of convection and open fire. A tasty dark outer crust with an extremely tender and juicy interior make it to your plate every time. Weather permitting, their spacious outdoor terrace overlooks Castle Ehrenfels, Niederwald Monument, and Rüdesheim across the river.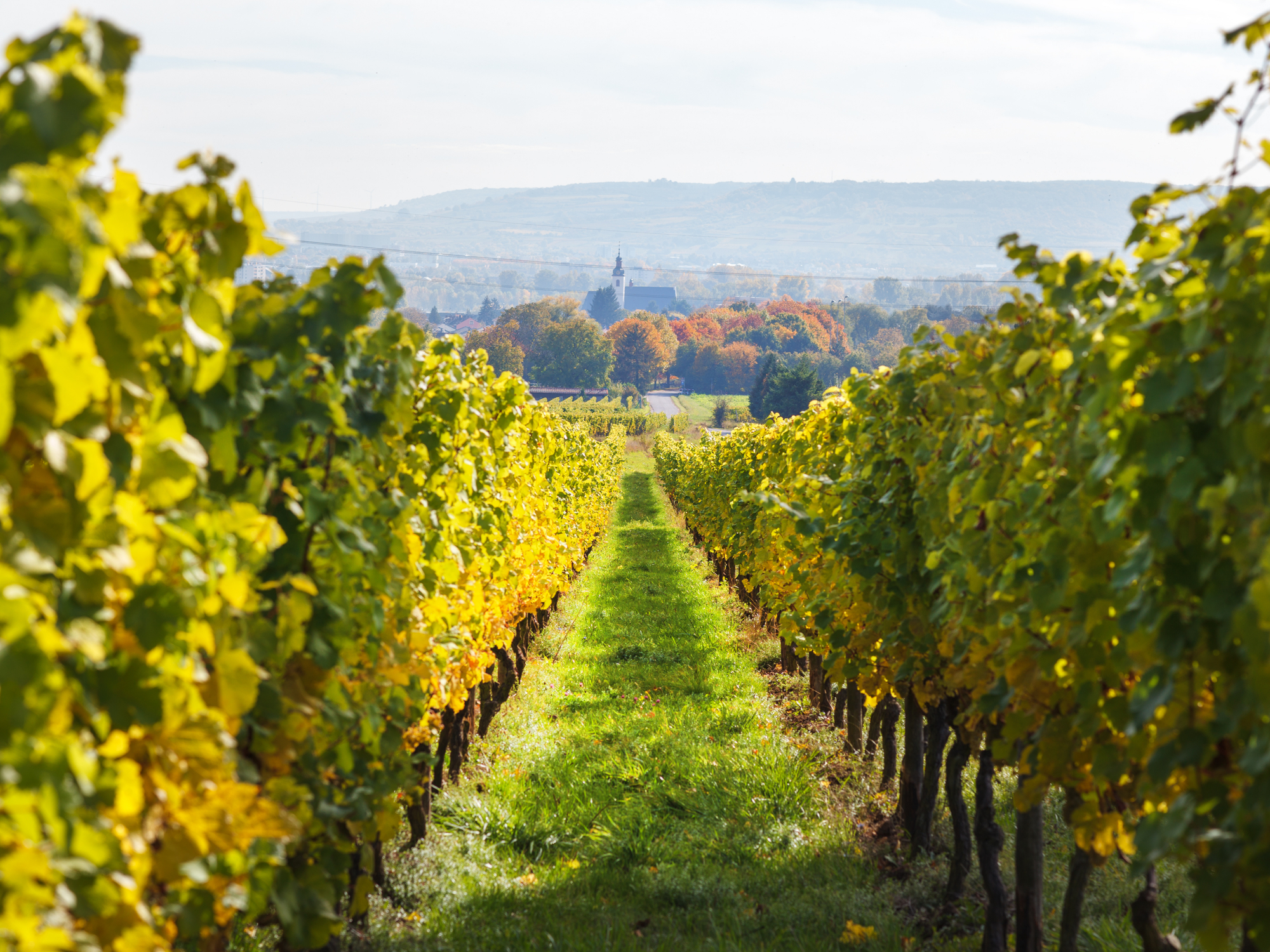 Photo Credit: Shutterstock.com
Since vineyards span the hillsides across the Rhine as far as the eye can see, you may assume that wine making isn't as prevalent in Bingen but look to the backside of Elisenhohe heights particularly from St. Rochuskapelle Church and you'll see vines stretching to the horizon. Hemmes Winery is a hidden gem right in the village making craft wines in a re-purposed school house. Award wining winemaker Frank Hemmes and his family also bring sustainability to their production using geothermal heat.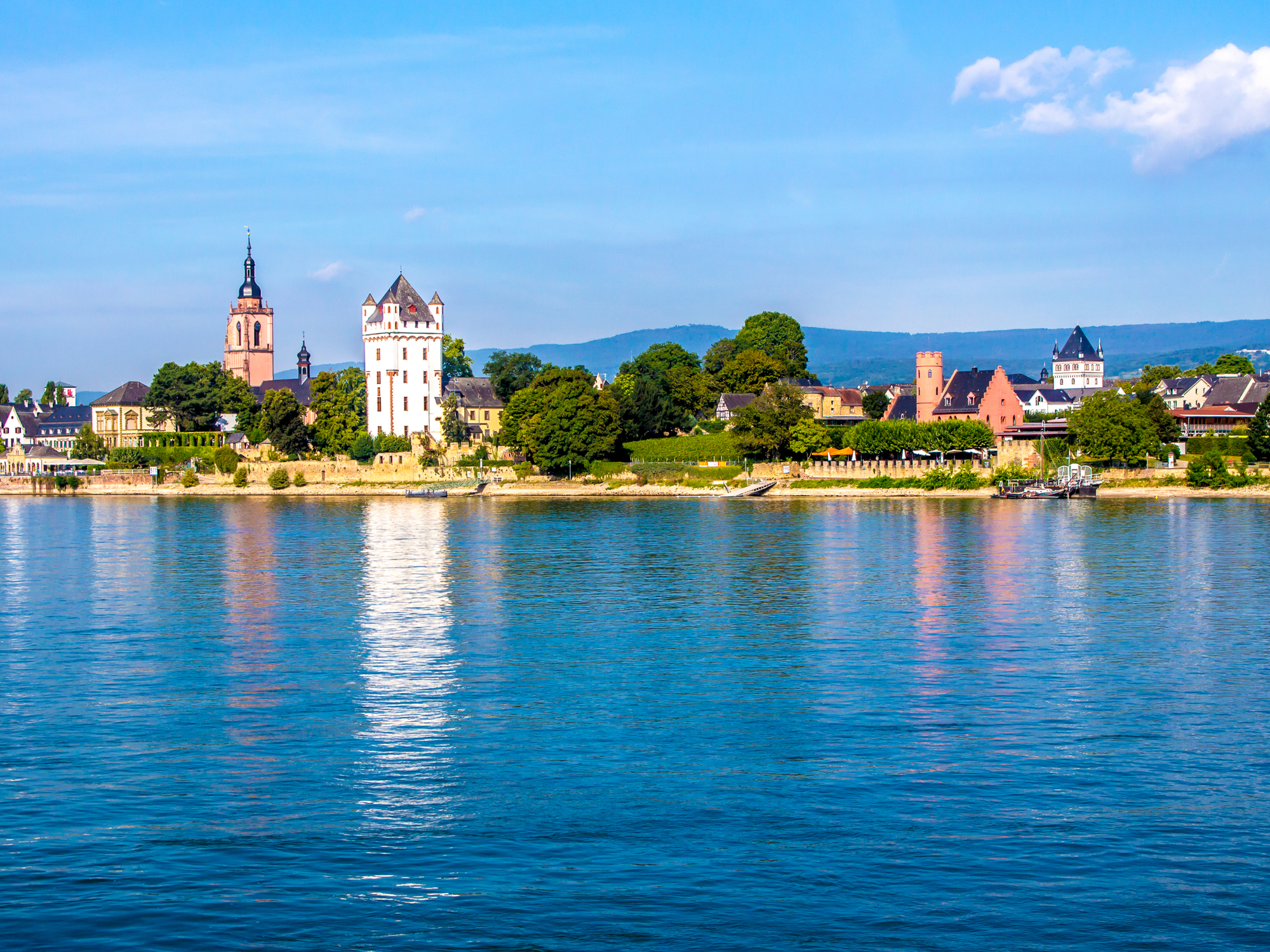 Photo Credit: Shutterstock.com
Eltville
This small village becomes a destination when staying at Park Hotel Tillmanns, a luxurious family-run hotel in a stately 18th-century French country home that was completely renovated and refurbished in 1995-1997. Within walking distance to a miles-long pedestrian pathway along the Rhine and just around the corner from the Eltville train station, airy sun filled rooms, some with private roof terraces or park/river views, make it feel like your home away from home rather than just a place to hang your hat.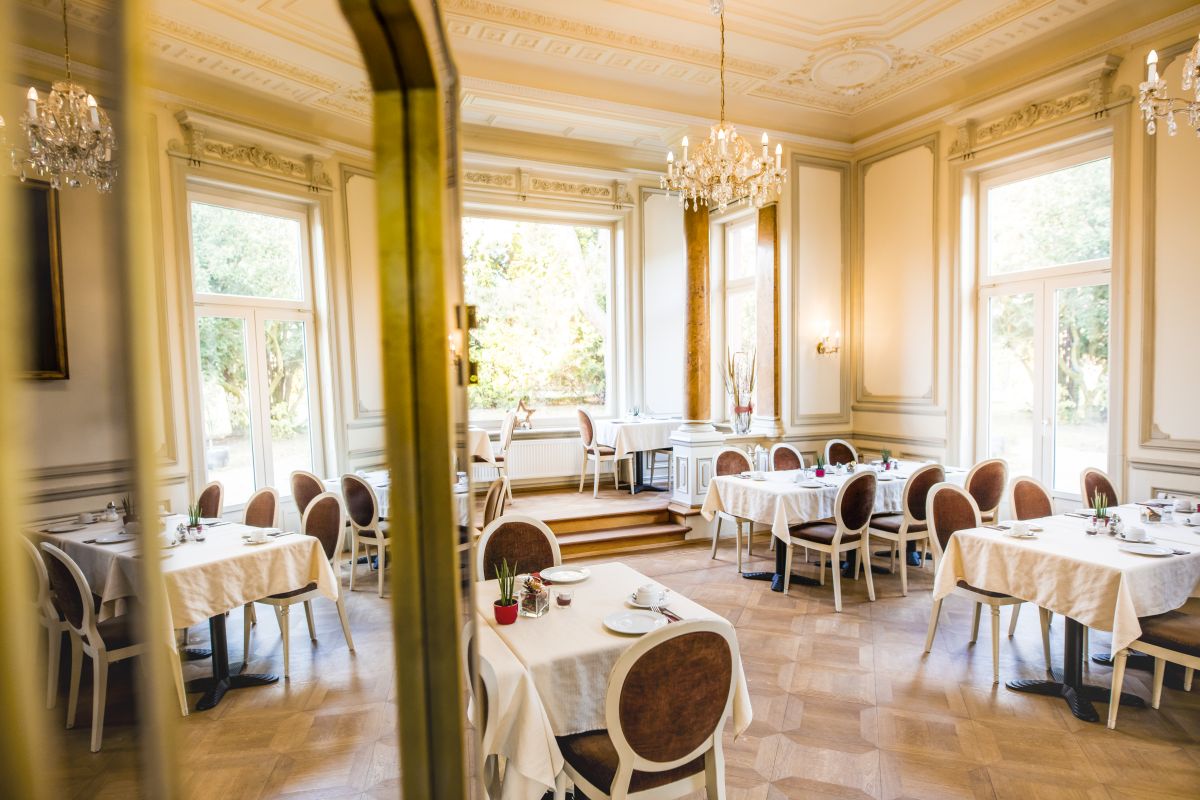 Photo Credit: Parkhotel Tillmanns
An extensive breakfast buffet is included in their spacious downstairs sun porch, which also has a casual self-service bar in the corner for some evening tippling. A private terrace outside beckons when weather permits. Owner Benjamin Gillert parlays his 10 year culinary background along with his stints as sommelier and event designer into lovingly running the property. His wife Anna Schneider along with the rest of his family are fully integrated into every aspect of running the hotel making sure no detail goes unnoticed.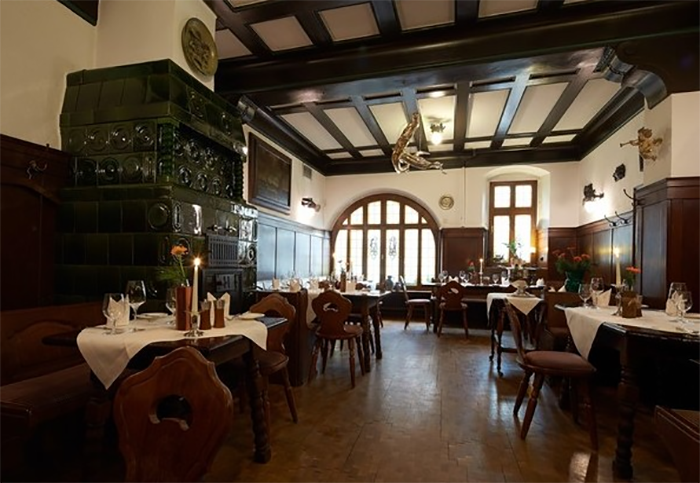 Photo Credit: Weinhaus Zum Krug
A quick cab ride from Park Hotel Tillmanns, Weinhaus Zum Krug, an inn with accompanying farm-to-table restaurant features a menu built on straightforward dishes made from the fresh local bounty. Third generation Chef Josef Laufer operates under the motto of 'the diversity of the simple is our demand and goal.' He keeps it all very personal juggling roles as chef, host and sommelier with his guests. Dishes like Wispertal trout and fried potato goat cheese dumplings or venison chops are rooted in traditional cookery while enhanced with new approaches toward presentation and flavoring.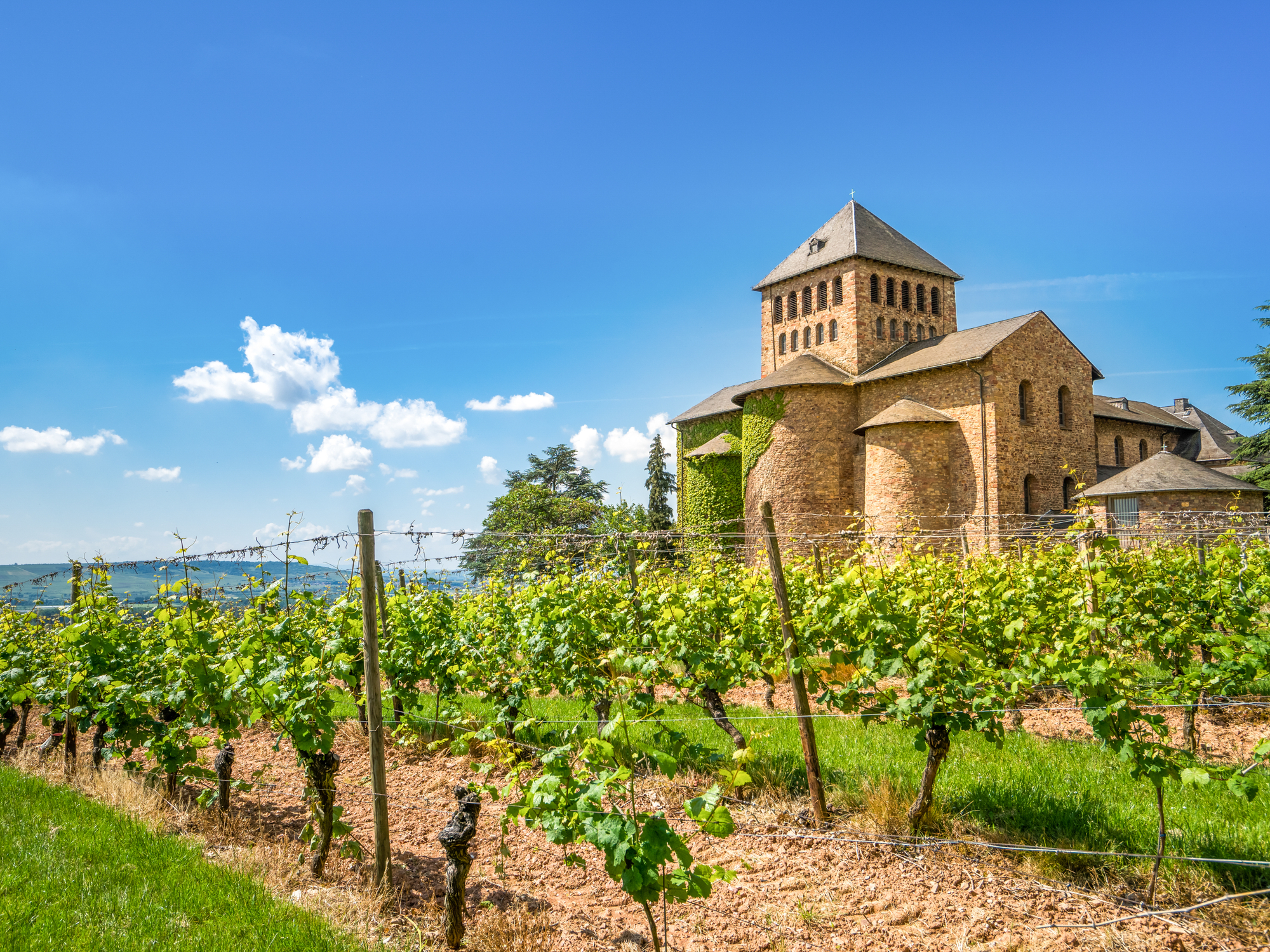 Photo Credit: Shutterstock.com
Reisling is the dominant grape in the Rheingau ranging from extra dry to sweet, pairing just as well with traditional German fare as sushi and other international dishes. Although Germany's smallest wine region, it's also the most compact with nearly 8,000 acres of vineyards packed close beside villages making exploration as easy as wandering up lanes until they turn into gravel roads leading past miles of vines. However, keep in mind that you'll need a car or bike to expediently visit the following vineyards:
Schloss Johannisberg - Vineyards have surrounded the winery castle here for over 1,200 years, making it the world's first Riesling estate. Originally founded under the Benedictine order, Johannisberg's longstanding winemaking heritage is now on display in Bibliotheca Subterranea, a locked vault within the winery's cellar catacombs serving as a famed treasure chamber of centuries-old wine rarities. Grapes from their vineyards totaling nearly 200 acres are still hand picked ensuring they're harvested at precisely the right degree of ripeness giving credence to their motto of "quality is determined in the vineyard, not during vinification."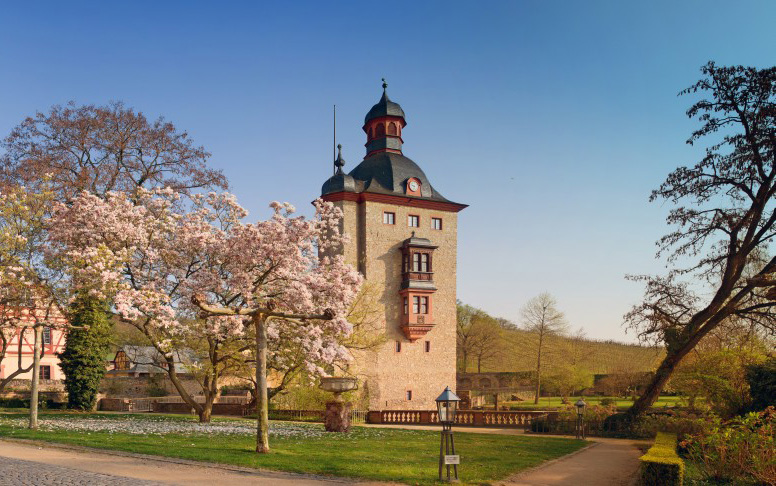 Photo Credit: Schloss Vollrads
Schloss Vollrads - Art, culture, and of course extensive wine cellars complement each other in a big way on this estate. A tower house, their premier landmark building built in the 14th century, surrounded by a pond that can only be reached by a stone bridge. A two-winged manor house was built on the grounds in 1684 where the Greiffenclau family lived up until 1997. Riesling remains the only grape variety used at the winery but showcases the entire range of designations from Kabinett, Spätlese, Auslese, Beerenauslese, Trockenbeerenauslese to Eiswein. The estate offers guided tours with tastings, a wine bar, shop, and hosts various special events with a regular concert stage for the Rheingau Musik Festival.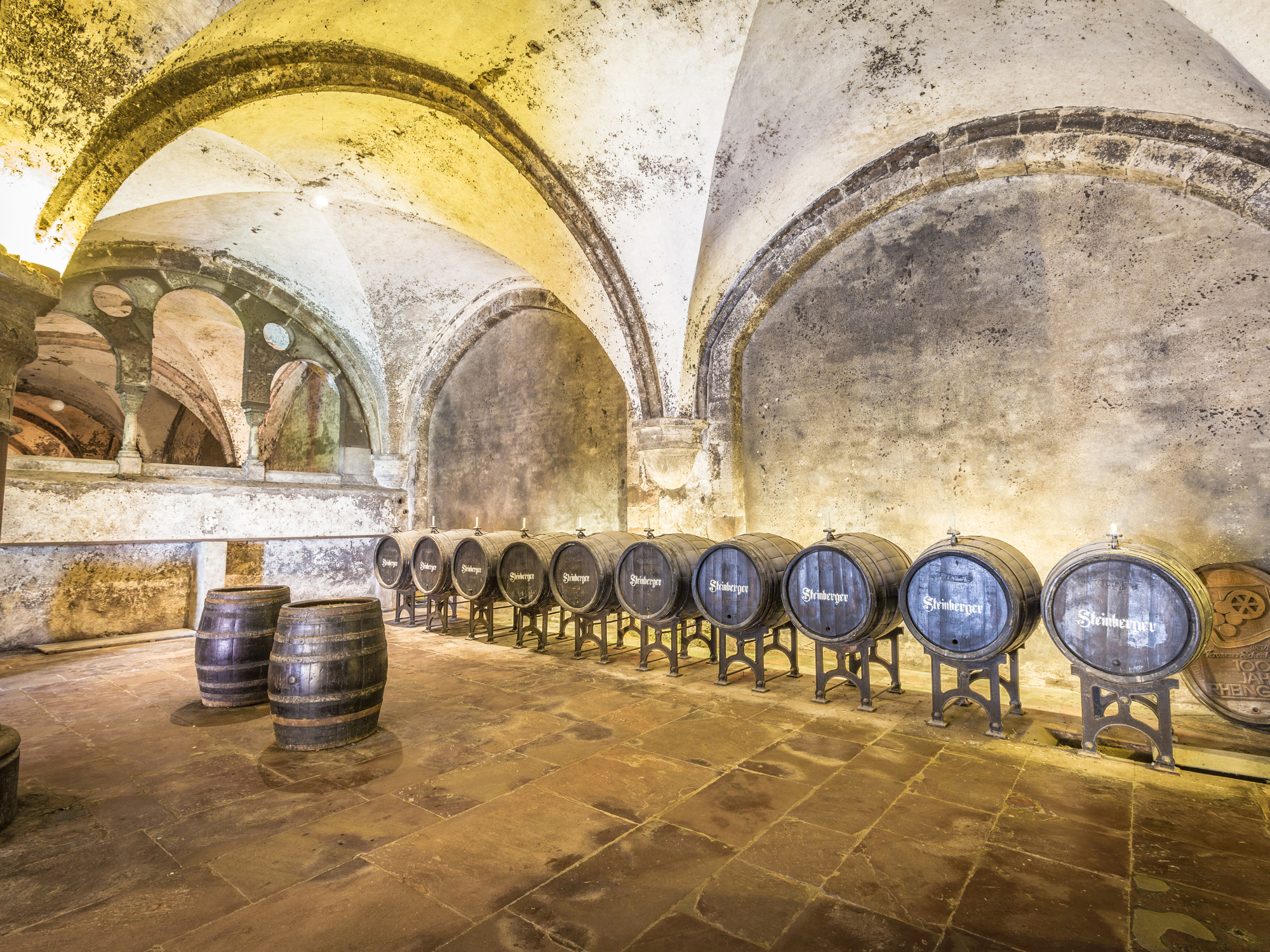 Photo Credit: Jorg Hackemann / Shutterstock.com
Kloster Eberbach - Once a Cistercian abbey, Eberbach Monastery remains to this day a meticulously preserved monument to classic European Middle Age architecture. The monastery's growing wine-making prestige over the last nine centuries solidified the community's wealth. Grape varieties include Riesling, but also branch out to Pinot Noir, Pinot Blanc and Pinot Gris. Their wine estate boasts over a million vines on the steepest slopes in the Rheingau with 150 acres planted on over a 35% pitch. Their onsite restaurant as well as several lodging options make lingering a bit longer all the more attractive.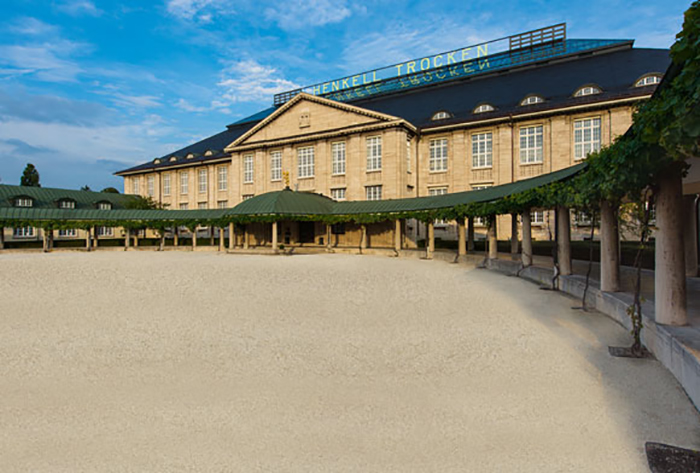 Photo Credit: Henkell
Henkell - Headquarters of world renowned sparkling wine producer Henkell is just outside downtown Weisbaden. Open for tours, it boasts a grand marble hall upon entering with a rotating collection of paintings on the walls. Further exploration reveals their extensive production and bottling operation and vaunted cellars several floors below. Founded by Adam Henkell in 1832, they still to this day successfully combine the artful composition of French Cuvée with the precision consistency of German craftsmanship that's now exported to more than 100 countries.