Photo Credit: Shutterstock.com
Have you ever wanted to take a truly adventurous cruise? Over the past few years, expedition-style cruises have taken off, with travelers making it to some of the most remote places in the world, while still being able to retreat the comfort of a suite. Sounds like a great way to travel, right? We thought so too, which is why we have compiled a list of the best off-the-beaten-path cruise destinations for 2017, ranked by wow factor, and unique life experiences afforded to travelers. There were some unexpected destinations in the rankings including Kiribati and Iceland. Surprise omissions include the much-touted Amazon and Africa which are still developing as cruise destinations. Read on to find out which destinations made the cut: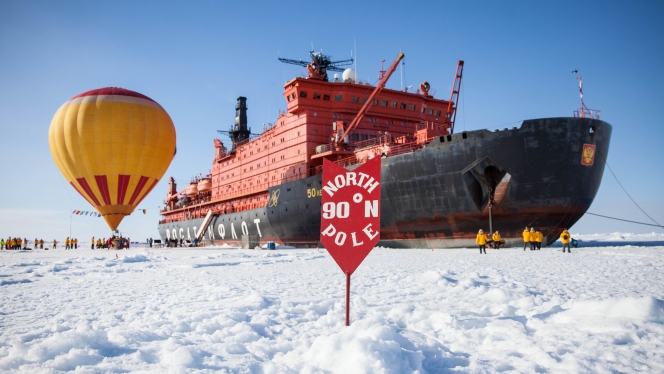 Photo Credit: Quark Expeditions
1. Top of the World (The North Pole)
For generations of explorers and adventurers, a journey to the Arctic and the North Pole has been the ultimate expedition. Pristine landscapes, bountiful wildlife, indigenous tribes, polar bears and natural phenomena give the Arctic a unique appeal and make it the world's best expedition destination. Getting to the North Pole is difficult, but the world's most powerful icebreaker, the Quark Expeditions nuclear-powered 50 Years of Victory, makes it possible.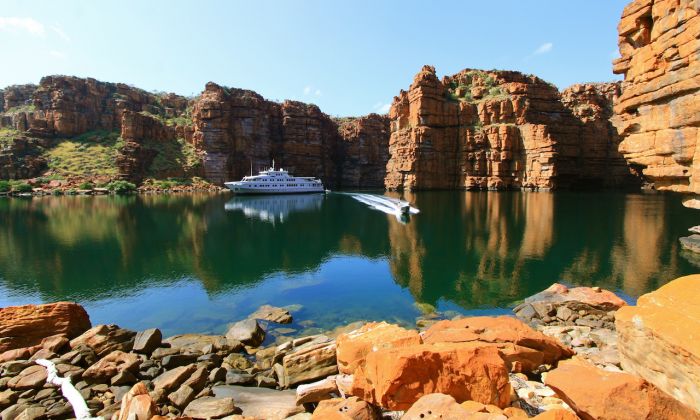 Photo Credit: True North Adventure Cruises
2. The Kimberley Coast
The sheer scale and awesome beauty of the Kimberley has to be seen to be believed. Every visitor to this stunning region returns home a changed person. Kimberley cruising aboard Coral Discoverer or True North takes you through the daunting canyons, waterfalls and untouched wilderness of Australia's north west wonderland and has to be experienced to appreciate how amazing it really is.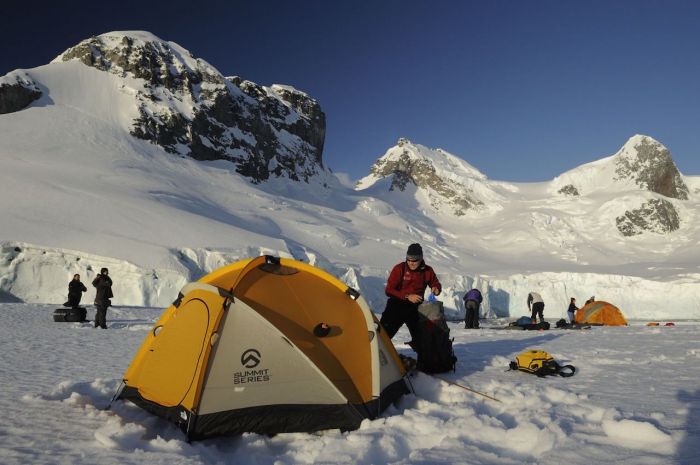 Photo Credit: Oceanwide Expeditions
3. Antarctica
The seventh continent offers the unique combination of amazing wildlife and awesome landscapes frozen in time. There are many ways to see experience the region, but one unique adventure is the Basecamp Ortelius expedition. Designed for Antarctic exploration, the Ortelius acts as a floating base camp while anchored for several days in specific locations. You can explore by kayak and zodiac on the water or go hiking in snowshoes and even mountaineering. There is nothing quite like it.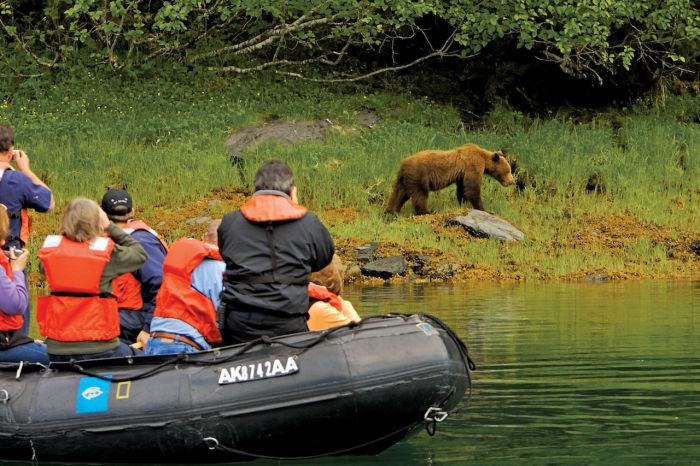 Photo Credit: Lindblad Expeditions
4. Alaska
Glaciers, ice covered mountains, frontier towns and pristine waters make Alaska one of the most sought after destinations on earth. While it's a very popular region, aboard a ship like the new National Geographic Quest you can get far away from the normal cruise routes. This type of cruise is not just a sightseeing trip, it is a full-on journey for people who enjoy hiking and physical activities. You immerse yourself in a world of fjords, ancient villages and stunning forests.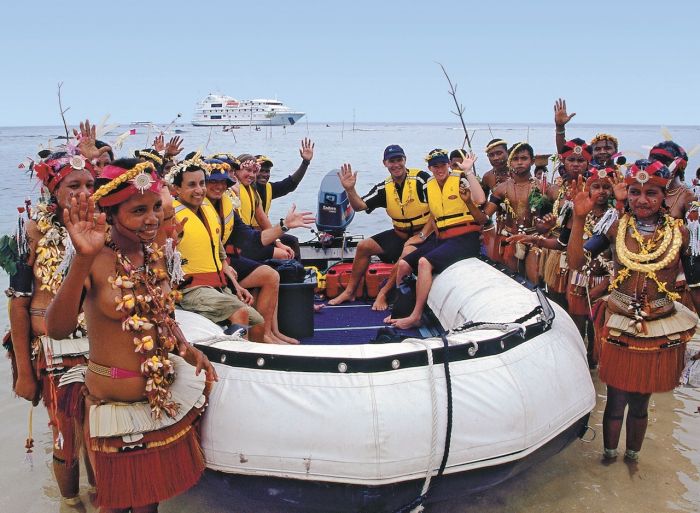 Photo Credit: Coral Expeditions
5. Papua New Guinea
It is the people decorated in their traditional dress, dancing and singing with great joy and happiness that make Papua New Guinea such an inspiring place to visit. Cruising through unspoilt islands and visiting remote villages is an unforgettable experience. This is one of the world's last great frontiers. You will experience magical and rarely-visited islands aboard small ships such as the luxury Coral Discoverer and enjoy a voyage rich in culture, history and natural beauty. Papua New Guinea is home to the largest area of intact rainforest outside of the Amazon and travelers will discover magnificent scenery ranging from colorful coral atolls to volcanic mountains, pristine waterways and mighty rivers.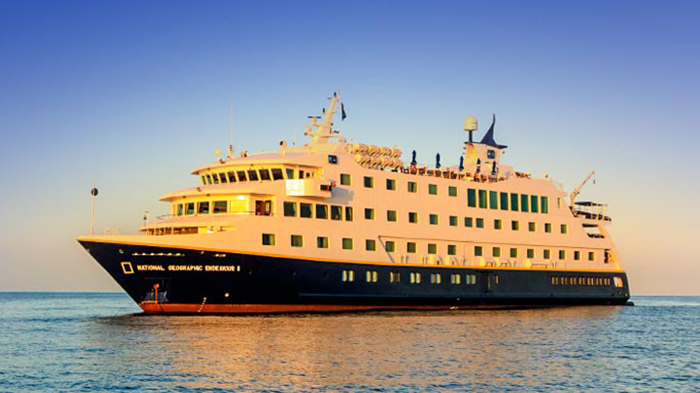 Photo Credit: National Geographic Expeditions
6. Galápagos Islands
Every lover of wildlife, sea life and unique experiences rates the Galápagos Islands right at the top of their list of places to visit. It is a region offering many expedition experiences from smaller catamaran ships like Ocean Spray and Sea Star Journey through to Lindblad Expeditions' impressive National Geographic Endeavour II. Whichever way you see it, you will be mesmerized by the experience.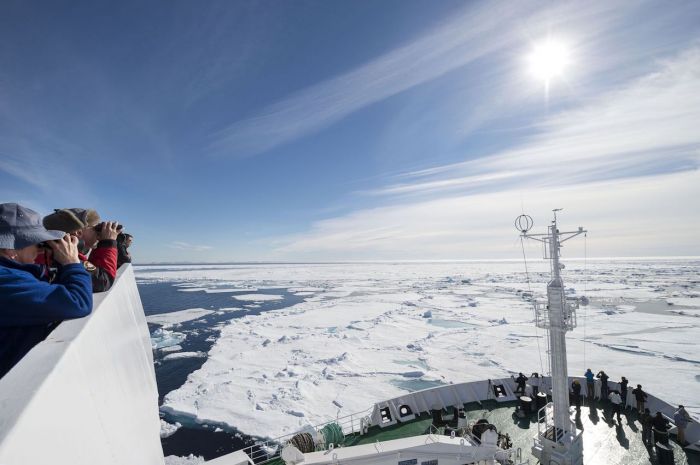 Photo Credit: One Ocean Expeditions
7. Canada's North West Passage
Seen as the "impossible" sea journey for generations, modern, specially designed ice-rated ships have made the daunting North West passage accessible. The Akademik Ioffe offers a crossing to Greenland that is one of "life's great trips." On the way, explore the remote Northwest Passage and the stunning fjords of the Baffin Island coastline before crossing to Greenland. Wildlife is a major draw for this 13-day expedition, venture through the home of the polar bear, musk ox, caribou and walrus.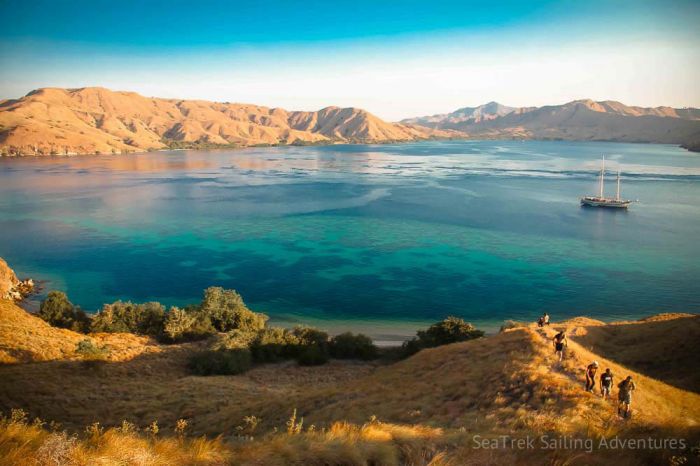 Photo Credit: Sea Trek Bali
8. Indonesian Archipelago
A surprise inclusion, beyond the tourist hordes of Indonesia's Bali lies a region full of friendly people, unknown islands and crystal clear lagoons teeming with life. You will immerse yourself in the Komodo National Park and Indonesia's Lesser Sunda Islands from an intimate perspective, cruising through a panorama of islands and encountering new wonders on a daily basis. For example, a 7-day voyage of discovery aboard the 24-passenger Ombak Putih offers a cross-section of remote beaches, quiet coastal villages, jungle-clad mountain ranges, towering volcanoes, rivers, waterfalls, tribal rituals, a mysterious lake, and the legendary Komodo Dragons.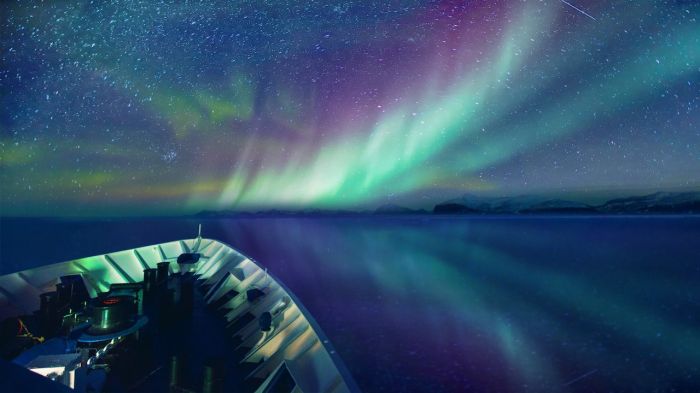 Photo Credit: Poseidon Expeditions
9. Iceland & Northern Lights
Iceland is the new wonder destination for expedition travelers. This one-off expedition, combined the unforgettable waterways of the region with the fjords of Greenland, remote settlements and the chance to experience the famed northern lights. There is nothing else quite like it.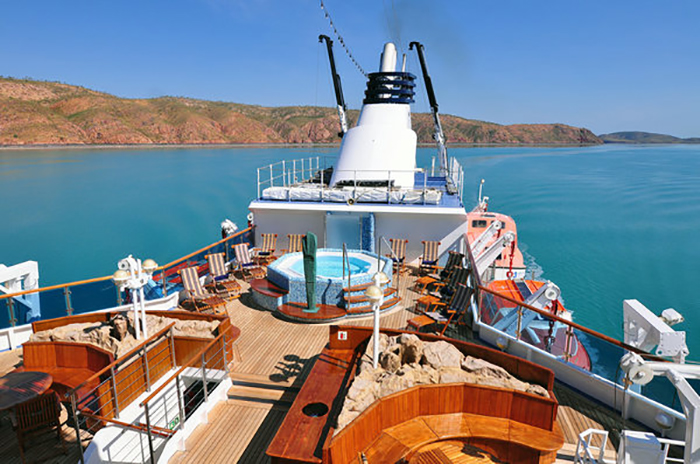 Photo Credit: National Geographic Expeditions
10. Kiribati's Southern Line Islands
Way out in the Pacific is a remote region which is virtually unknown to most adventurers. However the wonders of this amazing paradise are both above and below the water. Aboard National Geographic Orion you will discover that the notion of tropical paradise is alive and well - as are some of the world's best dive and snorkel sites. The expedition explores from Rangiroa's sparkling lagoon to the verdant peaks of Tahiti's neighbor, Moorea. This voyage maximizes your time in some of the most vibrant undersea sites in the world. Plus, there's time to stroll pristine beaches, kayak peaceful coves, and experience true Polynesian hospitality.