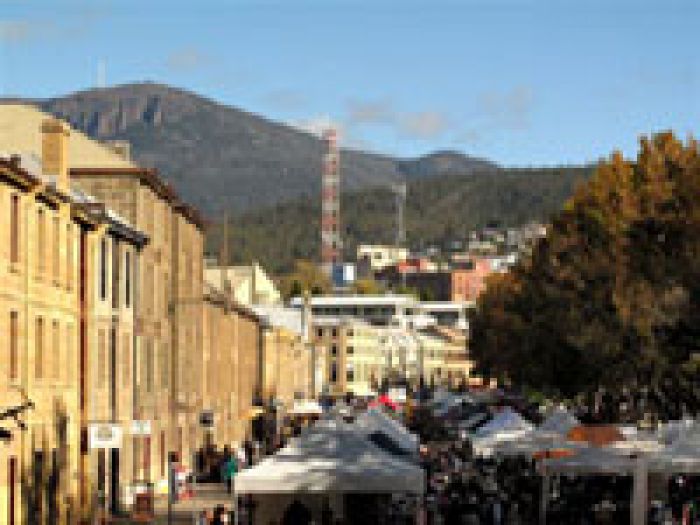 Luxury Travel :
Hobart is hot. Actually, most of the year temperatures are mild to warm, but in terms of excitement, energy, creativity and hospitality, the little old city on the beautiful harbour is punching way above its weight.
Hobart is capital of Tasmania, that heart-shaped island between Australia's mainland and Antarctica. A few years back the locals realized they were walking around in a potential tourist paradise, with only a few boxes to check before they could move on to the highest level.Those items included culture, food, accommodation and visitor attractions. It is pleasing to report that all boxes are now checked and hedonistic Hobart has joined the ranks of the world's most exciting destinations.
Even the tyranny of distance has all but disappeared, with easy and relatively cheap access by sea and air. Recent fares from Melbourne, the closest international airport, were cheaper than the taxi to the airport. There's also an overnight sea route on a large ferry called the Spirit of Tasmania, where you can have a private cabin.
In contrast to the ease and economy of getting to this historic city - Australia's second oldest - today there's a growing emphasis on providing the best, almost irrespective of the price ticket. And there's a fierce island pride among most of the tourist facilities down here - wherever possible they stock local produce, from wine to whisky and art to artefacts.
Pride of place on Hobart's waterfront is the splendid Henry Jones IXL Art Hotel, developed just a few years ago from a derelict jam factory, which had become a squatter's haven. Now one of Australia's finest boutique hotels, it has just 56 rooms. Each is unique, from the rugged stones and massive old timbers to the original, local, artworks hanging on the walls. There are many reminders of Henry Jones, Tasmania's first knight, who was the largest private employer and pioneer of Tasmania's tin mining and hydro electricity industries.
The rooms are pure luxury, with vast, translucent glass bathrooms, each with a European elliptical bath, trapeze lighting, and king size beds with exotic silk covers. High-speed internet connectivity is provided together with, in most cases , close-up views of the harbourside activities and distant views of towering Mount Wellington.
Some rooms overlook the intriguing IXL atrium, revealing glimpses of the old jam factory interior. This is a lively meeting point for Hobart, lined with classy boutiques and design studios. At the summit of this high-end hotel are the Oriental Suites and H Jones Suite, with sumptuous, deep, overflowing spa baths by Kohler.
Hobart has a rare pride in the Henry Jones, somewhat akin to London's affection for the Ritz and Savoy. Yet while those venerable establishments have nurtured this pride for more than a century, this Hunter Street landmark first put out the welcome mat just five years ago.
High-end Hobart doesn't end there - in fact the city's growing reputation for luxury offerings spreads far inland and down the coast. One of the more recent ventures is an enormously impressive initiative in the little town of Bothwell, home of the nation's oldest golf course. There's a strong link with Scottish ancestry here - even the river is named the Clyde - so naturally the converted flourmill is now producing wondrous single malt whisky. You can buy it by the dram, the bottle or even, as an investment, the 100-litre barrel.
The Nant Distillery stands on a National Trust farm complex, housing more than 10 Heritage-listed, convict-built, sandstone buildings. The complex was designed by Morris Nunn, the architect who played a leading role in the renaissance of the Henry Jones building. Here you'll find 200 whiskies from around the world and you can take an educational tour - with a wee dram, of course - and even a three-day school. In this you can assist head distiller Chris Condon and learn all there is to know about fine whisky - well, almost.
The enterprise marks the realization of a dream by owner Keith Batt, himself no mean whisky enthusiast. His favorite drop - yet to be sampled - is a 1965 Ardbeg from the Hebridean isle of Islay, which takes pride of place in the tasting room. Mr Batt shelled out $6000 for the rare bottle.

The road to Bothwell and the distillery takes you past one of Australia's most magnificent winery-gallery complexes at Moorilla. Established as one of Tassie's foundation vineyards in 1958, it is now a multi-functioning destination that combines vineyard with brewery, residences, restaurant, art gallery, concert venue and - soon - a farmer's market.




The eclectic venue expresses the passion of owner David Walsh for fine food and wine, cutting-edge art, exciting architecture and unique accommodation. He is perhaps Australia's leading private art collector and through Moorilla's Museum of Old and New Art - soon to be opened - his collection will be on view to the public.

If you think the artwork in your room at the Henry Jones is quite something, wait until you book one of the suites at Moorilla. Each is named after an Australian modernist artist and features antiquities from Mr Walsh's collection. Greek coins, stone sculptures from Pre-Columbian Central America and mosaics from the Roman Empire are included in the decor of each pavilion. Original artworks worth hundreds of thousands of dollars are also on view in the public areas.

The art-wine-food theme continues with the remarkable development at Meadowbank, near the quaint old suburb of Richmond and just a few minutes from what Hobart ironically calls its international airport. They make excellent wines here - these days a given for Tasmanian wineries - and they also support local artists through an ever-changing gallery where painters who struggle to find economic display space can showcase their talents to a largely appreciative audience.

Meadowbank has 10 hectares of vines in the Coal River region and has won more awards than you can shake a bottle at. But it's much more than a winery - it has a restaurant, function centre, and cellar door and handles corporate meetings, weddings, and other celebrations.

It also has a unique and totally enthralling concept called Flawed History. This is an artistic representation of the history of the Tasmanian wine industry, paying homage to its pioneers and miscreants through a winding path of wooden floor carvings executed by artist Tom Samek and writer Graeme Phillips. The idea is you buy a bunch of tasting tickets and drink your way around the stunning art installation.


Elegant Hobart extends way beyond its lively, restaurant-lined waterfront. Take a trip on Peppermint Bay's magnificent catamaran - book the Captain's Cabin - and you're in for a few hours of pure, leather-seated luxury. The crew are laid-back but attentive - sometimes the craft seems to be steering itself while the skipper socializes - and the beautiful coastlines of the Derwent, Bruny Island and D'Entrecasteaux Channel slip into view.

After you've sipped your welcoming champagne and canapés, ask the skipper to stop and he'll oblige, perhaps to point out a blowhole in the towering cliffs, give a close-up glimpse of life in a salmon farm, or let you see what's happening in the octopus' garden through an underwater tele-camera. And then it's time to berth at lovely Peppermint Bay and its lovely hospitality venue. This won Australia's 2004 National Tourism award as best new hospitality development and has been gathering awards ever since.

First-time visitors to this fascinating old city are pleasantly surprised by the excellence and variety of its eating houses, many of them stocking a wide range of local wines including the magnificent Pooley range. Some which took my fancy included Monty's on Montpelier Retreat, where they have a display cabinet featuring 32 different cheeses; Rockwall on Salamanca operated by two former champion footballers, luxurious Marque 1V on Elizabeth Pier and Smolt in Salamanca Square, where tapas are a specialty.

For JustLuxe Paul Edwards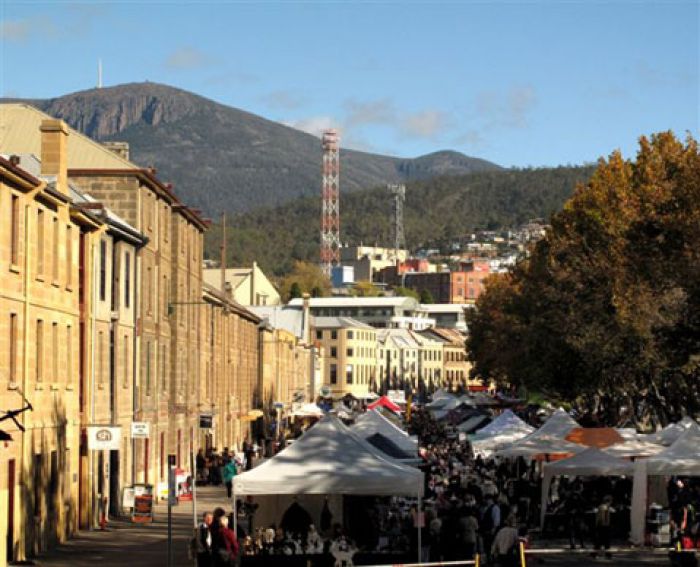 Hobart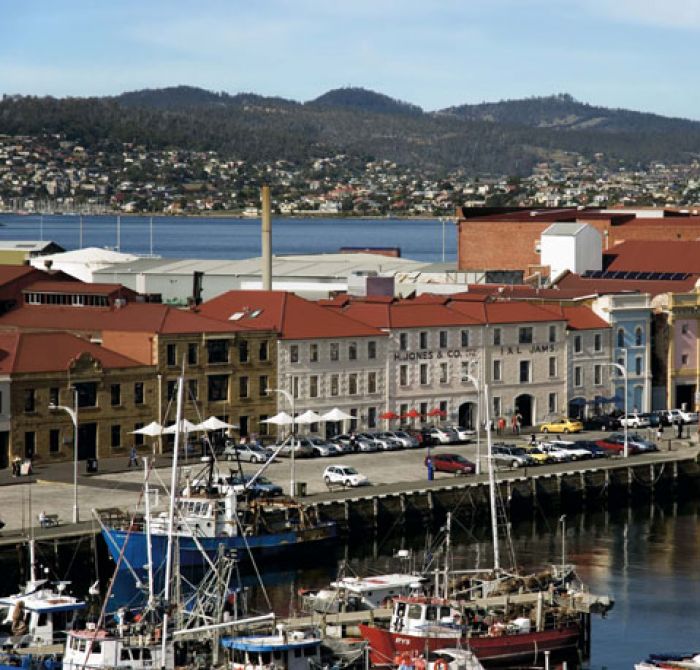 Henry Jones Art Hotel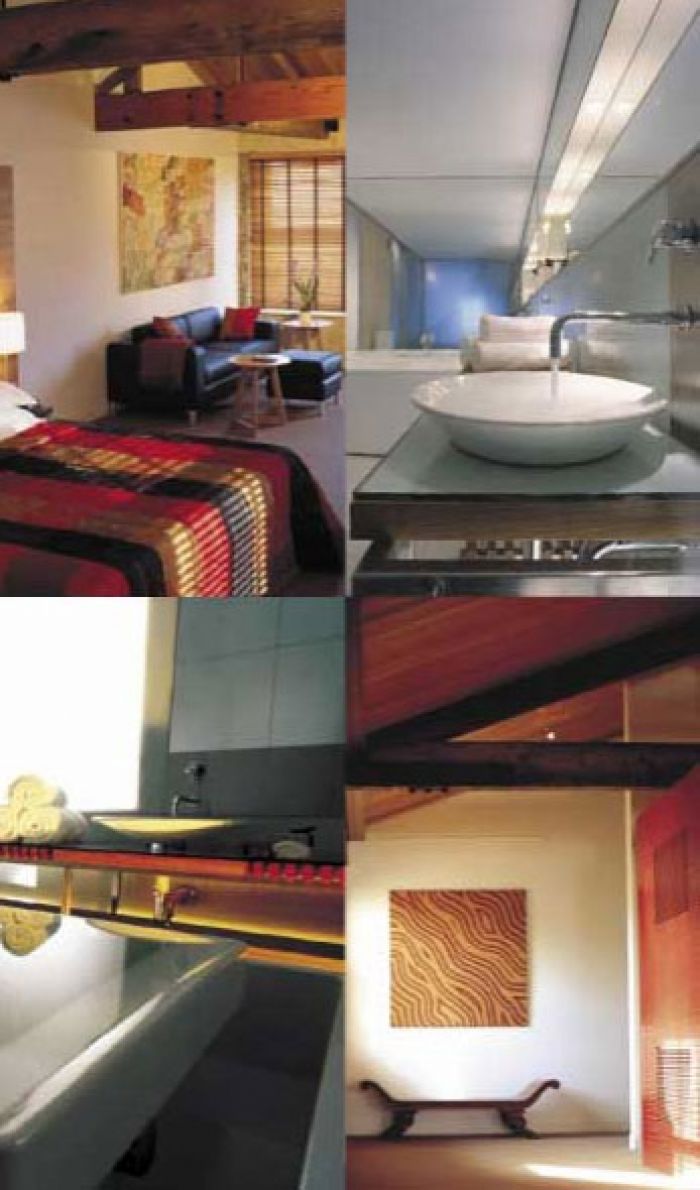 Henry Jones Art Hotel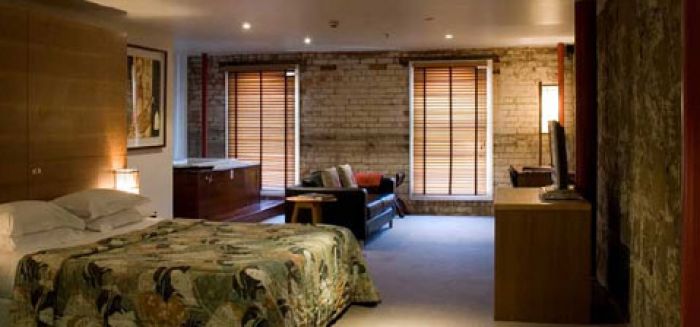 Henry Jones Art Hotel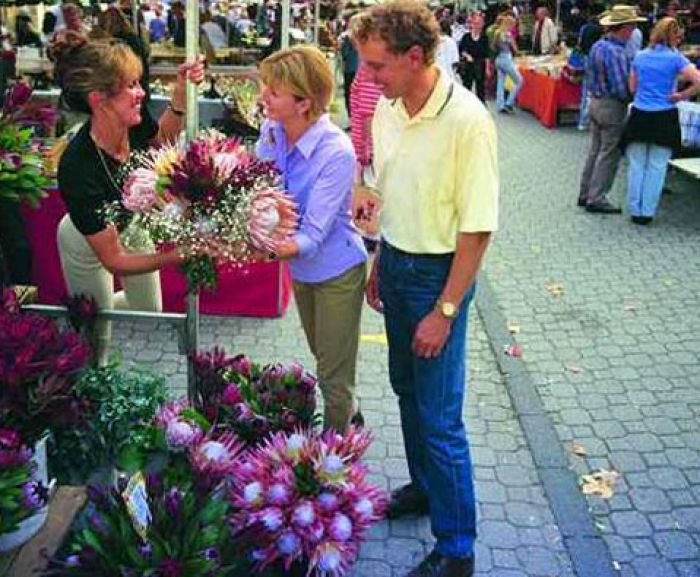 Hobart Street Market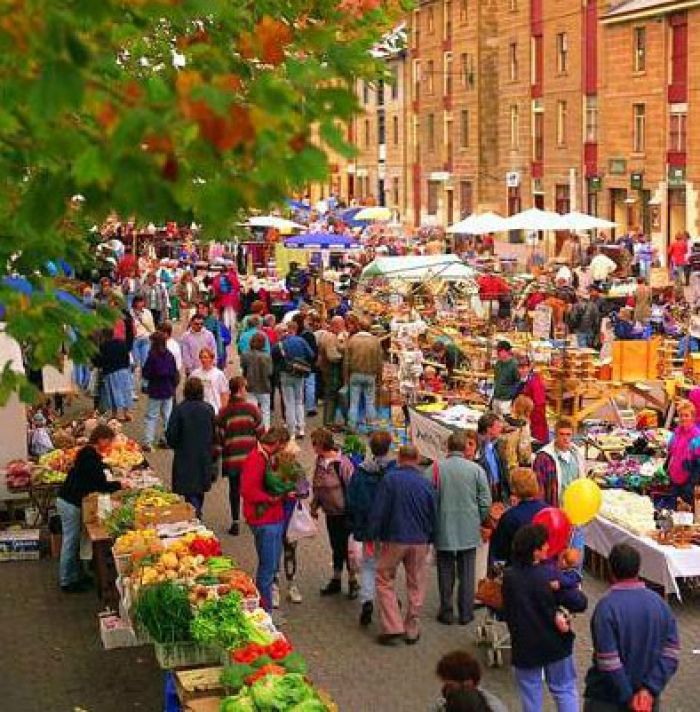 Hobart Street Market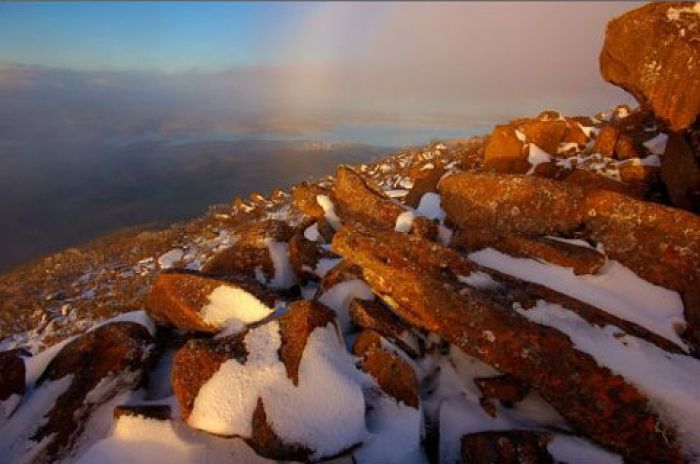 Mt. Wellington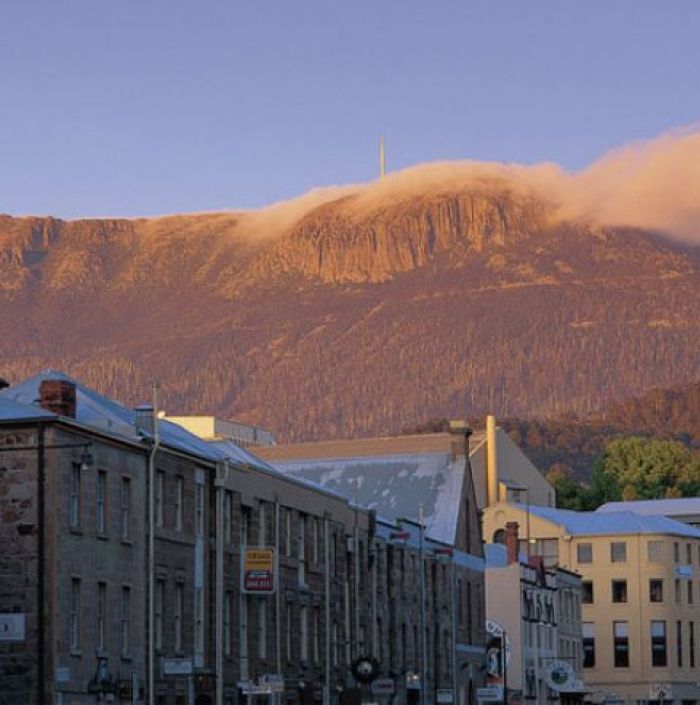 Mt. Wellington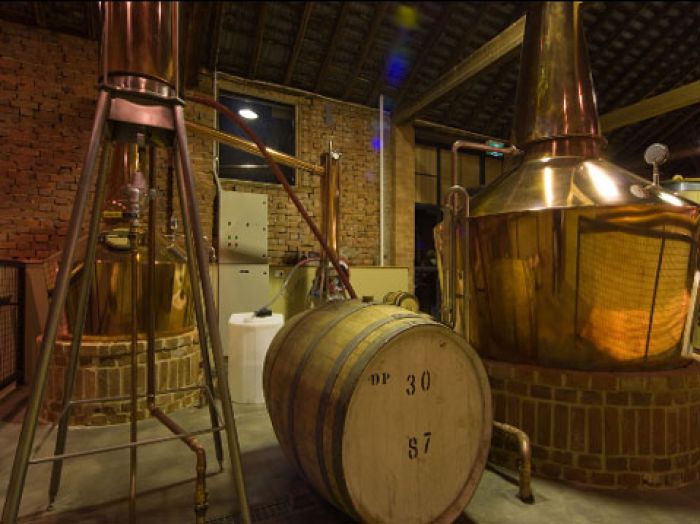 The Nant Distillery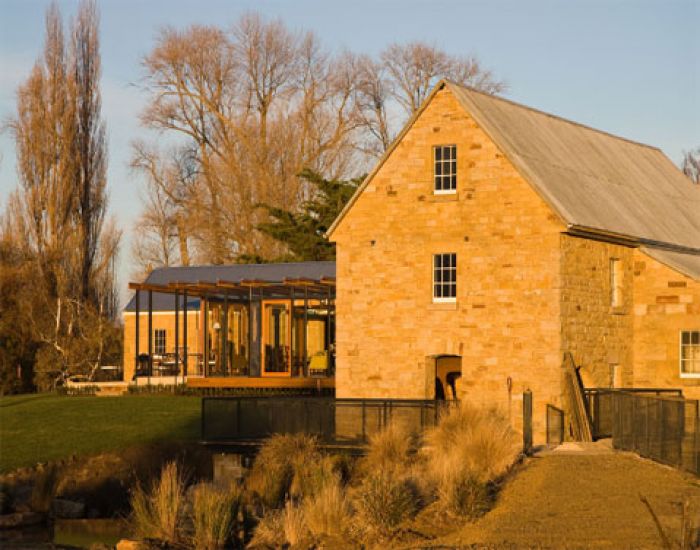 The Nant Distillery


Hobart Harbor

Hobart Harbor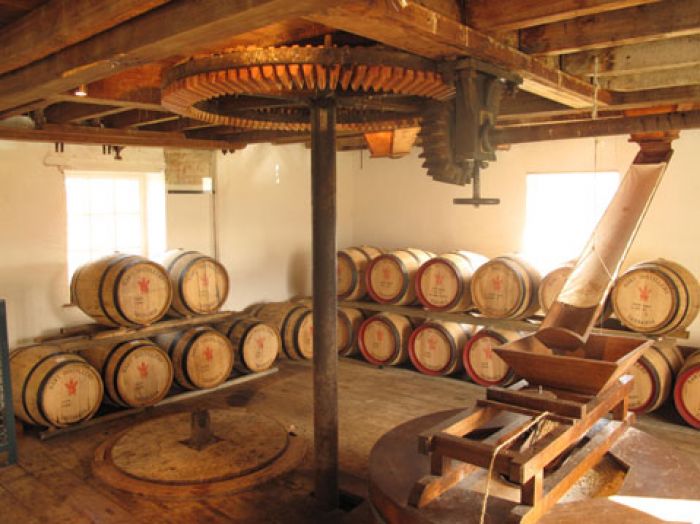 The Nant Distillery


Hobart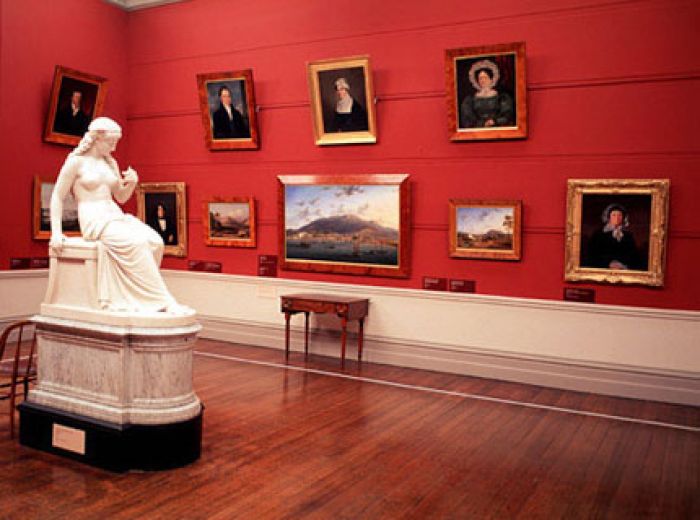 Henry Jones Art Gallery