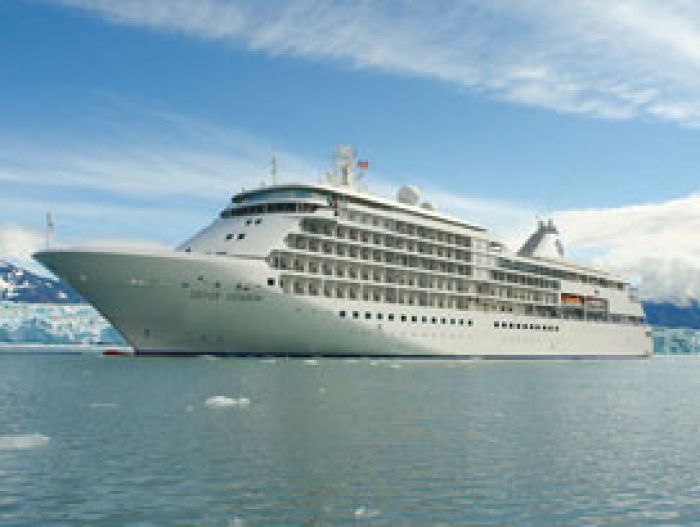 Luxury Cruises:
There are cruise lines - and then there is Silversea - a stellar cruise line in a league of its own. If you're seeking a cruise experience that definitely puts you in the lap of luxury, Silversea, a line offering "intimate Italian cruising" and a wealth of wonderful advantages, is the award-winning line you've been waiting for. If you have only been on mass-market cruise lines until now - you know, the ones where there are so many passengers you wait in line for
everything
- Silversea, we can tell you, is the cruise line that is as good as it gets.
We've sailed on larger, mass-market ships, and we can tell you quite honestly: Once you've experienced the pleasures of a small luxury ship, (and one that only holds 320 guests) you'll never set foot again on a massive ship with crowds of people. Silversea is a symphony of services and amenities - a cruise line that caters to your wants and needs with aplomb - even before you ask for them. Just like a five-star hotel, Silversea offers silken service and cashmere care that's designed to offer an ultimate travel experience. Here are a few things that we love about cruising on Silversea Cruises, because this cruise line makes the "getting there" as wonderful as whatever destination you're headed to. Come with us now, as we tell you about our recent voyage to Alaska, roundtrip from San Francisco.
Special Requests Are Especially Taken
Even before you board, Silversea wants to know all of your special dietary requests. Then, once on board, every guest has an opportunity to meet with the Executive Chef, to handle any dietary details that may remain. We love this feature - before we boarded on our recent Alaskan adventure on Silversea's
Silver Shadow
, we informed Silversea that we would be celebrating our 9th wedding anniversary - and asked if the chef could possibly make us a lowfat carrot cake.
Faster than you can say, "I Do," Executive Chef Sean Emslie proferred upon us a guilt-free gourmet delicacy. (We also brought on board our own lowfat mayonnaise, which we gave to the Chef, so we could eat tuna fish sandwiches at lunch without guilt. Note, however: We only brought our own low-fat mayonnaise because we booked our cruise very close to the sail date, without allowing enough time for Silversea to procure this item on its own, prior to the sail date. Had we booked our cruise with more time in advance, Silversea would have taken care of that with no problem. Hence, be assured that nearly whatever special requests you have prior to your cruise,
if made enough time in advance of the sail date, Silversea's staff will almost surely meet them.)
"Requests are made with your reservation through a travel agent," Chef Emslie told us. The requests are commonly for lactose-free and gluten-free menus, although the staff will move Heaven and Earth to see that you are satisfied. For us, it's like having your own personal chef. We also asked for special low-calorie breads and rolls, as well as entrees such as lowfat chicken cacciatore and ratatouille- requests that were fulfilled deliciously without any problem.
In fact, Chef Emslie told us that he welcomes a challenge. Of course, if you don't have any special requests, all the better. The menu is always a treat, especially the gourmet "galley-lunch" that served up a storm of succulent dishes, including what seemed like 20 special desserts - everything from chocolate fondue to profiteroles.
One notable offering we loved were the wellness options routinely featured on all of the menus. Who said you have to gain weight on a cruise ship? The room-service breakfast menus all featured healthy options, such as delicious bran muffins weighing in at about 100 calories each (We ate them with guilt-free gusto every day). A dinner menu might feature an iced beet root soup for 31 calories; antipasti salad for 94 calories; and a grilled filet of halibut with shallot cream, all for just 187 calories. There are even separate vegetarian menus.

No matter what you want, the staff is there to serve you. Chef Emslie told us that one guest wanted the specific blackened cod dish that is routinely served at Nobu, one of the world's most high-end restaurants. Chef Emslie looked up the recipe on the internet, and served the miso-marinated delicacy to the delighted guest. The most unusual request- Another guest insisted that his food be served piping hot, and in that case, "We served his meals with a thermometer, so that his meal was almost boiling," said Chef Emslie. And on world cruises, there's even a dedicated Special-Request Chef on board, to handle all of the inimitable dietary requests.

Take some advice from us - one of the greatest advantages of dining on a cruise ship is that if you can't decide which entrée to choose, you can simply request both - and even order two desserts, even if you're just going to nibble. (We expected to see a Baked Alaska on this itinerary, so it was probably a good thing that it wasn't offered, because we would have been tempted to have a portion the size of Fairbanks.)




Delectable Dining Options
The Silver Shadow offered several dining options: there's room service in your suite, the Dining Room offering a wealth of creative selections, La Terrazza featuring Italian specialties, and Le Champagne, a deluxe Relais & Chateaux dining experience in a cozy bistro. Le Champagne is the only venue that requires an additional charge - for $200pp you can enjoy numerous courses accented and complemented by superb wines. For example, "Under The Spanish Sun" featured tapas served with Colet Assemblage Cava NV, Catalunia; breast of duck with Tinto Pesquero, Ribera del Duero 203; and dessert of chocolate brownie served with La Rioja Alta Rioja Vina Ardanza Reserva 2000. If you don't wish to partake of the wine, you can, for $30pp, still enjoy the gourmet dining experience without the pre-set wine pairings.

Let us put it this way - your taste buds will never be bored and on Silversea, an Italian line, your taste buds just might even do the tarantella. We met a woman on board, taking her first Silversea cruise, and she was one thoroughly contented passenger. "I love Silversea," she told us. "I love how you can order the dining room menu through room service in your suite, and how there are no set times for dinner seatings." We actually couldn't agree more. There are no set seatings at 6:30 and 8:30, so you can eat dinner whenever you want - and with whomever you want, all adding to an all the more enjoyable experience.

Sensational Spirits Are Included
One of the advantages of cruising on Silversea is that unlike mass-market cruise ships (you know, those massive behemoths that even include cliched midnight buffets), Silversea will never "nickel-and-dime" you for drinks because it's an all-inclusive cruise line with no tipping necessary. And believe us, most cruise lines do not provide complimentary alcohol - in fact, they charge anywhere from $3.75 to $10 for a single beer, anywhere from $7.50 to $18 for a single cocktail, and anywhere from $4.50 to $20 for a single glass of wine - that's for one person, plus tax, plus gratuity. For two people to have two cocktails each over one dinner or lunch, can easily cost $30 or more.




Remember, that's for drinks at just one meal - that doesn't include the lounge, bar or disco every night: By the time even a short cruise of seven days ends, on a mass-market cruise line, two people can rack up several hundred dollars in alcohol charges (and you'll have to "sign for it," as they say, each and every time.) Complimentary wines and spirits are included in the price of your Silversea ticket, which means that at each and every lunch and dinner, wines and cocktails are included.

For example, enroute to Ketchikan, Alaska, the wines served included a Conundrum California white wine (with a powerful aroma of green apple and tangerine) and a Santa Alicia Carmenere from Chile (with flavors of rich plum and black cherry). Of course, if you wish something from the Connoisseur's Wine List, for an added fee you can indulge in, for example, a Cloudy Bay sauvignon blanc ($80) or an Opus One from Robert Mondavi ($280).

All cocktails are made with top-shelf liqueurs; there's even a daily cocktail recommendation such as the "Bon Voyage" made with Mount Gay rum, cr?me de banana, plus pineapple and orange juice. A complimentary selection of dessert wines is also available, such as a Moscato d'Asti. The same holds true for soft drinks and coffee outside the restaurants: Everything is completely covered on Silversea. Cheers! Ah, Spa!
Debbi had the pleasure of enjoying a fantastic massage in the Elemis Spa located on the top deck of the ship. Here's where you can enjoy a wealth of posh pamperings that will indulge and invigorate you. The spa features four treatment rooms, and discounts of about 20% off are regularly offered on port days. The hot stone massages are the most popular treatment of all. Debbi had the Swedish massage ($110 for 50 minutes) and she sopped up every stroke like a sponge.

You name it, there's a treatment for it - from the Elemis Tri-Enzyme Resurfacing Facial, to Exotic Frangipani Body Nourish Wrap, and even a GoSMILE tooth whitening treatment ($199 for 30 minutes). Debbi's masseuse, Lourika from South Africa, started her massage with a dry brushing, followed by massage with rosemary and lavender oils, plus an application of milk bath used on the décolletage. Said Lourika: "I love giving massages - I'm happiest when I'm in the treatment room." And you know what? We totally believe her!

Extraordinary Entertainment
Who doesn't love great entertainment, enroute to your destination? We are huge fans of Silversea's entertainment options, and we've seen some marvelous production shows featuring talented performers. One show, for example, had a Latin theme, featuring South-of-the-border music and costumes, and the exceptional talents of the singers and dancers on board (including Natallia Korsak and Dmitry Sviridov, the exceptional, and stunning, world-class ballroom-dancing couple from Belarus, who wowed us with their fancy footwork. They belong on Broadway and we would have happily paid admission to watch them).




Our cruise also featured a talented singer, Donny Ray, who specialized in singing the music of Nat King Cole, and a pianist who had actually worked with Liberace, Craig Dahn, who captivated us with his creative performances. We're always happy to see a show after dinner, and it's just another of the many added pleasures that Silversea provides for its guests (We've been on other ships that don't have entertainment, and trust us - without it, something is definitely missing on your voyage).

And throughout each day, before the sun sets, there are more than enough activities to engage in - everything from table tennis tournaments; to foreign-language lessons; to bridge classes; to arts and crafts.

Work It Out In The Fitness Center
In the spa area, the Silver Shadow also boasts a fitness center outfitted with everything you need to negate calories: treadmills, elliptical machines, Nautilus machines, workout balls, free weights, and more than enough Pilates and yoga classes - which are all complimentary, by the way (On other ships we've been on, there's an added fee for such classes).

It makes a cruise on Silversea Cruises all the better, when you know that you can get in some exercise, to compensate for all of the delicious food that the ship serves. Each treadmill and elliptical machine also has a television, so you can tune in (and tune out) from all the hard work you're doing. Personal training is even available, for $83 for 60 minutes. If you want even more exercise, follow our example and take a ballroom-dancing class, which was typically offered on days at sea- taught by Natallia and Dmitry, who taught us how to do the jive. It definitely came in handy to know this routine, when we danced at night in the ship's disco - another great escape!




How Suite It Is
Our suite, #652, measured 405 square feet, including our verandah. Spacious, beautifully and luxuriously appointed, it featured Philips plasma HD TV, DVD player, binoculars, refrigerator, marble bathroom with double sinks and a bathtub (the ultimate luxury on a cruise ship), shower, and Bulgari amenities. Our fridge was re-stocked every day with all of our favorite drinks, and there was always a supply of fresh fruit.

One feature Debbi loved, given her preference for anything wrapped in hazelnuts and chocolate, were the foil-wrapped European Cafarelle chocolates that were placed on her pillow every night. Our suite also featured a Sealy Posturepedic bed outfitted in high-thread-count sheets and duvet, making our sleep all the more sybaritic. Believe us when we say it was hard to get out of such a comfortable bed.

And here's a tip - the Silver Shadow has a great selection of DVD movies, but if you really want to guarantee viewing of special flicks, you should simply bring your Netflix choices aboard and return them from an American port. One thing you should know - starting in the Fall of this year, every guest on a Silversea voyage will enjoy the luxurious services of a personal butler - he can perform a wealth of services -- unpack clothing, facilitate a dry-cleaning request, prepare a scented Jacuzzi - heck, he can even hang your "Do Not Disturb" sign if you want. Exciting Excursions
We have to admit - we're not big fans of the cold weather, and it was hard for us to get used to sailing to Alaska, while not being able to take advantage of a warm, sunny pool deck. But we'll say this - on this Alaska sailing, we experienced the very best excursion we ever experienced, anywhere - the zipline expedition in the Tongass National Rainforest.

We had previously ziplined once in Hawaii, but that was a limited zipline experience, where we actually "rode the rope" just once between two points. On the zipline tour we took in Juneau, the tour had us ziplining a total of nine times, with speeds reached of 35mph, and heights of 180 feet. We were awestruck at how beautiful it was to be in the forest, totally in nature, traveling from tree to tree. If you only take one excursion in your lifetime, this really should be it. For $169pp, it was money very well spent, and a tour that we highly recommend. In fact, we can't wait to do it again.




Venetian Society Specialties
Upon completion of your first cruise with Silversea, you will immediately become a Venetian Society member - this means that you'll automatically begin accruing your Venetian Society cruise days, and become eligible for special 5% and 10% members-only savings on select sailings. Venetian Society members also can enjoy onboard recognition and private parties; milestone rewards; ship visitation privileges; and more.

As a further incentive, if you sail with Silversea more than 100 days, you also get an additional 5% savings and complimentary onboard laundry service. At the 250-day milestone you receive free early embarkation and late disembarkation. At the 350-day milestone, you'll be rewarded with a complimentary 7-day cruise. At the 500-day milestone, you even receive a complimentary 14-day cruise. What's not to love?

Let The Spirit Move You
Silversea is also in the process of welcoming its newest ship, the Silver Spirit, now under construction. Its Grand Inaugural Voyage is a 91-day voyage that sails from Fort Lauderdale to Los Angeles, and twists back to New York on a fascinating itinerary highlighted by a visit to Rio de Janeiro in time for Carnival, a journey around the end of the earth at Cape Horn, an in-depth exploration of the Mexican Riviera, a crossing of the Panama Canal, and an unforgettable Statue of Liberty event in New York harbor.




Fares for the full Grand Inaugural Voyage start at $39,187pp and include "Extended Voyage Savings" of 5% plus enhanced Early Booking incentives. This 36,000-ton vessel will indulge her 540 guests with the largest suites in the fleet, and 95% will feature a private verandah. The onboard décor will lend a sophisticated 1930s Art Deco ambience to the public spaces, and the ship will feature a choice of six dining venues including a Japanese restaurant, and a Supper Club featuring live music, dancing and nightclub-style entertainment. From reviewing its pre-launch details, all we can say is "Ciao bella!"

While we haven't yet reviewed the newest in Silversea Cruises- fleet, we were already "moved by the spirit" of this superior, ultra-luxury cruise line. We can confidently write that if you cruise aboard Silversea Cruises on any of their sumptuous ships, you will never be disappointed. Disembarking the ship, your only thought will likely be, "Why didn't we do this sooner?"

For more information, call (800) 722-9955.

By Debbi K. Kickham and William D. Kickham. Esq.
JustLuxe Contributors
Marketingauthor.com

Silversea Cruises

Silversea Cruises

Silversea Cruises

Silversea Cruises

Silversea Cruises

Silversea Cruises

Silversea Cruises

Silversea Cruises

Silversea Cruises

Silversea Cruises

Silversea Cruises

Silversea Cruises

Silversea Cruises