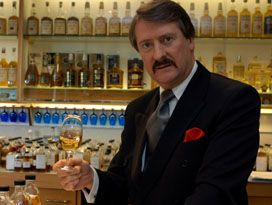 Luxury Vacations:
Have you ever ordered your signature drink and then regretted when it came back not exactly the way you imagined? Wouldn't it be amazing if there could be a special drink, designed just for you? In the Scottish Highlands, The Dalmore has been custom blending Scotch for over a century.
The Dalmore
is a single malt Scotch whisky distilled in Alness, Scotland, with water from the River Averon and grains that are grown in the region. Because of its location and flavor, The Dalmore is true Highland malt.
Surrounding the distillery are the beautiful Scottish Highlands, filled with a rich history of rivaling clans and castles. The Dalmore legend tells that in 1263, ancestors of the Clan MacKenzie saved the King of Scotland from being gored by a wild stag. As thanks, the King granted him the right to use the stag's horns on his family crest. The legend continues to this day, as each bottle of The Dalmore bears the emblem and the MacKensizie clan motto, "I Shine, Not Burn," is within each specially crafted bottle.
To fully enjoy the luxury of The Dalmore, travel to the Scottish Highlands for a special package that allows you to enjoy the beautiful surroundings of the ancient lineage of the world's most exquisite single malt Scotch from the comfort of a luxury hotel. For $85,000, experience The Dalmore scotch in a handcrafted case, four nights in Scotland, first-class airfare and transfers, city and country tour, private barrel tasting of resting casks, and a day of falconry with the world?s foremost master distiller, Richard Paterson.

You also get to bring the experience home with you. During your stay, Richard will get to know you and your preferences as well as taste. Be prepared for questions such as:
If you are faced with an ocean or forest, which do you prefer? Do you prefer vegetables or fruit? Please indicate you two favorite spices and herbs from this list:



Aniseed
Black Pepper
Cinnamon
Cloves
Cumin
Ginger
Lemongrass
Nutmeg
Rosemary

What's your favorite season? Color? Your answers will result in The Dalmore Bespoke Blend just for you, a bottle of which you can expect to arrive in a handmade case a few weeks after you return from your sensory adventure.

The third generation of his family to serve as Master Distiller, Richard Patterson is a legend in the world of Scotch, with a lineage unmatched by any in the industry. He has won numerous accolades and his superior award-winning blends have been served to some of the most discerning discriminating connoisseurs in the world.

The Dalmore is more than just a Scotch; it is the experience of The Highlands in every luxurious sip.

For JustLuxe Carly Zinderman