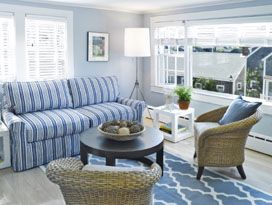 Luxury Vacations:
If you haven't been to the island of Nantucket recently, then a stay at the Cottages at the Boat Basin is a must. Located literally on Swain's Wharf, you won't believe your eyes when you stay here. Imagine waking up every day to a beautiful ocean view just outside the front door – that's exactly what you will get when you stay here.
When we first arrived on Nantucket via Hy-Line Cruises, we were met by an employee of the Cottages right at the dock, who took our bags on the golf cart around the corner to the check-in on the wharf.
There are several cottages to choose from here ranging from one to three bedrooms, including Upper Deck, Three Brothers and Orion. Be sure to tell the reservationists before booking a stay in one of their "Woof Cottages" that you brought your dog along for a visit. Bertha, our English bulldog, was delighted to relax in her own pet bed and enjoyed the basket of homemade treats from Geronimo's of Nantucket, including a personalized name tag.
All pet friendly cottages include:


Blissful Bed, the ultimate in pet comfort
Welcome basket of pet treats and play toys
Food and water bowl
Woof Cottages Bandana
Dog walking services
List of pet-friendly attractions on Nantucket
Directory of veterinary clinics and pet supply stores
List of popular dog runs


We enjoyed coffee in the morning on the small flower filled patio that overlooked some amazing yachts docked right in front of us. We stayed in the two-bedroom Pawana cottage, which was simply beautiful. The kitchen was fully applianced with everything from a stove, microwave, refrigerator and toaster to a Keurig machine for the perfect coffee brew first thing in the morning. The master bedroom is located on the first floor of the pet-friendly cottage and there is a loft that opens up to two twin bedrooms. The living room on the first floor also had a pull-out sofa so you could have several friends stay with you.


If you decide to leave the cottage for a stroll, there are all sorts of boutiques and art studios on Old South Wharf just a minute walk from the cottage. All of the cottages are conveniently located within just a five-minute walk of the grocery store as well in the heart of Nantucket Town.

For the easiest access to the island, grab a ticket aboard Hy-Line Cruises, which provides year-round one-hour high speed ferries to the island from Hyannis for $75 per person round trip. The ferry is conveniently located at Straight Wharf just steps from the cottages (www.hylinecruises.com).

For more information or to book a reservation at the Cottages and Lofts at the Boat Basin, call (508) 325-1499 or visit www.thecottagesnantucket.com.

For JustLuxe Kellie K. Speed

Courtesy of Nantucket Island Resorts

Courtesy of Nantucket Island Resorts

Courtesy of Nantucket Island Resorts

Courtesy of Nantucket Island Resorts

Courtesy of Nantucket Island Resorts

Courtesy of Nantucket Island Resorts

Courtesy of Nantucket Island Resorts

Courtesy of Nantucket Island Resorts