Lugenda Wilderness Camp Opens for 2010 Season
Jun. 8th, 2010 | Comments 0 | Make a Comment
Luxury Vacations:
Rani Resorts' seasonal
Lugenda Wilderness Camp
in Northern Mozambique opened last month for the 2010 season. Lugenda Wilderness Camp is set in one of Africa's last wild places, only recently accessible to discerning
safari
enthusiasts.
Lugenda Wilderness Camp is located in the Niassa Reserve. Situated near the Tanzanian border, the Niassa Reserve is about twice the size of the Kruger National Park and has the greatest concentration of game in Mozambique, providing visitors with an experience of pure wilderness. Untouched and virtually unexplored, it is one of the last undiscovered areas of the African continent.


Intimate and understated, Lugenda Wilderness Camp offers guests every luxury during their stay in this unique and wild setting. The eight luxury tents are situated on the banks of the Lugenda River beneath towering fig trees. The tents have a solid substructure and blend beautifully into the natural surroundings whilst offering every modern comfort from king-size beds to en-suite bathrooms with Victorian-style bath and shower, double basins and ceiling fans.

With the creation of the Lugenda Wildlife Reserve, Rani Resorts became the first private investor to accept the responsibility of developing economically viable safari activities in the greater Niassa Reserve. A unique management plan was formulated to include effective anti-poaching initiatives and the development of programs that benefit the local fishing communities.



Little has changed over hundreds of years and, while never densely populated, the region has been inhabited for thousands of years. Many of the communities living in the reserve rely on traditional skills such as fishing and honey gathering. The wildlife remains free and unfettered and the results of an aerial census in 2002 estimated over 12,000 elephant, 9,000 Sable Antelope and several thousand Cape Buffalo. Lichtenstein's Hartebeest, eland and zebra roam the plains and river valleys against a backdrop of towering inselbergs (or island mountains) that dominate the topography.

Niassa National Reserve is truly a Mozambique wildlife paradise, providing refuge for over 200 endangered Cape Hunting Dog (African Wild Dog), as well as other predators such as lion, leopard and Spotted Hyena, and general game such as kudu, bushbuck, impala, wildebeest, waterbuck, reedbuck and hippo. Three sub-species, the Niassa Wildebeest, Boehm's Zebra and Johnston's Impala are endemic to the Niassa area. The area is also a birder's paradise with 370 bird species, including the rare Pel's Fishing Owl and Angola Pitta.

Lugenda Wilderness Camp is part of Rani Resorts, the leading luxury resort brand in Mozambique, an emerging and unique Indian Ocean destination in Southern Africa. See all Luxury Hotels in Africa
Featured Luxury Hotels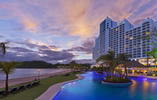 Panama City, Panama
The Westin Playa Bonita Panama
Discover complete rejuvenation at the natural refuge, where a serene beach...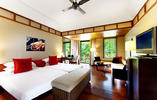 Langkawi, Malaysia
The Andaman, a Luxury Collection Resort
The Andaman, a Luxury Collection Resort located in an idyllic tropical setting...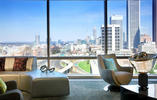 Atlanta, United States
W Atlanta - Downtown
Contemporary sophistication is all yours at this savvy southern W Atlanta...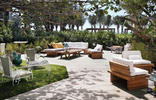 South Beach, United States
W South Beach
Glamour, location, style. Playful, energetic, whimsical. In a beachfront oasis...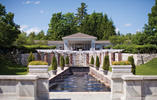 Lenox, United States
Canyon Ranch in Lenox
The unhurried tempo of New England meets the energizing atmosphere of...

Madrid, Spain
The Westin Palace Madrid
Commissioned by King Alfonso XIII in 1912, the newly restored Westin Palace...