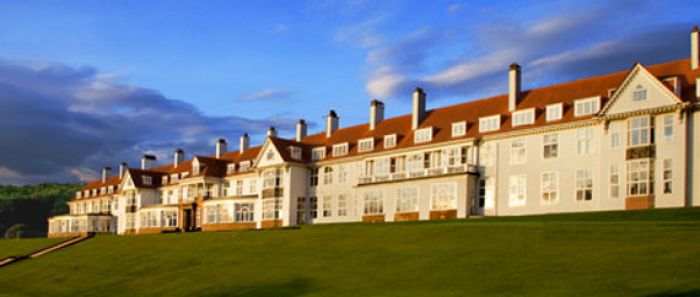 Luxury Hotels:
At
Turnberry Resort
, world-class golf and amazing hospitality await at one of the world's most luxurious gold resorts ever built. Located in the South West area of the island nation, Turnberry Resort,
Scotland
holds a strong allure for golfers from around the world. The long history and charming property beckons visitors to "the fabled Aisla golf course." Nearby, explore the lighthouse and ancient castle remains while enjoying stunning views of the rolling hills and surrounding sea.


From the history found on the green to modern amenities, Turnberry Resort provides guests with complimentary Internet access as well as Newspaper Direct, which allows newspapers from around the world to be printed for guests on demand.

The resort has the prestige of being the first purposefully built golf resort, back in 1906. In 2009, Turnberry underwent an extensive renovation to restore the hallowed resort to its former glory as the world's first luxury golf resort. Boasting 2 championship 18 hole golf courses and a 9 hole golf course as well as The Spa at Turnberry and the Outdoor Activity Centre, there are plenty of ways to relax or stay active on the property. The recent renovation comprised 46 of its 198 guest rooms as well as the brand new Ocean View Suites. The four luxurious Ocean View Suites are named after the four winners of the Turnberry Opens. The generously sized suites offer opulent design and special touches. The resort also offers special amenities and services for optimal enjoyment, ranging from concierge to childcare. With so much going on, it is no surprise that The Turnberry is frequently named as a favorite "Best of" destination.


The renovation also included all public spaces, creating new restaurants, bars and lounges. New restaurants and lounges include 1906, The James Miller Room, The Ailsa Bar & Lounge, Duel in the Sun, The Grand Tea Lounge and Tappie Toorie. In addition to the famed Ailsa golf course, the superior luxury hotel is nearby historical points of interest, including Culzean Castle, Glasgow and historic Edinburgh, home to the world's largest international arts festival. In an area richly populated with culture, including being the "land of poets and heroes," like Rabbie Burns and Robert the Bruce, guests will find plenty to keep them entertained, from the art of whisky making on Arran, to fishing in a fast-flowing Kintyre river or exploring the island of Ailsa Craig.

Turnberry resort invites guests to prolong their stay, offering a complimentary night when staying three nights or more so that guests may "linger longer."
See All Luxury Hotels in Europe