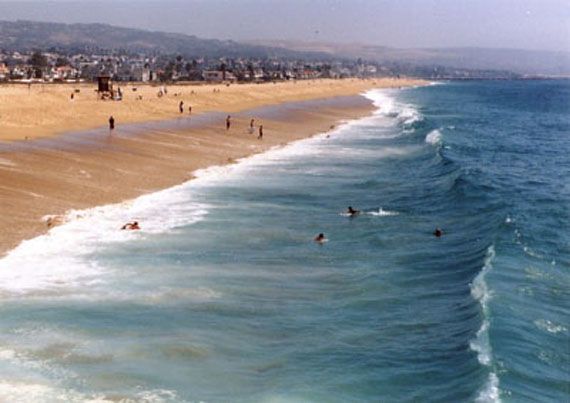 Luxury Vacations:
Known for its picturesque views of the Pacific and one of the world's largest small yacht harbors, Newport Beach is a chic seaside community located on Southern California's Orange County coastline between
Los Angeles
and
San Diego
. The city is acclaimed for its beaches, mild year-round weather, boating/yachting community, sophisticated atmosphere, international film festival. For those looking to enjoy the mild summer season of Newport, be sure to enjoy the many activities sure to be fun for all!
Free Movies on the Beach & Eco-Tours at Newport Dunes Waterfront Resort At Newport Dunes Waterfront Resort families are welcomed to pull up a beach chair or towel and enjoy a wide range of first rate family film on an 18' by 20' screen. The movies are free though there is a cost for parking. A quintessential Southern California experience, Movies on the Beach has become one of the Dunes most popular summer attractions. The films are projected every Friday and Saturday evening from Memorial Day to Labor Day weekends. Also at Newport Dunes, a newly-launched ecological tour of the surrounding federally protected, 750-acre natural wildlife reserve that adjoins it will feature kayak and surrey bike tours that can accommodate up to 8 passengers. Tours are guided by trained naturalists and part of the proceeds of the tours are donated to the Newport Bay Naturalists & Friends (NBNF).

Kid Competitions, Surf Lessons & more at Hyatt Regency Newport Beach Hyatt Regency's" ideal bayside location and proximity to Balboa Island are only two of the many reasons it remains one of the most family-friendly resorts in Newport! This summer, Hyatt offers festive and fun activities for kids including hula hoop contests, bocce ball tournaments, water balloon toss competitions and complimentary surfing lessons on-site. In addition, the resort offers its popular "Dive-In" movies and complimentary s'mores for kids every Saturday night!



Old Glory Boat Parade on Newport Harbor Newport Beach rings in the nation's Independence in true all-American fashion as one of the largest small yacht harbors in the world mobilizes to host the 58th Annual "Old Glory Boat Parade." Taking place in Newport Harbor, the festivities begin in the morning as the event sponsor, the American Legion Yacht Club (ALYC), welcomes guests with a morning Pancake Breakfast, followed by a BBQ lunch and dinner from 12:00 pm - 5:00pm and live music and dancing from 1:00 pm - 5:00 pm. Newport Harbor will be filled with boats adorned in red-white-&-blue, with engines purring, flags unfurled and Sousa marches blaring, as the lead Newport Beach Harbor Patrol's red fire boat turns on the firewater monitor, announcing the beginning of the time-honored Old Glory Boat Parade.


Fun & Fireworks on the 4th at Newport Dunes Nearby the Newport Dunes Waterfront Resort, a 100-acre waterfront resort featuring a 386-site state-of-the-art RV park, 450-slip marina and a private wave less beach, will host a half-century July 4th tradition begins at 11 am as fun family activities such as a Velcro wall, dunk tank, bungee run, cake walk, limbo contests, inflatable jumpers and bounce houses welcome guests from near and far. Beginning at 12 noon, guests will also enjoy daylong live musical entertainment from bands to DJ's. Also available for an additional cost are food, beverages and admission to the aquatic fun park known as Moe B's Watersports (10 am to 4 pm). Among the attractions are two giant "icebergs," a water version of a giant teeter-totter, a giant climbing apparatus, massive dome, floating lily pads, a water trampoline and a water playground for children under 7. A $35 per car parking fee covers a majority of the activities throughout the day.

Ride a Duffy Duffy Electric Boats first opened its doors in Newport Beach in 1970, becoming the first modern U.S. company to build and manufacture electric powered boats on a large scale. Referred to as "the father of modern electric boats," Marshall "Duffy" Duffield actually launched the first electric boat. As a 16-year-old Southern Californian, Duffy entertained his dates on cruises in his father's gas-powered boat. Now there are 1,500 Duffys alone on Newport Harbor! Headquartered in Newport Beach, Duffy's business has extended around the globe and is recognized as one of the world's leading manufacturers of electric boats. The Duffy Boat is a signature attraction in Newport Harbor and a must do for summer!

Romance on an Authentic Venetian Gondola Did you know that Newport Harbor in Newport Beach had the highest concentration of gondolas in the U.S. prior to Las Vegas' acquisitions? And Newport Harbor is the only place outside of Italy where you can find multiple gondola companies operating on the same waterway. Now, Newport Beach is home to the oldest and most historic wedding gondola outside of Venice, Italy! The gondola, "Lucia", was built in1960 by the renowned gondola building family at Squero Tramontin and will be launched for the first time in a decade in Newport Harbor on June 24th, 2010. Gondola Adventures® will operate the "Lucia" in addition to operating the only authentic Venetian gondolas available for cruises in Newport Beach. Wedding gondolas are known as the finest gondolas afloat. They can be easily distinguished by their carved decks and are typically more well-appointed than "standard" gondolas.


Surf "The Wedge" or Just Be a Spectator! The Wedge is a famous surf spot with large surf breaks close to shore. Every summer, swells that begin life off New Zealand, half a world away, finally slam home in North America at the tip of this famous breakwater. As the waves approach shore, they bounce off the jetty's boulders and, in the final seconds before landfall, merge and morph into a backbreaking and monstrous wave known as the Newport Wedge! The Wedge is an elusive wave that breaks only a few times a year-it peaks during the summer months-and because of its unpredictability, it's no place for a board. Because of this, it remains a site for wave riding in its purest form- bodysurfing. The Wedge breaks so hard, in such shallow water, that even highly skilled bodysurfers sometimes get seriously injured, proving that this is not a wave to be taken lightly.

Newport Jazz Fest
Hosting two distinct and iconic jazz festivals this summer, Newport Beach is easily the West Coast's place to be for jazz! Launching June 25th, the 18th Annual Hyatt Regency Newport Beach Summer Jazz Series runs through October 1st and features big names in jazz, including The Max Weinberg Big Band, David Sanborn, Bobby Caldwell Fourplay and Steve Tyrell. Not to be left behind, the inaugural Sunset Jazz Series, organized by the the acclaimed West Coast Jazz Party and popular jazz radio station KJAZZ, bring straight-ahead jazz to the Marriott Newport Beach Hotel & Spa beginning July 7th through August 25th, every Wednesday night.
See All Luxury Hotels in California