The Safari Collection Introduces Special Quantum Yoga Safari
Sep. 10th, 2010 | Comments 0 | Make a Comment
Luxury Vacations:
The Safari Collection, along with
London
-based yoga expert Victoria Woodhall, are offering a one-of-a-kind Quantum Yoga Safari Re­treat. The invigorating and spiritual escape incorporates yoga classes along with safari experiences at three of the luxurious Safari Collection properties in Kenya: Sasaab,
Solio Lodge
, and Giraffe Manor.
Sasaab is located high on the banks of the Ewaso Nyiro River, providing an inspiring backdrop for yoga sessions. Sasaab's spacious, airy design incorporates Moroccan prin­ciples for keeping cool in the African heat and is home to the highly acclaimed SpaSaab, featuring Liz Earle beauty and skin treatment products. Days at Sasaab begin with dynamic Quantum Yoga classes overlooking the river and end with restorative sunset sessions. Guided walks, game drives, camel rides, Samburu cultural experiences and a complimentary rejuvenating massage are also part of the Sasaab visit.
From Sasaab, the Yoga Retreat takes guests to Solio Lodge, a one of a kind blend of exclusivity, privacy, luxury and exceptional game viewing, set in the valley of the ma­jestic Mount Kenya. At Solio, guests can partake in horseback riding, walking, fishing, and of course, yoga, along with accommodation in luxurious and modern suites. The final night of the retreat will be spent at Nairobi's most iconic hotel, Giraffe Manor. The 1930s estate is reminiscent of the first days of European settlement and home to a herd of inquisitive and friendly Rothschild giraffe who often pop their heads in to join guests for breakfast.

The first scheduled yoga retreat will take place from Dec. 2 to 8, 2010, and future dates will soon be released. The price of £1925 (approximately $3,060 USD) includes full board accommodations, game drives, internal flights, a massage at Sasaab, and all yoga activities. Additional information about the retreat and reservations as well as all of The Safari Collection destinations can be found at www.thesafaricollection.com.
Featured Luxury Hotels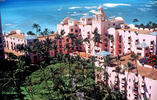 Waikiki, United States
The Royal Hawaiian, a Luxury Collection Resort
Welcome to The Royal Hawaiian, a Luxury Collection Resort, affectionately known...

Madrid, Spain
The Westin Palace Madrid
Commissioned by King Alfonso XIII in 1912, the newly restored Westin Palace...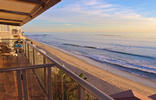 Laguna Beach, United States
The Retreat in Laguna
The Retreat in Laguna is where you can create your own personalized vacation...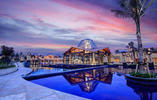 Bali, Indonesia
The Mulia, Mulia Resort & Villas
With stunning beach frontage along Nusa Dua's Bay, The Mulia invokes a relaxed...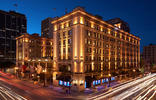 San Diego, United States
THE US GRANT, A Luxury Collection Hotel
A San Diego icon since 1910, THE US GRANT, a Luxury Collection Hotel provides...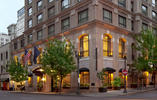 Portland, United States
The Westin Portland
Enter The Westin Portland and you will notice immediately how you are...