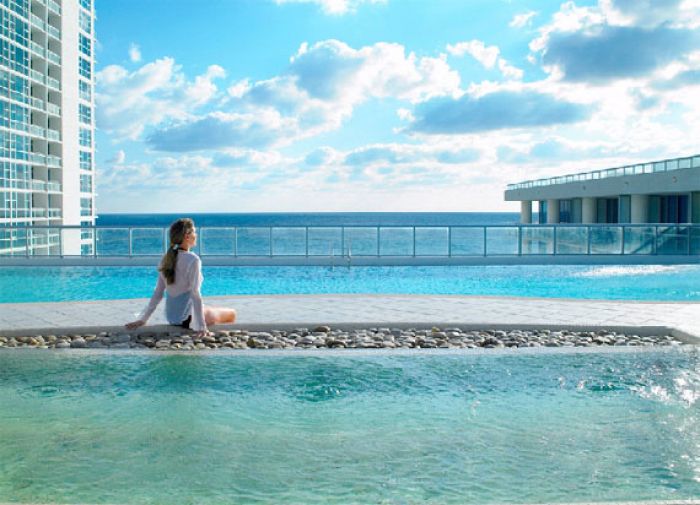 Miami offers a multitude of magnificent, luxury resorts, but none gives the experience of a more luxuriously healthy, calmer you than
Canyon Ranch
Hotel & Spa Miami Beach.

The reputation and success of Canyon Ranch's brand of a "healthier living approach" is world renowned and sets the gold standard for all wellness venues. The first of its kind, this spectacular Miami Beach boutique hotel combines the flexibility of à la carte hotel services with the amazing possibilities of the acclaimed Canyon Ranch health resorts.

But since you are at this internationally acclaimed health resort, you might also want to enjoy the vast array of fitness lectures and classes held inside and beach front.You can also enjoy the fitness center and The Aquavana spa facilities, all included in the room rate.

Canyon Ranch's Health and Wellness Area
The indulgence begins as you plan your customized wellness activities. The Health and Wellness Area is comprehensive. Lead by a team of dynamic, caring, current and committed physicians and wellness professionals, whose focus is preventative, offer a scientifically-based program of Eastern and Western practices. They will inform, diagnose and help you map out a wellness program that is practical, efficient and doable at the resort and back home.


The fitness facility is staffed by experts who have the latest equipment to customize your program. The resort also offers special activities for families, since health and wellness is a life long pursuit. Their dedicated exercise physiologists and certified fitness experts will assess your preferences, health history and personal goals to tailor a take-home program for your specific needs.

Whatever your fitness level, physical condition or age, you will benefit from their expert advice and encouragement. Choose from more than 40 indoor and outdoor fitness and movement classes daily. From indoor cycling to yoga, they have it all, including special youth and teen activities for guests ages eight through fourteen.

Canyon Ranch Grill
Oh, and how's the food? Remarkably good! There are four dining options to entice you including Canyon Ranch Grill. Every effort to provide local, and organically sourced products is taken to prepare the delicious, as well as nutritiously balanced creations. Executive Chef Giovanni Arias and his staff delight guests and local patrons with mouthwatering meals that are surprisingly low in calories but high in taste. Each item description includes the calories, carbs, proteins, fat and fiber contents.


Wines and spirits are carefully selected by Food and Beverage Director Ricardo Mendes. He makes sure they meet the rigorous Canyon Ranch standards of being organic, sustainable, and/or biodynamic, as well as meeting his flavor profile requirements to pair with the menu items.

In the works are wine pairing dinners and cooking classes which will further enhance the wellness concept by including not only a chef and wine representative but also someone from the professional Canyon Ranch staff who can speak to the health benefits of what you are preparing and consuming. Besides choosing from the menu, special dietary requests are gladly honored. In fact, if you indicate your preferences when you arrive, they will be carefully noted so that you never have to remind anyone of your special needs.

Noteworthy is the fact that all of the beverage and dining outlets, including Canyon Ranch Grill and the Carillon Lounge, are opened to the public and provide an intriguing dining option that is different from any other on Miami Beach!

Canyon Ranch Spa
Whether you take a short staycation, at the resort for a longer visit or are indulging in a day long splurge, The Spa experience is a must! Included in the price of a package is an incredible mix of treats for mind, body and spirit. Body meets soul in the 70,000 square-foot Wellness Spa, the largest in Florida. As a hotel guest, you'll have full, complimentary access to this sparkling, state-of-the-art facility.


Here you can unwind in the spectacular Aquavana thermal suite, enjoy amazing spa treatments, swim laps, take a group fitness class, conquer the two-story climbing wall, get a great workout in the Fitness Center and explore your wellness with world-class expert. The world-famous spa services incorporate ancient, traditional and modern therapies.

When not just another luxury hotel will do, choose Canyon Ranch Hotel & Spa Miami Beach for a life altering experience that revitalize you and stay with you long after you leave.

Canyon Ranch Hotel & Spa Miami Beach
6801 Collins Avenue
Miami Beach, Florida 33141
800.742.9000
www.canyonranch.com/miamibeach