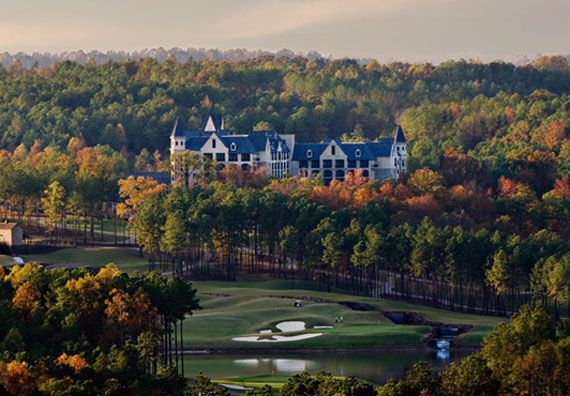 Photo Courtesy of Renaissance Hotels
In the surprisingly cosmopolitan town of Birmingham, Alabama you can have a deluxe five-star vacation filled with
down-home hospitality
, beautiful scenery and amazing food while relaxing and rejuvenating your mind and body.
Once you arrive you will immediately notice the sprawling green landscape and the fresh, clean air. The downtown seems old fashioned, yet the buildings are sleek and modern.


Venturing off the main freeway into the hillside, you will reach the Renaissance Ross Bridge Golf Resort and Spa on the Robert Trent Jones Golf Trail. Situated on 2,000 acres on property surrounded by hills and miles of greenery, Ross Bridge Resort itself is a beautiful and massive stone establishment that would rival any majestic European hillside country castle.

The 259-room property features a golf course situated on 330 acres of lush landscaping and is known as the third longest golf course in the world with 8,191 yards from the tips. Other amenities include the 12,000-square-foot spa, as well as two restaurants, bar, pool and gym. Enjoy a morning at the two-tiered outdoor pool that offers what appears to be miles of chaise lounges, as well as a fun water slide.


After lunch in the hotel or ordered to your suite, hit the little-known Alabama wine trail. Featuring half a dozen wineries, this can make for a perfect casual afternoon. Alabama wines are high in antioxidants, due to their enriched soil, and most wineries carry varietals native only to the region.

Along with several fruit wines such as strawberry, blueberry, apple and peach, one popular Southern wine is Muscadine. A sweet wine, it is from a tough berry and grows primarily in southeastern states. One winemaker that has made his mark in the area is Tom Vizzini of Vizzini Farms Winery. The second generation Italian winemakers produce about 3,000 cases a year and are known for their delectable raspberry chocolate wine and soft peach dessert wine.


For dinner, head to the best restaurant in the city: Hot and Hot Fish Club. Run by world-renowned Chef Chris Hastings and his wife Idie, this casual yet wholly upscale eatery specializes in perfect southern food. Upon entering the establishment, you will immediately feel at home. Unpretentious, yet chic and upscale. Service and hospitality are held to the highest standard.

The menu features ever-changing entrees, as most of the food is locally grown and organic. If in season, indulge in the Hot and Hot tomato salad, a delicate concoction of heirloom tomatoes, apple wood smoked bacon, fresh peas, corn, fried okra and chive aioli. The charcuterie plate gives a preview of the meal to come with foie gras, pickled veal tongue, homemade souse meat and duck prosciutto.


For a lighter meal, the bouillabaisse is a seafood medley from the nearby gulf that is warm and delightful. Not to be missed is the buttery, melt-in-your mouth shrimp and grits. A staple in Alabama, grits can be done hundreds of different ways. They will show up for breakfast, lunch and dinner and even occasionally dessert. At Hot and Hot, the chef has found the perfect balance of creamy, subtly sweet and absolutely delicious. Added country ham, tomato and fresh thyme make it faultless.



Another Hot and Hot specialty is Idie's Icepick. This concoction of Earl Grey Iced Tea, Absolute Citron and simple syrup is a dangerous mix, since it goes down easy and is a must for any tea lover.

As the day comes to an end, head back to Ross Bridge to enjoy a striking sunset while you listen to the in-house bagpiper play a tune. Relax at Brock's with a nightcap and dessert while overlooking the picturesque golf course taking in Birmingham beauty.

Renaissance Ross Bridge Golf Resort & Spa
4000 Grand Ave.
Hoover, Alabama 35226
1-800-593-6419
www.marriott.com