Julie Hatfield View Profile

Freelance Travel Writer
Barnsley Gardens Resort: Historic Hotel Complete With Fairy Godmother
Mar. 7th, 2011 | Comments 0 | Make a Comment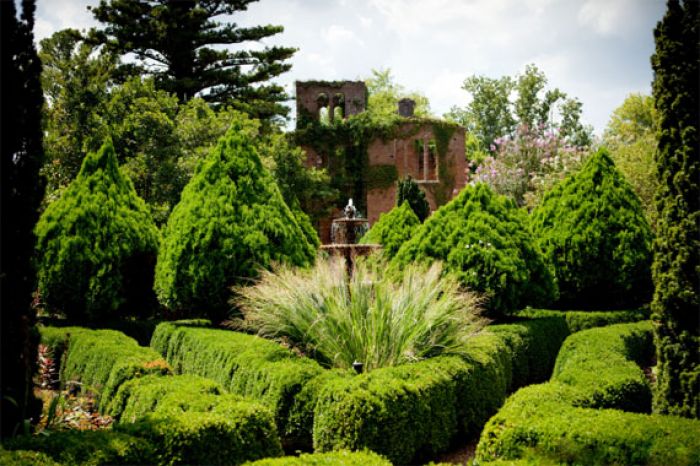 Photo Courtesy of Barnsley Gardens Resort
One hour north of
Atlanta
, way off on a back road lined with strangling kudzu and dotted with hardscrabble houses, there lies a secret garden.
Make that 'gardens' with an "S," because there's more than one manicured formal garden at Barnsley Gardens Resort. What a surprise to find in February: snowdrops, Lenten roses, crocus, flowering quince, fragrant wintersweet, pansies and arum, all blooming around the "Ruin," the original 1840s mansion of cotton magnate Godfrey Barnsley.


There is always something in bloom at Barnsley throughout the year. The lord of the manor based his garden designs on those of Andrew Jackson Downing, considered America's first great landscape architect. He searched all over the country for just the right plantings for his gardens, which include hundreds of varieties of heirloom roses. People come from all over just to see them, but they're missing the fun if they don't stay the night.

The 1400-acre property has a rich history, beginning with the night in 1864 when Union General James McPherson came for the purpose of sacking and pillaging, and, impressed by the way Barnsley treated his slaves, left the structure standing. Today there is a tiny Civil War museum in the ruins and when we were there, a wedding took place in the brick remains, which are open to the sky and surrounded by the gardens and the woods.


A tornado in 1906 took the roof of the mansion off and the descendants of Godfrey Barnsley, who no longer had a fortune, spent the next few decades living in the kitchen area. The property sat dormant after World War II until 1999, when German Prince Herbertus Fugger bought it to hunt the white-tailed deer here.

Prince Fugger also tore down the kudzu which had enveloped the buildings over the years and developed the estate into the resort it is today-a sort of European village with 40 English-style guest cottages, two excellent restaurants, a pub-like bar and a Bavarian beer garden. He had Jim Fazio design an 18-hole golf course, named the "Best Resort Course in Georgia" by Golf News.



He continued the Georgia hunting tradition at Barnsley by developing an area for quail hunting, as well as shooting grounds for the sporting clays course. Today, shooting lessons are available for all levels from novice to experienced shots. Horseback riding through the woods is offered, along with a mountain bike track and hiking trails. There's fly fishing and paintball and for conference groups, facilitated team building activities, as well as canoe and kayak rentals. A stand-alone building next to the resort's pool houses a spa and fitness center.


When the prince left for other pursuits in 2004 a private company took over the resort and continued to make it a perfect weekend or vacation getaway. The cottages are warm and comfortable, each with private porches, custom made sleigh or four poster feather beds dressed in luxury linens, period-inspired ball and claw foot cast iron tubs and wood burning fireplaces.

What other resort has a telephone extension number listed for its resident fairy godmother? She's a beloved tradition and she'll come to your cottage while you're out playing and bring even fluffier comforters than you already have in the room, candles, hot chocolate, the ingredients for S'mores and a bottle of Bailey's Irish Cream, among other godmother services.

She'll also steal your children away for a wood nymph hunt or craft-making session, an unforgettable experience for a youngster who believes in fairy godmothers.

Barnsley Gardens Resort
597 Barnsley Gardens Road
Adairsville, GA 30103
770.773.7480
www.barnsleyresort.com


Featured Luxury Hotels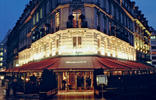 Paris, France
Hotel Fouquet's Barriere
Hotel Fouquet's Barriere offers guests 21st century luxury with a uniquely...
Sedona, United States
The Sedona Rouge Hotel and Spa
The Southwest United States was once part of a vast domain of little known...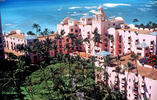 Waikiki, United States
The Royal Hawaiian, a Luxury Collection Resort
Welcome to The Royal Hawaiian, a Luxury Collection Resort, affectionately known...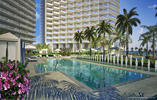 Bal Harbour, United States
The St. Regis Bal Harbour Resort
A new icon, The St. Regis Bal Harbour Resort, Miami Beach, has arrived. A...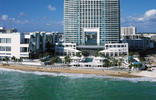 Fort Lauderdale, United States
The Westin Diplomat Resort and Spa
REFRESH UNWIND The Westin Diplomat Resort & Spa offers a refreshing way to...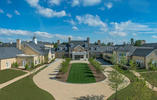 Middleburg, United States
Salamander Resort & Spa
Just 35 minutes from Dulles Airport, the 340-acre resort is located within the...