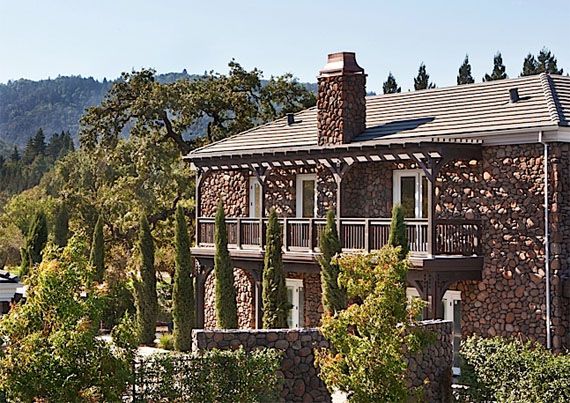 Photo Courtesy of Hotel Yountville
Napa Valley
is one of our all-time favorite destinations: gorgeous hotels and resorts, top-tier restaurants, beautiful weather, indulgent spas and, of course, world-class wines, all in one place.

That's why we were all atwitter to learn about the opening of a new hotel in the heart of the valley in the winemaking hamlet of Yountville. Perhaps a little lacking in imagination (though you'd be hard-pressed to forget where it is), it's called the Hotel Yountville, and is in what used to be a decent but uninspired hotel called the Yountville Inn.

Don't let its dowdy past fool you, though, the new Hotel Yountville is a premium vacation destination that can compete with many of the valley's big-name resorts. That's no wonder, since it is managed by the former owners of another of our favorite luxury properties in the area, the Milliken Creek Inn and Spa.

The Ambiance
Overall, the hotel feels like a little French country village thanks to stone buildings constructed from local Napa river rock mixed liberally with heavy timber beams and copper accents on the building exteriors. Napa architect Robert Keenen oversaw the renovation and made an effort to blend existing and new structures with the property's groves of heritage oaks and olive trees and take full advantage of the creekside setting.


Inside the buildings, designer Lisa Holt blends the rustic charm of the architectural elements with a fashionable sensibility. She has incorporated both sophisticated elements like custom-made chandeliers and furniture, with comfortable fabrics like chenille and herringbone in slate and gray (as well as purple and silver) tones that lend a cooler feel to the brown-and-red rock walls; and also tone down the more spring-fresh white-on-white palette.

One of our other favorite features of the hotel was the pool area, which has both a heated swimming pool and a spa Jacuzzi. It is surrounded by white lounge chairs and ramrod-straight Italian poplars that made us feel like we were vacationing in Provence.

The Rooms
Only about 40 of the hotel's 80 suites and rooms are open so far, but more are coming online each week. Even the smallest encompass an impressive 420 square feet, while the largest clock in at around 1,050 square feet.


Ours was a 900-square-foot Premium Suite with a four-poster king bed draped in custom-designed white Italian linens by Bellora and taupe and teal accent pillows. The centerpiece of the room was the gas fireplace in the back corner, surrounded by a hearth made of Napa fieldstones. We turned it on and watched the flames flicker almost as soon as we entered the room.


The living room area in front of the bed contained a sofa and armchair with an oversize beige leather ottoman, as well as the minibar and a wall-mounted 42-inch flat screen LCD HDTV. A set of French doors led outside to our small private patio with two cushioned wooden deck chairs and a small table.


Back in the bedroom, we opened the mirrored peekaboo shutters into the bathroom and took a look around. There was a large open-style wardrobe area with areas for hanging clothes along with luggage racks and glass-faced drawers, so we could see exactly where we'd unpacked which garments. Beside that was a small separate vanity area for a little last-minute primping while your better half uses the sink area.

On the far side of the wall, the main vanity had a single sink and a magnifying mirror, as well as a whole line of sweet-smelling Gilchrist & Soames toiletries. Next to the sink was a WC area with the toilet. On the adjacent wall stood a huge walk-in shower with wall-mounted and rainfall shower heads (they're both eco-friendly low-flow fixtures) and then on the wall nearest the bedroom was a separate soaking tub for two, which used recycled glass tile.


We performed some quick ablutions and ran back to the lobby for a complimentary wine tasting, which takes place every Thursday through Saturday from 5 p.m.-6 p.m. When we returned to the room, we found that it had been given a candlelight turndown with the bed ready for cuddling, votives flickering all over the room and music playing on the radio. Too bad we had dinner reservations or we could have happily spent the rest of the evening here.

Breakfast at Hopper Creek Kitchen
Thanks to the fact that it's home to Thomas Keller's world-famous The French Laundry, not to mention his two other restaurants and chef Michael Chiarello's Bottega, Yountville is one of America's great dining destinations. So we went to the Hotel Yountville's Hopper Creek Kitchen for breakfast with high expectations. And though we'd managed a multi-course meal at The French Laundry the night before, we found ourselves irresistibly tempted by executive chef Adam Clark's menu.


By far the richest dish was the Hopper Creek Kitchen Benedict with thick-cut slices of juicy Kurobuta pork belly bookended by slices of toasted brioche and topped with soft-poached eggs and light hollandaise foam. Though the Duck 'n Donuts with crispy duck confit, yuzu doughnuts, dusted with five-spice and topped with quince agrodolce was a tongue-twisting (in a good way!) combination of flavors that gave the Benedict a run for its money.

On the sweet side, we relished the fluffy and luscious French Toast Soufflé with Oregon huckleberries, banana-pecan streusel and rum raisin anglaise. Our other favorite sweet breakfast item was the black currant hotcakes made with farina flour and yogurt, topped with maple nectar, Zinfandel grape jam, candied Meyer lemon, cr?me fraiche and Iranian pistachios. And it's drizzled with bourbon barrel-aged maple syrup. Just the dish we needed to steal us for another day of wine tasting.

Spa Acqua
Of course, while we were there, we had to check out the property's other main amenity: the intimate, 4,000-square-foot Spa AcQua. It is right next to the pool area and prides itself on incorporating local products in its therapies, such as 100 percent Napa Valley Grape Seed products - an organic line that includes cleansers, toners, moisturizers, serums, exfoliants, oils balms and masks and creams.


The men's and women's locker rooms are on the small side, with just a half-dozen lockers each and a single steam shower. We had it all to ourselves and got into full relaxation mode before heading to the cozy common waiting area and grabbing a hot cup of herbal tea before our treatment. We received a signature 75-minute full body massage that incorporates hot stones, Thai stretching and concentrated body work. Treatments are also available with 30-minute enhancements like a body scrub or foot reflexology and guests can opt to have them in-room.

Coming Soon
Though we thoroughly enjoyed the amenities we were able to experience, we also heard about a few new offerings that will be available to guests in the coming months. There will be morning painting and photography classes in the vineyards, Napa Valley Bi-Plane tours with gourmet picnic lunch and private winemaker dinner parties with food pairings by chef Clark.


There will also be a 38-seat pool bar for guests and Y Bar in the lobby for a casual place to meet up at the end of a day and enjoy yet another glass of wine, or other libation of choice.

It's not as though Yountville had a shortage of hotels before, but we were still glad to learn about the Hotel Yountville and gladder still that its hospitality operates at such a high standard; well in line with the valley's
other luxury resorts. This is sure to be the first of many visits to the property for us.

Hotel Yountville
6462 Washington St.
Yountville, CA 94599
888.944.2885
www.hotelyountville.com