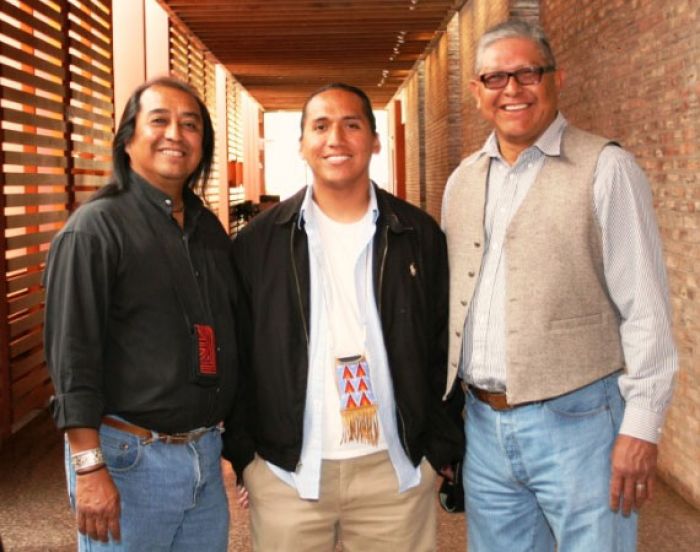 Photo Courtesy of Enchantment Resort
The experience at Enchantment in Sedona has always embraced the native cultures that visited this Southwest landscape and notably the surrounding red rock walls of Boynton Canyon. But a recent initiative announcement is remarkably well-timed and will provide guests with a most authentic experience.
Mii amo Spa is a sybaritic yet natural place to unwind and focus inward where one feels positively cocooned in an atmosphere of wellness and caring. Now an opportunity to create the perfect circle of experiences by enriching thier programs with Native Wisdom is in the works with an announcement by the executives at Enchantment.


"The award-winning Enchantment Resort and Mii amo destination is increasing their commitment to authentic Native American programming with the formation of its Native American Advisory Group," Enchantment says. "At Enchantment Resort we center on authenticity," says General Manager Myra deGersdorff, "With council from these knowledgeable advisors we're pleased to provide guests with authentic Native American experiences that are key to the rich culture of this area."

Honoring Native American culture has always been at the center of Enchantment Resort and Mii amo's quest for authenticity. To create this initiative, representatives from local tribes who have long considered the destination of Boynton Canyon to be a source of spiritual inspiration, begin their work with the properties in time for the annual Summer Solstice, A Celebration of Peace being held June 16 through 23.


Led by Enchantment Resort's long-time cherished Apache Elder Bob Bear, the eight-day program includes highlights from Hoop Dancing to musical performances and a traditional Talking Circle.

Three Advisors with lineage to several tribes, including San Carlos Apache, Arikara, Hidatsa, Mandan tribes of North Dakota and Yavapai, will collaborate with Bob Bear and support Enchantment Resort and Mii amo in the development and implementation of new programs.

Through outreach utilizing special events and activities, they will create appreciation for Native People's culture and traditions. Enchantment representatives go on to name the Advisors, "Tony Duncan, a widely traveled, four-time world champion hoop dancer from the San Carlos Apache tribe of Arizona who is also from the Arikara, Hidatsa, and Mandan tribes of North Dakota; Ken Duncan SR, a storyteller, lecturer, flute player and cultural consultant from the San Carlos Apache tribe who has performed on U.S. State Department Embassy Tours from Turkmenistan to Colombia, among others; and Raphael Bear, President of the Fort McDowell Yavapai Nation from 2004-2008 who currently sits on the Tourism Advisory Committee as appointed by former Arizona State Governor Janet Napolitano."


There is an inaugural opportunity for guests to be involved in the annual Summer Solstice, A Celebration of Peace. Whether embarking on a Journey at Mii amo spa program or visiting Enchantment Resort as a guest, you can take part in a variety of Native American traditions and educational and interactive activities. For a complete list of activities, please visit Miiamo.com/Events/Retreats.

At their next meeting the Advisors will develop meaningful new activities for the upcoming Fall Equinox (Sept. 23), Winter Solstice (Dec. 21) and Spring Equinox (March 19). All dates are according to the Farmers' Almanac for the year and time of the resort and spa's location.

Enchantment is committed to continuing this program initiative by asking Advisors to hold quarterly meetings with key staff of Enchantment and Mii amo to review ongoing programs, relevant current affairs affecting all walks of life in the world today and most importantly how Native Wisdom can shed light and offer insight. The resort and spa are honored to have these individuals inspiring and informing through their guest programs. For more visit EnchantmentResort.com.