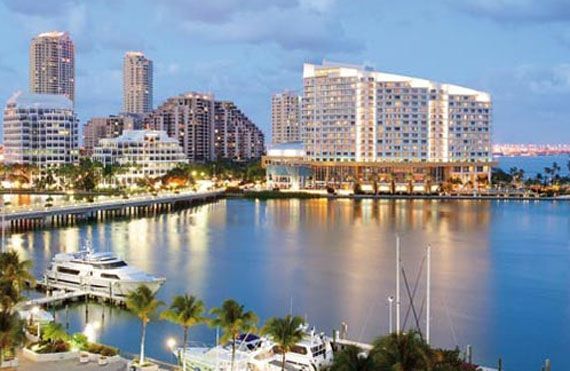 Photo Courtesy of Mandarin Oriental Miami
Situated on one of Miamiís most prestigious residential areas in Brickell Key, the
Mandarin Oriental Miami
's waterfront location, welcome guests to experience a stay of luxurious bliss. Whether for business or pleasure, this hotel definitely raises the bar for five-star resorts in this city.
The 326-room contemporary and dynamically designed guest rooms and suites, which were renovated in 2010, combine modern touches from South Florida with exotic Asian elements - from bamboo hardwood floors in the hotelís suites to the Spanish marble bathroom tiles in all rooms.


Overlooking the water views of Biscayne Bay or the Atlantic Ocean, each suite and guest room provides guests a comfortable stay with dual phone lines, cordless phone, wireless high speed Internet access, Bose sound system, flat screen TVs, DVD players and iPod Sound Dock Music System. If guests want to lounge in the room and take on the bay and cityscapes, Mandarin Oriental Miami also provides plush
bathrobes and slippers for your stay.

A visit to The Spa at Mandarin Oriental Miami, a five-star award-winning spa, is an absolute must to experience innovative and restorative treatments inspired by the elements of life and the ancient traditions of Chinese, Ayurvedic, European, Balinese and Thai. This Tri-level sanctuary has 17 private treatment rooms including six stunning suites overlooking the bay, relaxation lounges with sauna and steam room, state-of-the-art fitness center, yoga, Pilates, personal training and half and full day wellness programs.


The Thai Herbal Compress Ritual is a highly recommended spa treatment that not only soothes muscles, but allows you to also select which type of tree The Spa should plant to help enrich Everglades National Park; it's the largest subtropical wilderness in the United States boasting rare and endangered species.






After a relaxing spa experience, the Oasis Beach Club awaits with white-cushioned day beds, hammocks, Beach Butlers, infinity-edge swimming pool and a sushi and pool bar. This private beach also has a jogging path, circling the island of Brickell Key. Depending on the weather, every Sunday Oasis Beach Club has a gathering with special beach cocktails, food and a great lounge DJ.


Cafť Sambal, the hotelís all-day restaurant, offers al fresco waterfront terrace seating and ample inside dining with delicious and innovative Asian and Latin-American cuisines. The casual, relaxed environment will keep you coming back for breakfast, lunch and dinner. In addition, try the hotelís M-Bar, which specializes in more than 250 martini recipes. The indoor/outdoor lounge overlooks the waterfront and Miami skyline
and will definitely be a conversation starter upon your arrival.

Once you stay at Mandarin Oriental Miami, you will know exactly why this hotel has received many accolades and recognition as one of the most luxurious and distinguished hotels in the Miami area. You will want to visit this hotel whether it is to dine or stay in the plush guest rooms and suites.

By Monique Cardwell