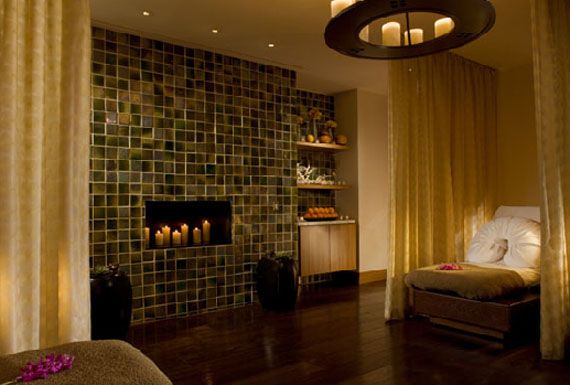 Photo Courtesy of Peninsula Hotel, Chicago
Hanging out at the spa with Jennifer Aniston isnít as much fun as you might think. For one thing, thereís the recognition issue. Instead of relaxing, enjoying the soothing New Age music, your mind is spinning, wondering, "Is it or isnít it?"
Even though youíre at the spa to escape from your crazy life, youíre suddenly overly self-conscious, worrying about your unshaved legs and the middle left toenail you forgot to repaint. Instead of getting in the spa frame of mind, youíre obsessed with trying to remember if sheís still with John Mayer or is it Bradley Cooper?

Believe me, itís much too stressful spa-ing next to a celebrity, which is why spas now have VIP spa suites ó private rooms where the stars (and whoever else can afford it) can sneak in, get royally pampered, and leave without the white-robed plebes in the waiting lounge being ever the wiser.

Here are four of the most prized private suites:

1. Desert Springs Resort and Spa in Palm Springs has two spa suites, or sanctuaries as they call them. As the largest spa in southern California, not only do they spare the A-list from having to deal with admiring fans, but it gives other customers the space to truly focus on their own bodies and needs.


It is on good authority that the largest of the two spa suites, ringing in at a massive 600-square-feet, has seen Jennifer Lopez and Marc Anthony, Oprah, and the stars of the Real Housewives of Orange County relaxing in its confines.

Itís also perfect for girlfriend getaways, bachelorette parties, and coupleís retreats. I recently spent the day at Spa Desert Springs, in the very same suite. Staffed by a personal butler, the Sanctuary not only has a private entrance (a flag on the wooden double door indicated that no one else was allowed to disturb my party), but it has a private courtyard (allowing Howard Hughes-types unnoticed access to the resortís two award-winning golf courses), and a tastefully decorated sitting room where we were served a luscious low-cal lunch. The menu touts such dishes as jumbo shrimp cocktail, spinach linguine, and steamed mussels, while the Sanctuary suite comes complete with a bottle of Champagne, chocolate truffles, and fresh fruit. (Photo courtesy of Flickr/Mars Hill Church Seattle)



It has two adjoining (and private) treatment rooms, digitally programmable overhead rain showers, an indoor/outdoor fireplace, indoor and outdoor hot tubs, a wet bar and a flat-screen, high def TV. While no oneís about to ask for my autograph, I definitely felt like a star.

2. The Peninsula Hotel, Chicago is where Oprah producers put up Tom Hanks, Tom Cruise, Beyonce, Jerry Seinfield, Will Smith, Queen Latifah, and all the other stellar somebodies who flew to Chicago to surprise Oprah for her grand farewell. (Photo courtesy of Flickr/PictureGroup)


The spa occupies the top two floors of this prime Michigan Avenue property and has an outdoor sundeck, a half Olympic length heated pool, floor-to-ceiling windows with lots of natural light, and, of course, two elegant spa suites where the likes of Nicole Kidman and Angelina Jolie have taken up residenceÖeven before the much-touted Oprah farewell show. Whether they sprung for a holistic massage, ayurvedic body treatment, a refining facial, or all three, we shall never know.

Whatís certain, though, is that celebrity and civilian guests have fallen for the Naturally Peninsula spa cuisine, with meals arranged by a nutritional advisor on staff. Whoís going to argue with a nutritionist who prescribes a Peking duck roll with roasted pineapple?

3. Half Moon Bay Resort, Jamaica. Although William and Kate have been hogging the family spotlight of late, Prince Charles and Camilla have been known to sneak away to these Jamaican beachfront spa suites. Each of the six spa suites at the Fern Tree Spa have a bedroom, a private patio overlooking the Caribbean Sea, and a personal studio for yoga, fitness equipment or any private spa treatment available at the 68,000-square foot spa. Ringing in at 700 to 1000-square feet, the suites all have French doors that open to the fresh open breezes.


In keeping with the time-tested Jamaican tradition of using indigenous herbs, flowers, roots, and fruits to heal, there is a Spa Elder on staff to guide you through various phases of wellness incorporating these natural, local ingredients. Or, if Champagne and fresh fruit are your preferred healing properties, you can order those poolside from your personal spa valet. (Photo courtesy of Flickr/UK in Spain)

4. Las Ventanas al Paraiso, Baja, Mexico. Between caring for kids and whittling down American Idol contestants, Jennifer Lopez hasnít had time lately to enjoy her favorite indulgence ó the spa suites at this glam resort at the tip of the Baja Peninsula. From the resortís three self-contained spa suites, J-Lo and other A-listers like Jessica Alba and Cameron Diaz get private treatments, a walk-in rainforest shower, and a dedicated butler to cater to every whim. A Holistic Twilight Ceremony using candles, sage, an eagle feather, and an acting shaman to purify and balance energy.


We already know that budding culinary stars are heading to Las Ventanas to challenge the chef in his own herb garden, but it seems that his herbs and locally-sourced fruits and flowers are used in spa services with the "fire blend" of cinnamon, rosemary, and damiana, the "water blend" of rose water and ylang ylang, and the "air blend" of sage and lavender. Keep your eyes peeled once you step out of the spa, too ó Diane Kruger and Joshua Jackson have been spotted here as has model Bar Rafaeli. (Photo courtesy of Flickr/ricin)

More from our friends over at TheDailyMeal