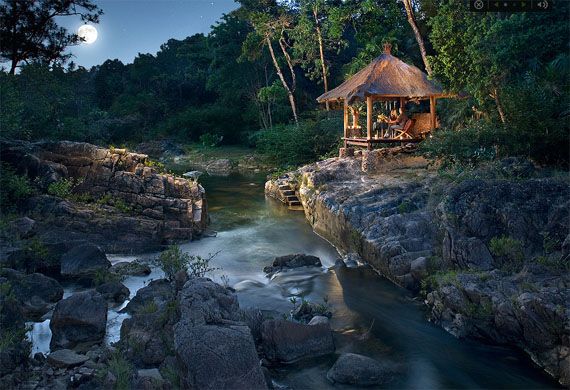 Photo Courtesy of Francis Ford Coppola Resorts
Francis Ford Coppola's famed resorts in
Belize
, Blancaneaux Lodge and Turtle Inn have further strengthened their commitment to ecotourism and sustainable travel by joining the Sustainable Tourism Program led by the Rainforest Alliance. They also became a part of Sustainable Travel International's global Sustainable Tourism Eco-Certification Program (STEP), which represents the gold standard for companies striving to be environmentally innovative and socially responsible.
"The Coppolas see their role as that of a conservator," said Serena Lightner, vice president of Coppola Resorts. Adding, "We're grateful for the opportunities to work with the Rainforest Alliance and Sustainable Travel International. Each of these organizations is a world-renowned sustainable tourism specialist. We look forward to working with each organization to further our commitment to ecotourism and carry out the Coppolas' dedication to Belize's pristine environment."



The Blancaneaux Lodge is located on 300 square miles in the Mountain Pine Ridge Forest Reserve, the largest and oldest of Belize's protected areas. The property has numerous sustainable initiatives in place. They offer guests the opportunity to experience workshops with leaders in the field of biodiversity as well as a hydroelectric plant, which supplies the property with some renewable power and provides heat for the pool in the Waterfall Spa.


The Turtle Inn is a seafront property with environmentally friendly designs, an efficient cooling system and low flow showerheads and minimal irrigation on the property. In addition, both resorts are implementing a stainless steel bottle program aimed at reducing plastic water bottle consumption by guests, as well as to other systems and procedures that help guests enjoy a luxurious vacation with a minimal environmental impact.