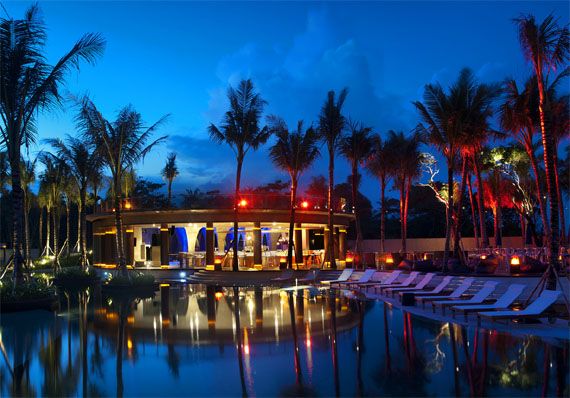 Photo Courtesy of W Hotels
The
W Retreat Seminyak
looks nothing like a W Hotel, and nothing like a
Balinese hotel
either. Regardless, it raises the bar in both categories, and is a triumph for parent company Starwood.
Where many hotels go through a "soft opening" that can last up to a year, the W was operating at full capacity in its first summer season, with all restaurants open, the WooBar counted among Seminyak's socialite hot spots, and a high percentage of guests already coming from Europe and North America. 

For those who are wondering whether there are similarities between W Hotels and this property, the answer is: only the shininess, the bold colors and the whimsy. The sleek architectural lines and posh business bar scene we've all come to associate with the W brand are nowhere to be seen. Instead, there's an open, airy indoor-outdoor lobby with high ceilings and décor that's quirky by day and sexy by night, thanks to some artful mood lighting.


In lieu of one couch, there's a curving wooden frame that looks like a Pampas chair, only four times bigger, and is entirely full of little white beanbags. The back wall (where reception desks and concierge are located) features a 12-foot-high installation of chimes that never stop their cheerful and atonal clanging. A central lobby bar takes on Alice in Wonderland characteristics at tea time (when an assortment of giant cakes and sweets appear) and is back-lit in modish discotheque style after dark. It is all, as Balinese are the first to point out, utterly un-Bali in aesthetic. And yet, it is an island holiday, through and through.


The play of colors and shapes only intensifies once you walk through the lobby out to WET, the swimming pool. Multi-tiered and festooned with colorful chaises and cabana beds and oversized colorful beanbags, the pool doubles as a landscape art installation. There are some sections, particularly fronting the lobby, that seem more for decoration than for swimming. The lower pool area is designed like some sort of

water maze. In order to cross from a chaise near the ocean to the pool bar in the main building, you may have to just find a narrow, shallow channel and wade across it. Ostensibly there are foot bridges, but no one except the servers knows where.


Which brings us back to the concept of whimsy, as it relates to grownups having fun. The W Retreat Seminyak may be the most delightful luxury resort in the world and it's whimsy is a large part of the reason. There are things about it that are downright silly. Those large outdoor beanbags in pink, green and purple, for example. Why are they there?



No one uses them. Each one is set on its own little concrete block, surrounded by water. Even the name is ridiculous; "Fat boys," the staff call them. Then there's the whole high tea concept, featuring a selection of cakes that are 18 inches high and lavishly frosted, resembling a featured spread from a wedding reality TV show. Seriously, do the fitness-conscious W Retreat customers actually eat those cakes? No! (Although they do drink the cotton candy martinis.) The point is, even if certain things are just for show, and probably wouldn't be appreciated in "regular" working life, their presence at the W reminds the guests that they're on vacation, and that life is beautiful. 


Whimsy wouldn't work so well, however, if it wasn't counterbalanced by a fine-tuned, highly intuitive awareness of what guests want, when they want it, and how it should be delivered. Whether it's a buffet breakfast or an a la carte one (or BOTH), a charcuterie platter or a shot of wheat grass juice, a martini or a milkshake; one only need ask, and it'll be provided.

The four bars and lounges sort of blur into each other, but it doesn't particularly matter, as you can get signature cocktails and Cellos (housemade limoncello, pineapplecello, etc.) and endless bottles of Veuve Clicquot whether you're at ICE or the W Lounge or some random poolside patio. On the practical side, the property offers free and functional wireless Internet in guest rooms and common areas, a business center, a library with books and DVDs to borrow, and a gym featuring LCD televisions mounted on all the exercise machines.


Because no property can be fully evaluated without taking the measure of the guest rooms, here's what stands out about the digs at the W Seminyak: Very large, deep bathtubs, which nicely facilitate the use of complimentary Bliss Spa amenities; rain showers, for the holdouts (mostly male) who "don't like to take baths," even on vacation; private patios set up with comfortable daybeds for snoozing; LCD televisions nearly big enough to qualify as "in-room private theater;" room size: much larger than in any comparable big-city W. And one word of warning: there are roosters outside. You'll hear them around 5 a.m. Nothing can be done - they belong to neighbors, who were here long before the hotel developed, and show no signs of going anywhere. If it bothers you, don't sleep with the door open.


Whenever a brand tries to reinvent itself, there are up sides - consumer curiosity, media attention, anticipation - and one major down side: if you fail, you'll drag the brand down. So, while the W brand has a lot of devotees, it also took a risk in developing W Retreats. After a small, but successful, debut in a remote destination (W Maldives) and a follow-up that showed a lot of potential but has, disappointingly, failed to fill rooms (W Vieques), the W Retreat concept has reached its full and glorious potential at Seminyak, Bali. Visit StarwoodHotels.com to learn more.