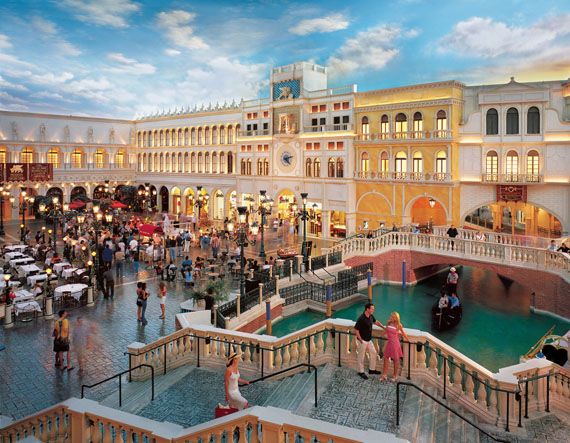 Photo Courtesy of InterContinental Hotels Group
One does not usually "escape" to Las Vegas. The pinging of slot machines and the hoards of grotesque people standing in lines for all-you-can-eat seafood buffets is enough to dissuade me from the state of Nevada. But something recently wooed me back. Thanks to a truly tranquil and luxurious experience at the Palazzo and Venetian, I have a refreshed view of Las Vegas. Here's the scoop:
Prestige: Palazzo's semi-new offering is a must for anyone seeking sanctuary or seclusion in Vegas. Perched on the top floor of the Palazzo, Prestige allows one to bypass the long registration lines and the lobby clatter. Private elevators whisked us up to this serene floor, outfitted in discreet Italian accents and a welcoming, eager staff. Complimentary champagne at check-in sure didn't hurt either.

Throughout the day, Prestige unfurls an array of impressive snacks and meals, starting with a complimentary continental breakfast and ending with a dessert bar from 7 p.m. to 9 p.m.

A daily complimentary cocktail reception seems to be a favorite of both staff and guests, as guests spread throughout the massive lounge areas, admiring the far-reaching views of the Strip and mountains in the distance. Inside the decadent suites save yourself from one of travel's chores and opt for the unpacking and (for later) packing services. That gave me more time to hop into the bathtub and sink into one of Prestige's favorite baths: The Cioccolato. I soaked and nibbled on truffles as chocolate bath bubbles floated around me. I'm starting to like the Italian style of relaxing!
Spa treats fit for Italian royalty: Bathing is big in Italy. As I entered the Venetian's and Palazzo's shared spa, Canyon Ranch at Las Vegas, I knew one bubble bath would not be enough for this stay. As one of the largest spas in the world, Canyon Ranch at Las Vegas seems never-ending, to my delight, with one room of bathing experiences after another. Aquavana, the spa's European aqua thermal arena, can treat guests to a rainforest mist or cloak them with swirling snowflakes. The Igloo was one of my favorite "rooms," a refreshing modern Igloo-like structure that misted me with Arctic airbursts. The Wave Room, a co-ed space, reflects water movements on a domed canopy. It would be sublime to spend a day just in Aquavana and fortunately, day passes are available.
"Healthy Feet" is one of Canyon Ranch Las Vegas' newest offerings. Italian shoes are fantastic, but they challenge my endurance in stiletto strutting. Developed in partnership with foot guru Dr. Glenn Copeland, author of The Foot Book, Healthy Feet services include Gait Analysis and the Canyon Ranch Signature Foot and Lower-Leg Rejuvenation. This is a full-blown footies reprieve featuring a warm herbal soak, deep oscillation, and foot and leg massage. I almost cried for joy when I spotted the "Healthy in Heels" service, a foot therapy session catered to those who love their heels. What bliss!
Totally Italian: Now refreshed and relaxed, I figured I could plan a luxurious night out, Italian style. The evening started with the Venetian's classic offering: a Gondola Ride, which placed us right on the doorstep of Canaletto. This Italian restaurant sits right in the Venetian's version of St. Mark's Square, the famed Italian epicenter of architecture and culture. Dinner was leisurely and fun, just as Vegas should be. I enjoyed our cast of servers and busboys, all Italian, or at least, darn good at faking flirty and engaging accents. The end of our evening was surely my favorite: attending The Phantom of the Opera. It's usually difficult for me to be suspended from my own little reality, often distracted by others in a theater or unconvinced by the performers on stage. This cast, this show, this stage of the Phantom, though, is so perfected that its magic is universal. I feel it every time, from goose bumps to tears. For those wishing for an even more intimate experience, the Phantom VIP Experience offers a cast meet and greet, a backstage tour of the phenomenal set and premium seating next to the orchestra.
Learn more: Palazzo.com and Venetian.com.