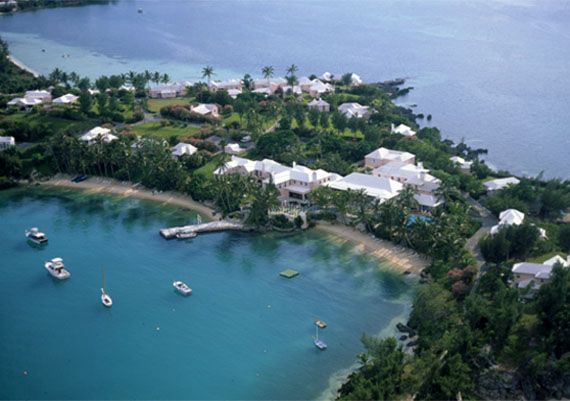 Photo Courtesy of Cambridge Beaches
If you're looking for a remedy to your stress, away from the kids and the hustle and bustle of everyday life, Cambridge Beaches Resort & Spa in
Bermuda
is just the place to escape from it all.
The destination property is Bermuda's sole adults-only relaxation spot that's a mere 90-minute flight from New York City and less than two hours from other east coast cities and Canada. With direct flights available from many major cities, Cambridge is just a quick trip to rejuvenation and lasting memories.

Cambridge Beaches' cottages boast elegantly appointed rooms ensconced in the island's traditional cheerful pink stucco with private patios or terraces granting breathtaking views of the Atlantic Ocean. As the leading adults-only resort, Cambridge Beaches is both romantic and calming, featuring special amenities that encourage sensuality and connection. The magnificent resort offers an environment geared toward adults, from enchanting hanging beds hovering over the shores of the Atlantic to "Secret Garden" dining. In addition, Cambridge Beaches is the only property in Bermuda to offer ocean view pool suites with private plunge pools.


In keeping with the resort's emphasis on romance, Cambridge Beaches has only 94 rooms, ensuring a cozy time. The resort's four private beaches each boast their own distinct ambiance. Couples can feel free to explore the property's bayfront Infinity pool, nature reserve and scenic sea view gardens at their leisure.

Guests are also encouraged to pamper themselves with exceptional spa treatments at the award-winning Ocean Spa. The elite property also offers various gourmet eateries and impressive dining experiences led by Bermudian native Chef Keith De Shields, including Breezes, a wonderful seafood restaurant that happens to be Bermuda's only beachfront restaurant with unobstructed sunset vistas.



No matter what you need a vacation from, Cambridge Beaches Resort & Spa offers a retreat complete with pure relaxation and freedom from the daily grind. This luxurious Bermuda resort is the ideal place to reconnect with loved ones and indulge in fabulous food and activities, all while the ocean breeze carries your cares away.