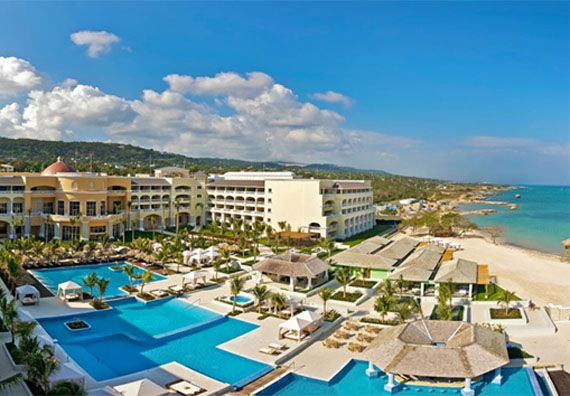 Photo Courtesy of Iberostar Hotels & Resorts
Maybe your idea of a
Jamaican vacation
is a stack of fashion magazines and a cocktail by the pool. Or perhaps you're craving some authentic Jamaican jerk chicken and sweet potatoes, followed by a sailing lesson in Montego Bay. Either way, the five-star, all-inclusive Iberostar Grand Hotel Rose Hall luxury resort has you covered. Just don't forget to bring your appetite.
With four a la carte restaurants offering the finest in Italian, Japanese, Gourmet and Steak/Seafood, plus over-the-top breakfast and lunch buffets, Executive Chef Mario Gonzalez goes to great lengths to please the palate of any international traveler. His 10 years of training in Spain and London lend well to his ability to create one-of-a-kind dishes that fuse a variety of regional flavors.



My favorite was the Italian restaurant, which offered seafood staples like red snapper and lobster risotto, in addition to decadent gnocchi and tiramisu specialties. We also took full advantage of the buffet restaurants, packed with a variety of ceviches, seafood salads and regional fresh fruit, plus probably a dozen different types of juices, pastries and cheeses to graze upon. With so much goodness to choose from, why not sample one of everything? Don't forget, the all-inclusive option includes meals.

The resort is one of more than 100 privately owned Iberostar properties in 15 countries, known for its supreme attention to quality and service. This includes gourmet room service, offered 24 hours a day without extra charge. If this isn't enough to stretch the limits of your waistband, guests also have access to the combined seven restaurants at neighboring Iberostar Rose Hall Suites and Iberostar Rose Hall Beach, just down the shore from the Grand Hotel.



Oh, and I don't dare forget the cocktails. The pi?a coladas on the property flowed just as freely as the Jacuzzi-tub bathwater in the luxurious beachfront suites. Same with the mojitos, mimosas and some of the best "house" wines I've had dining out in a long time. May I recommend a "Jamaican Smile" — orange juice, banana and rum — or a lemon Caipiroska, made with vodka, sugar and lemon juice. Both are ideal for sipping while either lounging poolside or enjoying the evening theater show. And be sure to leave your bartender a little something extra should he happen to break out a guitar and play Lynard Skynard or Bob Marley songs in between pours.

Another perk of the all-inclusive option is the extended mini-bar, which can be personalized according to preference. Say you want to replace all Coca-Cola drinks with Red Stripe? No problem, mon. Your butler will take care of it. Yes, that's right, all suites come fully equipped with a personal butler, who will even unpack and pack your bags, upon request.



That reminds me, the rooms here are ridiculously plush. I was lucky enough to score a sea-facing suite, equipped with an enormous patio and hanging swing. Turn-down service included the typical piece of chocolate left on the bed, plus scented oils lit in a diffuser. Then comes the most difficult decision of the day: what to order from the Pillow Menu. With seven types of pillows to choose from, I felt like a spoiled Goldilocks trying to pick the one that was not too hard, not too soft, but just right.

Between the restaurants, buffets, room-service, mini-bars and awesome accommodations, who would ever want to leave the resort? Do yourself a favor and take a 10-minute drive down the highway for an authentic Jamaican dining experience at Scotchie's restaurant. This place is so laid back, the chairs are made from beer kegs and they don't even have menus. "I just can't seem to find any," were the words straight out of our server's mouth.



Go ahead and order one of each of the "jerk everything" — that's jerk chicken, jerk pork and jerk fish all of which are smoked on charcoal pits behind the restaurant. If they're not sold out of the corn and yams (they were the day I visited), then definitely get those, plus sides of sweet potatoes and "festival," a delicious Jamaican deep-fried cornmeal breadstick treat. And be sure to soak all of it in Scotchie's famous hot sauce, flavored with the restaurant's namesake scotch bonnet chili pepper.



If I had to pick one, the hardest part of vacationing at the Grand Hotel was convincing myself that my wallet wouldn't be punished for sampling from the mini-bar. The next hardest was turning down the resort staff's invitations to join their beach-volleyball games, especially after all that feasting. Hey, you didn't see their abs. Looks like someone's been skipping their Scotchie's. Visit Iberostar.com to learn more.