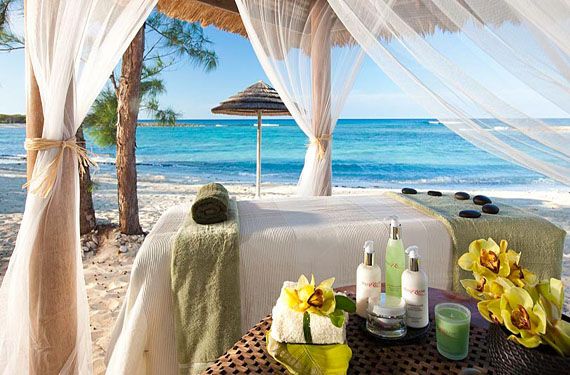 Photo Courtesy of Sandals
All-inclusive vacations are becoming more and more popular not only for families, but couples seeking an escape from the everyday hustle and bustle. Sandals Royal Bahamian Resort now offers a luxurious way to stay in style. Sandals ranks among some of the
best romantic vacation ideas
, offering both weekend and week-long indulgent getaways for couples. From the moment you arrive at the property, your personal butlers will have taken the liberty of assisting you with dinner plans. If the reservations do not fit in with your schedule, simply notify them and they will accommodate any changes.
Each of the butlers, who are trained by the Guild of Professional English Butlers, will be available to assist with both unpacking and repacking your luggage upon arrival/departure, pressing an outfit (one per person per stay), preparing tours to the private island, assisting with dinner reservations or spa treatments, and assembling breakfast in bed or preparing a candlelit dinner on the balcony. You will even be given a cell phone that you can use to contact them throughout your entire stay. Our personal butler, Dianna, reserved lounge chairs for us by the pool and at the beach one day. When we arrived at the pool, we discovered our reserved seating with towels perfectly folded into a heart shaped design with our name displayed, compliments of Dianna.
We stayed in a one-bedroom suite with wraparound ocean view balcony overlooking the pool. The first through sixth floors of the Windsor Block are home to extravagant suites that are situated directly facing the ocean. Our suite had a large bedroom with four-poster bed and a substantial living room with a balcony. The enormous bathroom featured a large vanity area with a double sink and a Roman tub. Each evening, instead of traditional turndown service, the butlers have a fun with the bedding, folding towels to resemble hearts and puppy dogs and other love-related items. To set the mood for a perfectly romantic evening, beds are strewn with fresh rose petals and personalized cards with sentiments such as "When love is around, life's in bloom and the world shines."
The all-inclusive property has several restaurants available for every food preference. One evening, we had a surf and turf combo at Gordon's On The Pier, which included a New York strip. While dining we fed fish that swam directly under our table (probably not supposed to do this, but who can resist?!) The Crystal Room was a more upscale dining experience with a prime rib specialty. Our server Gail was very nice and extremely attentive. Unfortunately, we did not make it to Baccarat, the fine French dining room. Instead we opted to check out the fun Junkanoo Street Party, a true Bahamian experience complete with island music and Caribbean inspired cuisine that lined the street of the property.
If time allows, head over to the Red Lane Spa, one of the
best luxury spas
on the island, for a lavish treatment. We loved the Scents of Love 50-minute couple's massage. They also offer a hot stone, sport relief or West Indian massage complete with hot river stones and white sand exfoliation, as well as face mapping, skin analysis, or micro-zone face treatment to fix any imperfections in just 20 minutes. For the ultimate indulgence, try the Travel Unravel Experience, which includes an Island Team Ginger Glow Scrub, Caribbean Sea Wrap and Discovery Lane Sampler massage.
For a fun excursion, head over to Sandals' private offshore island, Cable Beach, where you can swim in the pool, lounge by the ocean or have some drinks and lunch at the on-island restaurant. Head off the property for a day of adventure at the nearby Atlantis Resort water parks. For around $100 per person, the all-day pass includes a ride down the 60-foot Leap of Faith slide from the top of the world-famous and iconic Mayan Temple, through a clear acrylic tunnel submerged in a shark-filled lagoon. If that seems a little too adventurous for your liking, then check out the twin high-speed Challenger Slides of the Mayan Temple, which caters to those who wish to travel at more moderate speeds. There are numerous bars, casual restaurants, and upscale dining rooms scattered about the property, ensuring there is something available to everyone's liking. After a day of fun at the water parks, be sure to take a walk around the neighboring shopping area in Nassau just outside of the resort. Stroll by the vendors that line the street selling handmade crafts at bargain prices.

This Sandals property really does offer first class service and luxury treatments. From the butlers and 24-hour room service, to the VIP Mercedes-Benz transfer service to the airport upon departure, Sandals Royal Bahamian is well worth the trip.
For more information on Sandals Royal Bahamian Spa Resort visit
Sandals.com
, or call 888.SANDALS or 242.327.6400.