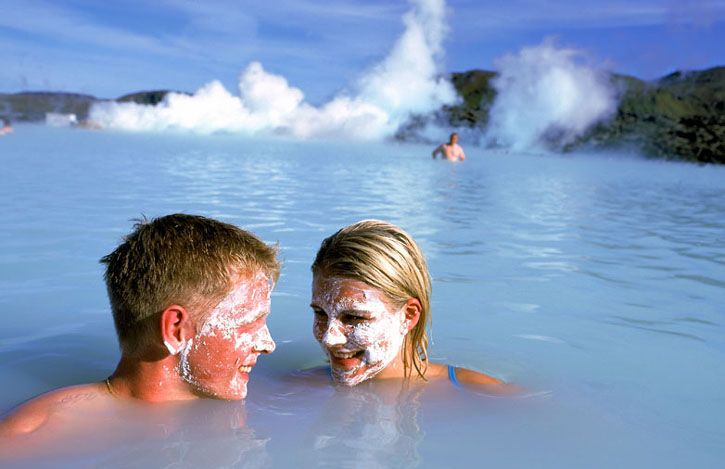 Photo Courtesy of Blue Lagoon
The cheerful blossoms of this year's early spring beckon would-be gardeners, farmers' market browsers, and green living enthusiasts back to nature. Going locavore is sure to be a popular Earth Day resolution—and why stop with the products you eat and drink? The
resort spa
trend toward local seasonal spa treatments lets you luxuriate in regionally inspired treatments incorporating locally grown products. It's yet another way to take better care of your body and the environment. 
Orange Blossom
Since no fruit is more iconic than the Florida orange, it stands to reason that the signature treatment at Acqualina Spa by ESPA on Sunny Isles Beach is the Orange Blossom. Locally grown oranges are incorporated throughout the treatment, from the orange blossom water in the Welcome Foot Ritual to the citrus oils in the full body massage.
Find it at:
Acqualina Resort & Spa, Sunny Isles Beach, FL
Rose Parade
Southern California's Rose Parade takes place on New Year's Day, but Northern California has its own Rose Parade throughout the month of May at Raindance Spa. Everything's coming up roses in this blissful spa package—and the roses are grown on-property. A Rose Bath, rose exfoliation, rose aromatherapy and a 50-minute massage…we call that a full-body bouquet.
Find it at:
The Lodge at Sonoma
La Peau au Miel
Private-label organic honey is all the rage among hoteliers these days, with brands from the Fairmont to the Ritz keeping onsite apiaries—oftentimes, on a rooftop The InterContinental Boston uses honey from its three beehives in two spa treatments: Barefoot en Provence and body treatment La Peau au Miel.
Find it at:
InterContinental Boston
Cherries
Portugal's Tras-os-Montes region literally looks down on the beaten path—in this case, the Douro Valley—and provides a rugged mountain environment perfect for mind-body cleansing. At Hotel Spa Alfandega, the Cherries Treatment incorporates locally grown herbs and cherries, in a garden setting 3,350 feet above sea level.
Find it at:
Hotel & Spa Alfandega da Fe, Portugal
Rainforest Facial
Puerto Rico is full of surprises. The lush beauty of magnificent El Yunque rainforest is one, and the existence of a Golden Door Spa on-island is another. The signature Rainforest Facial brings elements of the forest into the spa: locally grown raspberries, water from the nearby hot springs, and "energy stones" hand-selected from the forest and thought to derive power from the full moon.
Find it at:
El Conquistador Resort, Puerto Rico
Northwest Elements Facial
Though winter might not have been hard for everyone this year, plenty of people may have found their skin affected by the weather—and to counteract, Allison Spa in Oregon suggests a restorative facial featuring Blue Green Algae harvested from Klamath Falls in the Cascade Mountains. This "sustainable superfood" contains chlorophyll, protein and amino acids that can help hydrate winter-chapped skin and clear the complexion.
Find it at:
Allison Inn and Spa, Oregon
Peaches and Cream Body Masque
If you though the only crop Napa grew was Cabernet grapes, think again: Calistoga peaches are the star ingredient in Auberge du Soleil's summer specialty body treatment—mixed into a cream treatment that pampers head-to-toe. We call this one a full-body dessert.
Find it at:
Auberge du Soleil, Northern California
French Polynesian Treatments
Coconuts are never out of season in the South Seas, meaning that the Miri Miri Spa in Bora Bora can always find locally grown coconuts for its specialty coconut pulp body exfoliation. Another exfoliant is made with Tahitian vanilla, while island gardenias are soaked with semi-wax coconut oil to create the spa's signature Monoi oil.
Find it at:
St. Regis Bora Bora
Feet Miracle
For everyone who's ever roughed up and abused their feet so badly that they need a miracle in order to be presentable again, So Spa in Cartagena, Colombia may have formulated that miracle. It starts with a natural scrub made of brown sugar from the region, lemon juice, oats, honey and mint. Then comes a massage with oil of Sacha Inche, a nut grown only in Colombia and Peru. It ends with a soothing balm on the legs. The first and third parts you can approximate at home—the second, probably not.
Find it at:
Sofitel Cartagena Santa Clara
Silica Massage
The be-all and end-all of unique regional spas is the Geothermal Spa at the Blue Lagoon in Iceland. Self-styled as "one of Mother Nature's laboratories," the misty magical lagoon is the world's largest natural bathtub. Its mineral-rich seawater and soft silica mud are both believed to have powerful healing properties. In-water treatments are an experience like no other: You float on a buoyant foam raft, with the warm lagoon water lapping below as the therapist performs your treatment. Products are simply formulated, and the standout is the silica mud, which somehow feels richer than any $200 jar of "physician's blend" designer cosmetic.
Find it at:
Blue Lagoon, Iceland