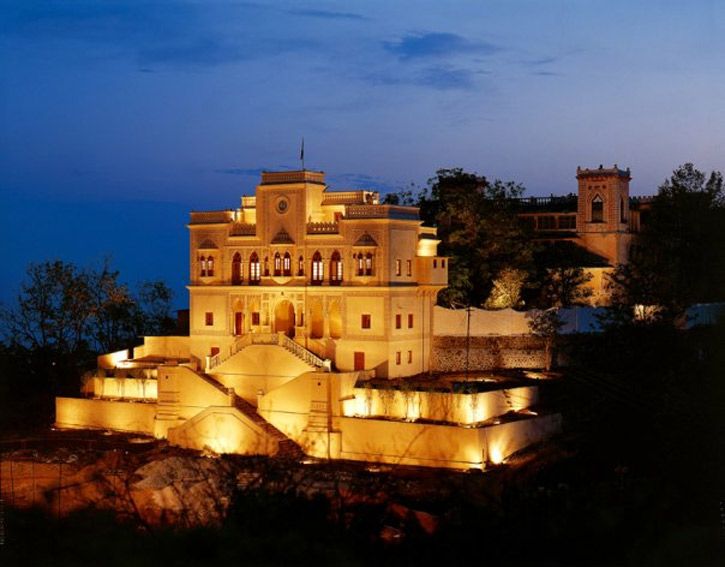 Photo Courtesy of Ananda Spa
The Ananda Spa, located in the Himalayan foothills and was voted world's
best luxury spa
destination by
Condé Nast Traveller
. The resort has continued the ancient Indian practice of living a full, balanced life that is in touch with the natural and spiritual world. The setting for this beautiful retreat includes the mystique of the Himalayan Mountains and Sal forests, as well as the enchanting cities of Haridwar and Rishikesh. The natural environment lends the peace needed for guests to center, allowing the Ananda Spa consultants to lead their healing Aruyveda, Vendanta, and yoga programs.
The deluxe rooms and suites at the resort mirror the tranquility of the surrounding area, as do the
luxury villas
. Each room includes simple and natural décor, as well as Kurta Pyjamas, fresh cotton attire that can be worn throughout the stay and during the wellness activities. The luxury spa offers tailored programs that are unique for each individual. Special Ananda Wellness Experiences include weight management, ayurvedic rejuvenation, detox,
yoga
detox, and Ananda Renew.
The Ananda Spa has 24,000 square feet of space and offers over 80 body and beauty treatments using both ancient Indian therapies and modern wellness equipment. Shirodhara, for example, is a 55 minute experience featuring the use of a luke warm herbal oil that is applied to the forehead, stimulating memory, calming neurological disturbances, and normalizing sleep. Another treatment is Urovasthi, a 30 minute treatment that helps to balance the Heart Chakra, reducing stress through the pouring of a warm, medicated oil over the chest. In addition to the individualized programs, consultants provide nutrition and exercise advice.
Customized menus are available and built according to Aruyvedic principles of space, air, fire, water, and earth. Guests' body types will be determined at the beginning of their stay, and afterwards, a tailored diet will be prepared from the finest Indian, Asian, and Western fare. The on-site restaurant is natural extension of resort's harmonious balance, including Yantric Art, an outdoor treetop deck with views of the surrounding mountains, and an intimate pavilion. Light, fine foods are also served in the tea lounge, located in the Viceregal Palace as well as by the pool.
To learn more visit
AnandaSpa.com
.