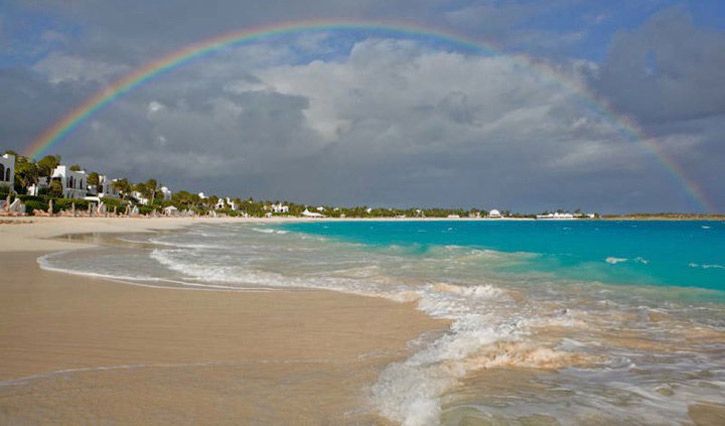 Photo Courtesy of Cap Juluca
The Caribbean is known for having some of the
world's best luxury hotels
on stunningly beautiful beaches. With so many breathtaking locations its difficult to pick the best but we collected just a few of our favorites. From the Dominican Republic to Barbados, these lush treasures highlight some of the most gorgeous ocean views, opulent accommodations, and exquisite dining found anywhere in the Caribbean.
The St. Regis Bahia Beach Resort
The St. Regis Bahia Beach Resort can be found in Rio Grande, Puerto Rico, situated perfectly between a dense tropical forest and the ocean. The St. Regis Bahia offers golfing on a pristine course as well as fine dining in a kitchen operated with the influence of award-winning chef, Jean-Georges Vongerichten.
The Hard Rock Hotel Punta Cana
From gaming in one of the biggest and best casinos around to indulging treatments at World of The Famed Rock Spa, The Hard Rock Hotel Punta Cana offers the best. Sample delicious local cuisine while enjoying the nightlife at the resorts' lounge and nightclub or vibrant casino.
Westin Resort & Casino Aruba
Soft sand, turquoise waters, beaches dotted with secret coves and caves surround the Westin Resort & Casino, Aruba. Guests can enjoy one of the best casinos in the Caribbean and a variety of dining options.
The Ritz-Carlton, St. Thomas
A gem among the Virgin Islands, The Ritz Carlton, St. Thomas is a luxury resort that offers guests presidential and club level suites with incomparable ocean views and in-room services. Enjoy casual beach or poolside dining or exquisite fine dining that uses the freshest local seafood.
Four Seasons Nevis
Located in the West Indies, the Four Seasons Nevis golf course overlooks the lush island as well as the neighboring island of St. Kitts. The resort boasts four restaurants which feature the best the West Indies has to offer. Guests can enjoy a massage, facials, and other salon services at the Four Season Nevis' tropical spa sanctuary.
Cap Juluca
Cap Juluca, located on the island of Anguilla, with its Greco-Moorish architecture offset by a gorgeous, flowering landscaping, is the ideal embodiment of elegance and serenity. Guests can choose from rooms and suites as well as oceanfront villas. Private dinners on the beach punctuate the Cap Juluca experience, which is the ideal setting for a romantic getaway.
Sandy Lane Barbados
A
luxury golf resort
located in the Barbados, Sandy Lane offers some of the best golf in the world. The resort spa features a marble reception area as well as water therapy treatment rooms. With several bars, a wine cellar, and four restaurants, Sandy Lane Barbados fulfills every culinary appetite.