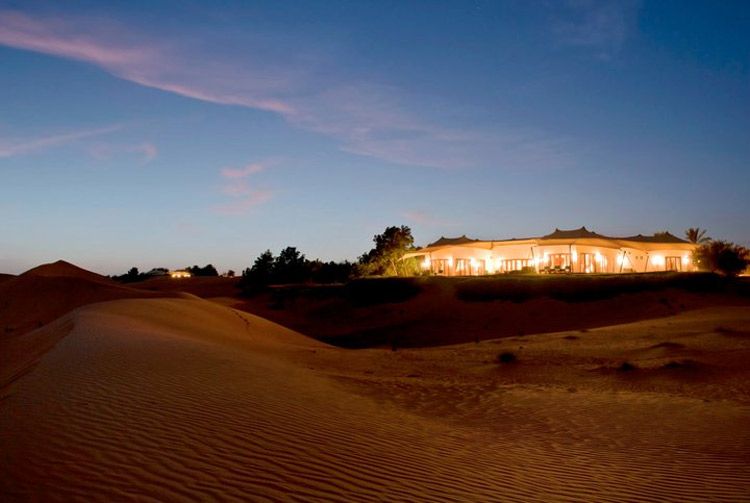 Photo Courtesty of Al Maha Resort & Spa
Luxury resorts in Dubai come in all shapes and sizes—sky-high towers in the heart of the city, expansive properties along the shoreline, and even boutique hotels set amidst lush green palms. However,
Al Maha Desert Resort & Spa
is showing guests a different side of Dubai, away from the bright lights and big city.
Nestled into the rolling dunes of the Arabian Desert, this quiet retreat evokes the simplicity of the traditional desert lifestyle, while offering all the amenities one would come to expect from a Luxury Collection hotel. Watch indigenous wildlife roam free while relaxing in your private infinity pool or laying out on the sun deck. This is far from roughing it, but still brings guests that much closer to an authentic look at Arabia's rich culture and heritage.
The resort's 42 suites are available in four different categories, but all come standard with a stunning desert view, temperature-controlled private pool and wooden sun deck. Whether it's the Bedouin, Royal, Emirates, or Presidential Suite you choose, each will be outfitted with Arabian artifacts, furnishings and antiques to ensure the ambiance inside matches the environment outside. Some of the amenities offered include custom-made king size beds, walk-in showers and king sized bath tubs, lounge area with dining room, kitchen, mini bar, courtyard, and separate quarters for guests traveling with their own staff.
Award-winning Executive Chef David Miras leads a culinary team that conveys their appreciation for hand-picked produce by experimenting and creating memorable offerings. Every dish on the menu is hand-made using the freshest organic ingredients and showcases influences from both East and West. All that the guest has to do is choose which of the resort's venues they wish to surround themselves with during their dining experience.
For a sophisticated way to dine, try the resort's Al Diwaan Restaurant located on the veranda overlooking the expansive reserve. Get a little more intimate with a dinner for two out on the dunes and under the stars. Persian carpets, flame torches and crisp white linens make this an unforgettable upscale picnic. Or choose to stay in the privacy of your suite and have a meal individually prepared to your liking and served out on the deck under the night sky or inside for a romantic night in.
A trip to the Arabian Desert wouldn't be complete without exploring the exotic locale. Take a wildlife drive around the landscape to get up close and personal to roaming animals; ride horses through the sand; take a walk around the reserve led by experienced field guides to see beautiful flora and fauna; or for adventure seekers, head out on a four-wheel drive to some of the more secluded spots off of the Al Maha reserve.

During each and every stay at Al Maha Resort & Spa, guests will constantly have the support of the Guest Relations Coordinator to deliver any and all personal requirements throughout the visit. Setting the temperature in the private pool, making sure food preferences are fulfilled, or arranging local excursions, no task is too small for the dedicated staff. Comprised of 20 different nationalities and speaking 28 languages, they are more than capable of communicating with all guests and executing their needs during their Dubai desert getaway.
Visit
Al-Maha.com
to see more.