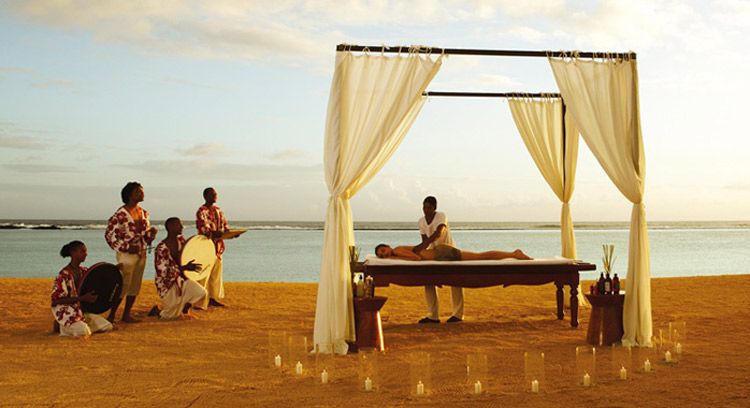 Photo Courtesy of Shanti Maurice
A visit to the spa tends to be at the top of many travelers' lists when on vacation. While we know that some of the
best hotel spas
offer a calming environment, range of services and knowledgeable staff, the ones on this list are taking a day at the spa to a whole new level—these facilities feature igloos, use ancient remedies, employ former Surgeon Generals and master sommeliers, and span tens of thousands of square feet, make them among the most elaborate hotel spas in the world. So if you're interested in a run-of-the-mill massage or facial, you may want to look elsewhere.
Nira Spa at Shanti Maurice
The Nira Spa at Shanti Maurice in Mauritius is one of the largest in the Indian Ocean, spanning over an impressive 75,000 square feet. What do they do with all that space you might ask? They focus mainly on Ayurvedic concepts and combine those with more modern techniques to offer services that will appeal to visitors from all walks of life. Here, the spa therapists go above and beyond, working closely with nutritionists, personal trainers, yoga instructors, and Ayurvedic doctors to provide more than just a fleeting feeling of relaxation, but an overall sense of wellbeing and spiritual awakening inside and out.
Hydrotherapy, cocoons, body polishes, watsu (water Shiatsu), and massage are infused into many of the therapies, along with age-old Ayurveda and yoga methods. If you're into being a little more active, there are options for that too. Traditional meditation and yoga classes are available as well as aquafit water exercise and Pilates led by Master Trainer Romana Kryzanowska. The newest signature treatment at Nira Spa doesn't take place inside the massive facility, however, but out in the open air on the sand. The Sega Ritual is performed oceanfront with a bonfire and rhythmic music played live in synchronicity to the massage.
This luxury hotel spa might not be elaborate by way of size, but it certainly is when it comes to the tiny element that all treatments revolve around: the grape. Vinotherapy was created by Mathilde Cathiard-Thomas and her husband Bertrand Thomas after learning about the effects that grapes, including the skin, seeds and stems, have on purifying, firming, energizing and illuminating the skin. The grape polyphenols are used in all Caudalie products at the spa to combat free radials, the main cause of aging in the skin.
Because of the grape's ability to provide anti-oxidants, boost circulation, protect elastin and collagen, and prevent future damage, they are the star of the show at the Vinothérapie® Spa. Body treatments include a Red Vine Bath, Merlot Wrap, Crushed Cabernet Scrub, Fresh Grape Massage, and Vinosculpt Instant Lift Facial. In between your grape-centric treatments, hang out in the French Paradox Wine Room where a world-class sommelier hosts wine tastings and food pairings from regions in Spain and France where the two other Caudalíe Spas are located.
Canyon Ranch Hotel & Spa
As Florida's largest wellness spa, at 70,000 square feet, Canyon Ranch's spa offers a haven for traditional, modern and ancient treatments as well as a wide array of health care services at the Canyon Ranch Health Center. If you're interested in receiving a complete physical examination and diagnostic testing, then the team of doctors, including the 17th Surgeon General of the United States from 2002-2006, is on-hand to educate you on ways to prevent illness and treat conditions using Western and non-Western practices. You can leave equipped to execute a health care program individually made for your specific concerns and lifestyle.
In between your Ashiatsu Deep Barefoot Massage and Turkish Hammam Bath Ritual, visit the Aquavana thermal suites for eight different sensory experiences. A great way to cool off after leaving the Crystal Steam Room are with the Experiential Rains; choose from the Atlantic Storm, Caribbean Monsoon or Polar Mist rain shower. For an equally chilling experience, head to the Igloo, where cool air and menthol, mint and eucalyptus Arctic mists fill the space complete with pebbled flooring and twinkling fiber optics. To warm up and soothe aching muscles, lay on one of the Thermal Heated Loungers after a dip in the gentle massaging waters of the HydroSpa. When you're feeling adventurous, there's a two-story climbing wall in the fitness center, which also gives cardio buffs floor-to-ceiling views of Miami Beach while on the treadmills, bikes and stair machines.
Verdura Spa at Verdura Golf & Spa Resort
Named Best Hotel Spa in Europe 2012 by readers of
Conde Nast Traveller
, we thought Verdura Spa at the Verdura Golf & Spa Resort deserved a nod. Located on the southwest coast of Sicily among olive groves, gardens and a beautifully manicured golf course, this luxury spa offers holistic programs and services for health and fitness lovers. Treatments are influenced by the surrounding land and include its natural, indigenous ingredients such as plant extracts, pure olive oil, marine salt, seaweed, mud and seawater. The 43,000-sqaure-foot spa features intimate pavilions set around an open-air courtyard, an 80-foot indoor pool, four outdoor thalassotherapy pools, a hammam, sauna, gym, hair and beauty area and Spa Bar that serves snacks, juices and healing teas on a terrace looking out onto the gardens.
Here, it's not just the adults that get to indulge —there is an entirely separate spa menu just for children ages 6-16. After a parent or guardian signs off on the consent form, kids are able to choose a face, hair, hand, feet or body treatment from the Generation YSPA selections. Your mini-me can relax with an olive seed massage, organic fresh fruit facial or Beach Babe deep conditioning hair treatment. If you wish to enjoy some bonding time at the Verdura Spa, book a Mother and Daughter Paradise Massage or Father and Son Chill Out Massage where you can lay side by side and chat about school, work or exciting activities to come on your European vacation.
The Huntington Spa at the Langham Hotel
Los Angeles contains it's fair share of high-end spas, but the Huntington Spa at the Langham Hotel in Pasadena is one of the only in the area to offer Chaun Body + Soul treatments. Using Traditional Chinese Medicine, your body's own energy and elements of hot and cold, they promote wellness through facials, scrubs, massages, hand, and foot therapies. Upon arrival, you are asked to fill out a quick questionnaire to determine which of the five forces—earth, fire, water, metal and wood —to target and correct any imbalances caused by stress, diet or simply the time of year.

To further enforce the Chaun Body + Soul services are the specially made Chaun products developed by an expert in Chinese Medicine, Naturopathy and traditional Chinese massage. The Chaun Private Label 5 Element line includes massage and bath oils, soaps, 100% oil blends, bath melts, bath salts, and even teas which are used in the healing treatments and available to purchase for at-home use. Of course the Huntington Spa also offers more classic menu of treatments and salon services as well as a complete fitness center with cardio and strength training machines by TechnoGym and yoga, zumba, kickboxing, Tai-Chi and Pilates classes.