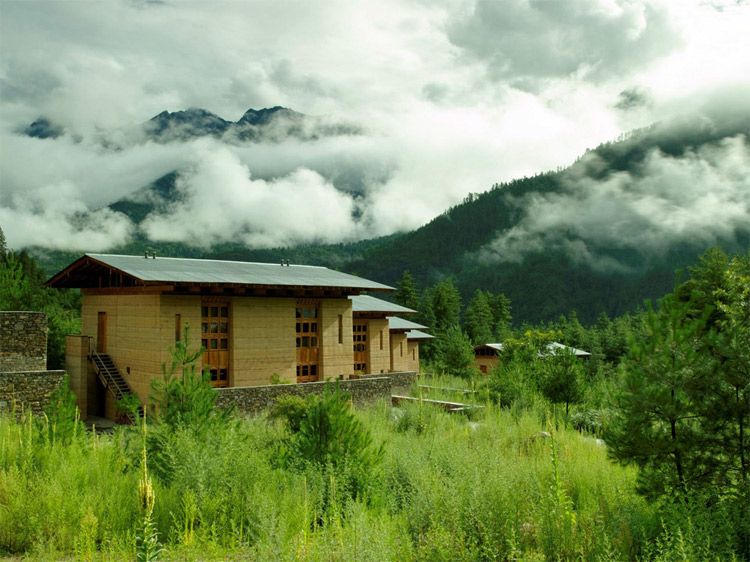 Photo Courtesy of Amanresorts
Bhutan, the Kingdom of the Dragon, has been on my visit list for years. Travelers call it one of the last "Shangri la" destinations left on the planet. Its government refuses to measure Gross Domestic Product but instead implemented Gross Domestic Happiness decades ago. Now having been, I can attest that Bhutan is one of our planet's rare countries still suspended in untouched tranquility and traditions. Venture to Bhutan and surround yourself in its heritage by the resort group known to keep it: Aman Resorts. 
Amanresorts
Only an Aman:
Only the resort group known to get U.S. Congressional approval (for the Aman in Page, Arizona), Chinese Communist party signatures (for the Aman in Beijing's Summer Palace), and deeds for decommissioned Forts (for the Aman in Galle, Sri Lanka), would attempt to become the first foreign entity allowed to set up a joint venture in the Kingdom of Bhutan.
Amanresorts
This is one reason why I love the vision of Adrian Zecha, the founder of Aman Resorts. No place on this earth is too obscure or untouchable for an Aman property. And each Aman Resort is painstakingly planned in order to express the true essence of the heritage and land it will exist on.
The Aman collection of lodges in Bhutan is no exception. It's a consumate example of Zecha's unwavering persistence to work with entire nations and their governing bodies. In 1986 Zecha traveled to Bhutan on the inaugural Druk Air flight from Thailand. Touched by the warm and shy people of Bhutan and impressed by the government's strict tourism policy of "high end, low impact," Zecha began arranging yearly trips with Bhutan's government and private individuals.
Fifteen years later, Bhutan finally permitted international investments and in 2004, the first Aman lodge was opened near Bhutan's famed Tiger's Nest monastery in Paro. By 2007, Zecha had completed five lodges, all designed by Kerry Hill Architects. Hill, a native Aussie whose firm became known for hospitality design across Asia, traversed Bhutan with Zecha for 18 months to plot the locations of the lodges. One can only imagine the conversations between the duo, one of the world's top hotel designers with one of the world's most eminent resort group founders.
The lodges:
Today, guests can visit all five lodges or any combination of them, hence the use of "kora," meaning "circular pilgrimage" in Dzongkha, the Bhutanese language. I was fortunate to visit two lodges: Amankora Paro, opened in 2004 and Amankora Thimphu, opened in 2005 in the capital of Bhutan, Thimphu. I'm convinced that if monks ever vacationed, they'd choose an Aman Resort because few other hotel groups can create tranquility and intimate comfort in a space like the Aman lodges in Bhutan.
Amankora Paro, accessible by foot through a conifer forest laid with a soft pine needle carpet, was exceptionally magical. Glimpses of the Himalayan Mountains through capricious clouds and brooks of clear water meandering throughout the property are a few of the uncanny delights of this Aman lodge. I was captivated by the distant hilltop fortress Drukgyal Dzong, visible from the tranquil library. Now in ruins, the fortress was built to commemorate a victory over an invasion from Tibet, and is a quick walk from Amankora Paro.
This is one of my favorite aspects of Aman resorts: accessibility to remarkable natural and historic wonders. The most impressive landmark in Paro, and considered the most scared to the Bhutanese, is Tiger's Nest. It is a mere 15-minute drive from Amankora Paro and is the quintessential trek in Bhutan for visitors and locals alike. Tiger's Nest, a Tibet monastery, appears to cling to a rock face of a mountain 3,000 feet above the valley below.
After our memorable six-hour hike and visit, I was delighted to return to the comforts of Amankora Paro, my grand home in Bhutan. Service at both lodges in Bhutan is shy but notably attentive. I always enjoy meeting Aman managers, often well-traveled "Aman family" expats who have lived in numerous countries and who would hold PhDs in hospitality if such degrees were awarded.
Both lodges reflect a Bhutanese style of architecture with modern Aman flourishes. Only an Aman Resort would be able to artfully present traditional yak hair and wool linens in a contemporary, balanced manner. Amankora Paro displays the use of rammed earth, an indigenous mud building technique, timber paneling, and flagstone platforms throughout the "village" of guest rooms and public spaces.
At Amankora Thumphu, the design incorporates the essence of a Bhutan "Dzong," a fortress structure marked with soaring ceilings and large interior courtyards. I loved the prayer ceremony that took place upon leaving the Thumphu property: a monk recited prayers near the colorful spinning prayer wheels and gifted us with red bracelets.
The arrangements:
Getting to and around Bhutan is, by government design, not easy. Entrance to the country requires a government issued guide, as well as a daily $250 "fee." However, the Aman staff is exceptional at arranging all of the logistics, including a stunning itinerary. An Aman staff member assisted my guest and I in obtaining a visa to Bhutan, and another even greeted us at the airport in Thailand, on our way for departure to Bhutan.

Our tour guides (one is required for each guest), were gregarious, high-spirited, and brimming with stories of their personal lives as Bhutanese people. Because the guides stayed on property at the Aman lodges, they were able to be flexible with our schedules. By schedules, I mean my frequent situation of lounging in the library, enjoying a 2-hour lunch, and listening to the rain amid the forest trees. This country, and especially these Aman Resorts, makes me wish vacations were not so ephemeral. All too soon, I had to depart for home.