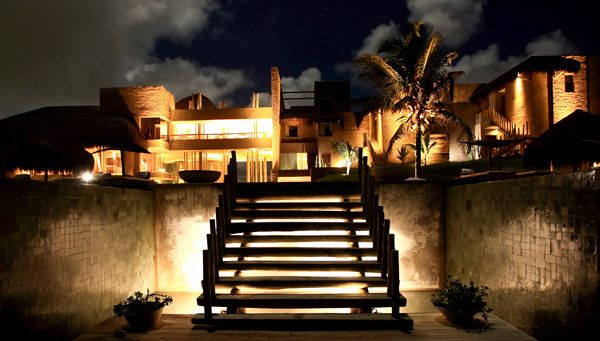 Photo Courtesy of Kenoa Exclusive Spa and Resort
Brazil is perhaps best known for its barely-there bikinis, but second on the list of Brazilian treasures would have to be its beautiful beaches. Kenoa Exclusive Beach Spa & Resort offers to help elite travelers make the best of that famed coastline with their state-of-the-art facilities. Instead of experiencing those beaches with other cooler-toting tourists stepping all over your tranquility, Kenoa promises to ?expand your journey, while ensuring your privacy.?
The
Design Hotels
resort was built with the surrounding natural environment in mind, using fragrant woods and calming colors to engage all of your senses in luxury. The suites and villas at Kenoa Excusive Beach Spa and Resort offer spacious accommodations and amenities. lltitle=Kenoa Exclusive Spa and Resort Will Soothe Your Senses ### llcontent= Kenoa Resort offers a calming escape from the Brazilian tourist scene for elite guests. Instead of experiencing those beaches with other cooler-toting tourists stepping all over your tranquility, Kenoa promises to ?expand your journey, while ensuring your privacy.?
Kenoa attends to the tiny details, like sheets of Egyptian Cotton, LCD TV with a USB connection, and even a memory card reader to look at your photos on the big screen. The resort also promises that staff will be attentive, yet not intrusive. Apoena Suites are 147 square feet, featuring a panoramic view of either the natural reserve that neighbors the resort or the Atlantic Ocean. The suite includes a bathroom with an interior garden for your contemplation. All of the suites also boast a terrace with a lovely view, whether of the crashing waves or the reserve and a Japanese ofuru tub for soaking up sun and suds simultaneously. The Jaobi Villas, aside from being larger, also feature a heated infinity pool and a wine cellar.
The spa, or wellness sanctuary as they put it, uses subliminal messages to enrich your life. Kenoa's philosophy is one that seeks to make you one with nature. The spa offers treatments like the Shiseido Benefiance treatment, which focuses on achieving firmness and revitalization of your skin. Using the elements of earth, air, fire and water, the spa's atmosphere convinces you that you are a harmonious part of your natural surroundings. This message is transmitted to your subconscious through colors, flavors, scents, textures and even sounds.
Once all of those colors and textures have cradled you into a false sense of security, you can have a session with a personal trainer, who will lead you on an endorphin and muscle-toning adventure to snap you back to reality with the pains of physical exertion. But of course, you will have a nice view of the ocean from the fitness center, and afterwards will undoubtedly feel like a brand new person. The facilities also include a pool and beach club, driving range, as well as a conference and business center.

Food, as a rule is very important for a person's wellness. And Kenoa Spa and Resort knows that. The Restaurant Kaamo is located centrally in the resort, with a "magnetically attractive view of the Sea." All roads seem to lead to Kaamo, but in case the magnetic ocean view isn't enough to draw you in, the restaurant also features one of Brazil's finest chefs. Head Chef Cesar Santos is known in his country for originality and unique presentations that engage all of the senses, not just taste.
The Lounge is another restaurant on the premises. Located on the resort's lookout terrace, it is the perfect place to enjoy a little wine while sinking into the massive pillows and couches for comfortable stargazing. It features soft lighting and music to further calm your modern-society-enraged spirit. Suite or villa rates range from $550 to $1800 daily.