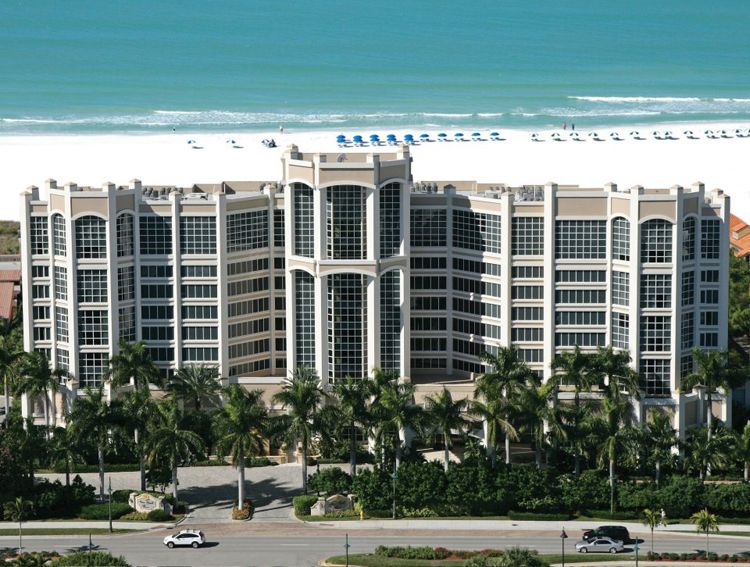 Photo Courtesy of Marco Beach Ocean Resort
Marco Beach Ocean Resort is a AAA Four-Diamond property located on the white sand beaches of Marco Island off the coast of South Florida. The all-suite resort contains 98 rooms with full kitchens, beautifully spacious bathrooms, and beachy Mediterranean decor. Offering interesting services like the ringing of a Captain's Bell at sunset—which could be upsetting if you like to go to bed super early—the resort wants to provide an all-around experience, not just a place to rest your head.
Down pillows and hypo-allergenic feather beds are indeed a nice place to rest your head though, and that is what each suite is outfitted in. They also feature floor-to-ceiling glass doors and private balconies or garden terraces providing a view of either the Gulf of Mexico or the lush gardens. If the view isn't to your liking, rooms also include a flat-screen LCD TV, WiFi, an iPod docking station, and on-demand movies and Nintendo games for further entertainment options. All suites feature the standard hotel GE appliances and a mini-fridge, while the 15 two-bedroom suites include a full size fridge and a dishwasher.
Polished marble vanities, seamless showers and separate tubs make bathing a luxurious activity in the suites. Amenities are provided by Gilchrist & Soames, and custom-designed micro-fiber robes and slippers are supplied for added pampering after your soothing bubble bath with a view.
Maid service is offered twice daily, for those of us with the destructive tendencies of a rock star or small child. Dry cleaning, laundry service, 24-hour concierge and room service are also readily available. Concierge will assist you with shopping destination suggestions, or for special, or penitent occasions, flower selection and ordering assistance. Transportation, everglades or fishing excursions, and spa or salon services can also be worked out by the trusty man or woman behind the service desk. The area is also home to the Naples Philharmonic Orchestra, if you would like to add a little culture to your vacation.
But who are we kidding—you probably won't be leaving the heated outdoor pool and whirlpool spa on the rooftop sundeck, because there are poolside massages there. As if that wasn't incentive enough, poolside service also includes a complimentary smoothie at 3 p.m. every single day. If you are more interested in soaking up the sun in the sand, then fear not, beach attendants will be running around taking guests' drink and food orders there too.
You will no doubt want to work off those smoothie calories eventually, and for that, the resort has a fitness center. The facility includes various cardio and free weight options, as well as Cybex equipment. You can even request personalized training, which can be reserved according to availability. After you work your muscles into submission, all you have to do is crawl next door to the spa, where that pep will be restored in your step. Eight private treatment rooms as well as sauna and steam rooms are staffed by trained professionals and ready to help you relax and unwind.
When planning activities, no research is necessary on your part. The concierge promises to do it all for you. Golf at Fiddler's Creek, a nearby acclaimed championship course, can be set up by the hotel; or if you'd rather go elsewhere, they can arrange and suggest any course or tee time that fits your finicky list of requirements. Tennis lessons, clinics or open-play can also be organized at the drop of a hat.
Dining at the resort happens primarily at Sale e Pepe which offers a view of the Gulf of Mexico over gourmet Italian specialties, under an old Italy ambiance. Outfitted with aged stone, marble floors, arabesque walls and hand-painted frescos, the restaurant looks a little like a reconstruction of the city of Pompei. Chef Giuliano Matarese says he enjoys "combining the familiar taste of fresh ingredients with exotic herbs and spices," because "it gives traditional Southern Italian cuisine a progressive feel."

The Toulouse Lounge, located next door, is a great place for a nightcap. Saletta is a café sharing the breakfast and lunch menu with Sale e Pepe, also featuring happy hour from 4:30-6 p.m. and the Beach Bar and Grill is the chief provider of beach-side sustenance. Room prices range from around $200 to $700 a night.