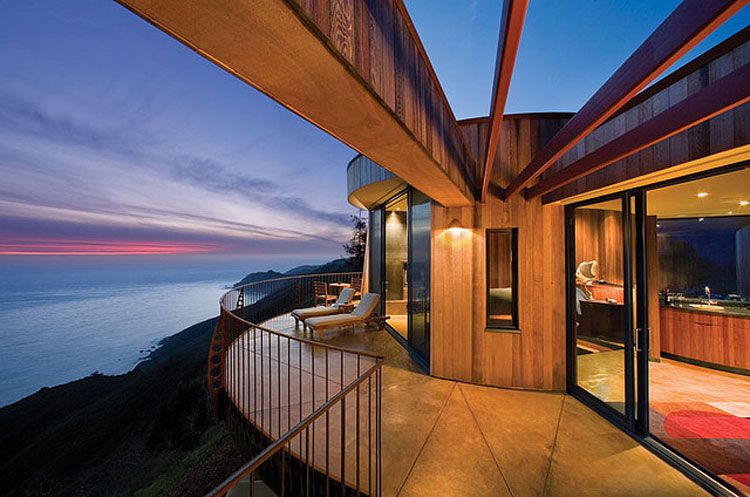 Photo Courtesy of Post Ranch Inn
I have been reading and hearing about—and wanting to visit—
Post Ranch Inn
for at least 10 years! For whatever reason, a stay there never fell into place until our last trip over New Year's. Suffice it to say, upfront and center, it is for very good reason that this Big Sur property is known to be one of the very best in the world. It certainly is. Period. If time allows, stay for minimum three days. According to
Business Insider
, it is one of the USA's most expensive places to stay and worth every penny.
With a spectacular setting that words really don't do justice, it is casual outdoorsy meets ultra-luxe; an experience like none other. Minimal and chic, the property makes sure to take full advantage of its natural surroundings. The whole place seems to float above the Pacific, providing the most stunning coastline views I've seen (and I've been around). The deck outside our room quickly became one of my favorite reading spots. Evenings spent watching the sun go down from the outdoor hot tub at the edge of the cliff, spotting whales breeching, were simply magnificent and deeply relaxing.
Two days in a row we stayed basking in the heat, then in the cool air of nightfall, for two hours after sundown. Morning yoga classes in the yurt were a great start to the day and counter to all of the hiking (We've already planned a spring trip to go back and hike amongst the wild flowers). It was followed by a remarkable breakfast buffet at Sierra Mar, serving some of the most delicious baked goods and fresh fruits outside of your own home.
Need to Know
Great for:
A retreat into nature that will awaken your mind, relax your body, and lighten your soul. Privacy and peace are at the core of this hotel and there is as much or as little activity as one desires with top hiking trails and easy walking trail variety.
With whom:
Your love. This is not a place you'll want to bring the whole family—no guests under the age of eighteen. If I were really tired and needed a solo retreat, I'd be quite content here with a few books and my hiking gear.
Memorable moment:
A real standout was the night I spent stargazing with my boyfriend. There is a resident astronomer on site who pointed out the constellations while we sat wrapped up in cashmere, a glass of California cabernet in hand. It was so magical; the closest night sky I've seen to the Omani desert and African bush.
Best time to go:
April through October* for the warmest weather and guaranteed prettiest days; winter months can be foggy and rainy, but we had bright blue skies and warm sun our whole stay, and loved the chilly nights for deep sleep. *If you prefer to be in the area and on property with less people around, I recommend a February/March trip and to avoid July and August. Big Sur is a micro-climate that changes daily. You'll very likely hit the sunny, clear skies for at least part of your stay.
Be aware:
There are not small towns nor many restaurants to drive to; no movie theaters or shops nearby. Think about just staying on property and going off on hikes to Pfeiffer beach and to a nearby restaurant one night. Carmel is 30 minutes away, but if you are at the property under three days, you'll most likely not want to leave.
Specifics
Room options:
The Inn's unique, modern cabins are all about the vistas. Choose an ocean view or mountain view when booking a room. All are made of glass, slate, marble, and wood, specifically designed to blend in with the environment. From the platform bed to the fireplace, each room exudes natural comfort and supreme luxury without being obvious. For views of the ocean, I recommend the Cliff House. For outstanding mountain views, try the Tree House, where the steps float mid-air.
Service & vibe:
Impeccable service; the staff is always respectful and available to assist in any way possible, yet are not obtrusive nor overt. Vibe: Quiet and serene marked by rustic elegance.
Food:
Sierra Mar, the Inn's ranch-style restaurant, is a great spot to hit during a stay. The menu changes daily, always featuring the freshest of California fare made with grass-fed meats, wild/organic fish and organic produce. Cliff top ocean view dining doesn't get much better than this, but do note that A) it is very expensive and B) the food is a bit more 'chi-chi' than some would expect in the setting (and more so than I would personally like). Their award-winning wine cellar has over 14,000 bottles and 2,600 selections. It was recently honored by
Wine Spectator
with its prestigious Grand Award, one of only three new recipients in 2012 to receive the honor.
Price per night:
Rates range from $595 (November-April) all the way up to $2,485 for the highest-end room during high season.
Experience it
To do & see:
Visit the community's many art galleries—Coast Gallery and Hawthorne Gallery are among my picks. Stop by the Henry Miller Library which is far from what you'd expect from a typical library, complete with a screening area, performing arts stage, museum, reading area, and of course, written works by local authors.
Sports & activities:
So much outdoor sport in which to take part. Try complimentary morning yoga or meditation, or go on one of the many stellar area hikes for the full Big Sur experience (guided nature hikes also complimentary). In addition, the Inn has a full fitness center on site where you can easily fit in a morning workout, as well as a heated lap pool for swimming (side note: there are also two beautiful cliff-top basking pools for a post-workout soak). The activities director will give you all the info you need to navigate the area and arrange for you to be driven to trail heads.
Spa & grooming:
The spa is a small, simple pleasure—redwood serenity infused with the scent of lavender. The expansive menu of services offers anything you could ever want. Try the Wildflower Facial or deep tissue massage. Treatments are also available in your room (indoors or outside on the deck).
Local Insights
To eat:
A casual, romantic dinner out (a driver from PRI will take you the five minutes away) is at the very charming and old-fashioned Americana road stop inn Deetjens. Each small room has its candlelit charm and the food is very good.
To buy:
Visit the Phoenix Shop whilst having a post hike drink or lunch at Nepenthe (great views and decent food). Also, don't miss the Post Ranch Mercantile shop, which is far more than a typical gift shop; plus the walk there is just lovely. (
Photo courtesy of Deetjens
)

Itinerary ideas:
Have Sierra Mar pack you a lunch and take one of the complimentary Lexus vehicles down the Pacific Coast Highway for a beachside picnic on Pfeiffer beach.
Getting there:
About 45 minutes away from Monterey Peninsula Airport. If driving from San Francisco or Los Angeles, check out the site's convenient
directions page
(and don't miss Seal Beach if driving up from the south).