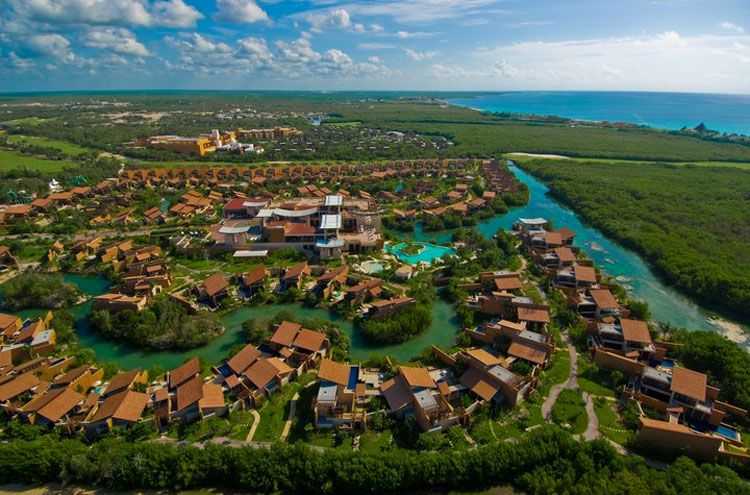 Photos: Rosewood Mayakoba/Banyan Tree Mayakoba
Mayakoba, a retreat nestled on Mexico's renowned Riviera Maya, is one of the world's most enchanting destinations. Carefully nurtured by a team of biologists, architects and designers, it's a natural wonder surrounded by picturesque lagoons fronting the ocean with a mile of stunning beachfront.
High-end hotels, a number of refined residences, and a spectacular 18-hole Greg Norman golf course are woven into the enclave's 1,600 acres. It's connected by six miles of freshwater canals surrounded by mangroves filled with a rich variety of exotic flora and fauna. Mayakoba's birdlife alone has been the inspiration for a number of books.
Travel between Mayakoba's two premier properties, the
Rosewood Mayakoba
and
Banyan Tree Mayakoba
, is easily accomplished by boat, adding to the sense of escapism. The incomparably elegant 128 all-suite Rosewood Mayakoba, reopened a few months ago following extensive renovations. A new category of connecting suites was created for those wishing to travel with families or larger groups; the resort's distinctive dining venues—Casa Del Lago Restaurant, Agave Azul Sushi Bar and Punta Bonita—were given a makeover; the fitness center at Sense, A Rosewood Spa, was expanded and a new series of treatments added; and several new on-property experiences were created.
The luxurious suites, carefully designed to harmonize with the alluring landscape with Yucatán limestone and renewable wood finishes, feature private plunge pools, rooftop sundecks, garden showers, individual docks and world-class amenities. From the moment you arrive on property, the Rosewood brand's exceptional level of service and hospitality is apparent: being handed a refreshing drink served on a linen cocktail napkin embroidered with your initials; being greeted by your personal butler and offered a number of tantalizing options for whiling away the afternoon and evening; and starting with a complimentary bottle of top shelf tequila, it's easy to imagine you're in a utopian paradise.
The award-winning Sense, A Rosewood Spa, situated on a private island, offers another kind of immersion in the local culture with a number of new treatments utilizing traditional Mayan techniques to revitalize the mind, body, and spirit. Features include a heated pool, saunas, steam rooms, Jacuzzi, cold plunge pool, secluded relaxation areas and a state-of-the-art gym.
Of course there's another side to relaxation, and no visit to the resort would be complete with at least browsing the shelves at Agava Azul's Tequila Library, which stocks over 120 varieties of the precious elixir. Recipient of the coveted AAA Five Diamond Award as well as a spot on
Condé Nast Traveler's Gold List
, the Rosewood Mayakoba is considered by many to be the Riviera Maya's most luxurious property.

Rosewood Mayakoba also offers a Culture Concierge to help guests take advantage of local attractions including important Mayan archeological sites and the Great Maya Reef, second in size only to the Great Barrier Reef. An on-property biologist also leads an EcoTour of Mayakoba's natural wonders, which provide plenty of opportunity for exploring in their own right. Guests might also spot a coati, anteater, alligator, or even an A-list celebrity; last year Topshop CEO Sir Philip Green flew 150 guests to the Rosewood Mayakoba to celebrate his 60th birthday, including Leo DiCaprio, Gwyneth Paltrow, Kate Moss, Naomi Campbell and Kate Hudson.
Also occupying a prime position in the Mayakoba enclave is the Banyan Tree Mayakoba, which uniquely offers an Asian-inspired approach to eco-friendly hospitality. Each of the property's 107 open-plan villas features a private pool and an artful mix of handcrafted Mayan furnishings and modern amenities. The main buildings' architecture manages to be dramatic and quietly awe-inspiring in a "lost city" way without intruding into the landscape thanks to the use of neutral tones, natural materials, lush landscaping, and water features. An Asian air of Zen calm pervades the property, with every aspect geared to the utmost in serenity.
One of the Banyan Tree Mayakoba's main attractions is Saffron, a true gourmet Thai restaurant in much more than name only. As one of Asia's premier resort companies, with five posh properties in Thailand alone, Banyan Tree knows a thing or two about Thai cuisine. Chefs are brought in directly from Phuket to create a contemporary menu of authentic dishes served in an incredible setting overlooking the lagoon and mangroves.
Three over-water decks offer intimate spaces for enjoying what many consider to be the Riviera Maya's best restaurant, also attracting diners from other properties as well. Saffron was also recently awarded the
Thai Select Premium Logo
for excellence in Thai cooking.
Though Saffron enjoys the most exalted reputation, it is only one of a number of dining choices at the Banyan Tree. In addition to in-villa dining, an option preferred by many who wish to take full advantage of the luxurious accommodations, the resort offers Ixchel, or "Goddess of the Moon." It is a private dinner boat where you can indulge in local and international dishes while calmly navigating the lagoon, tended to by a "culinary host."
Other restaurant options include Tamarind, a modern Mediterranean eatery; Oriente, the site of a bountiful breakfast buffet; and beach and pool bars. La Copa, an elegant rooftop bar offering small plates, is one of the best places to enjoy a cocktail on the entire Mayakoba reserve.

The Banyan Tree Spa Mayakoba brings the brand's world-renowned Asian therapies to the area. Utilizing their considerable resources to the fullest, Banyan Tree Spa therapists undergo formal training at Banyan Tree Spa Academies in Indonesia, Thailand and China before coming to work in Mayakoba. The Spa's signature Rainforest is a complete hydrothermal experience combining the best of European hydrotherapy and Asian wellness philosophy, while treatments like the Thai Herbal Detox and Javanese Lulur indicate their exotic origins.