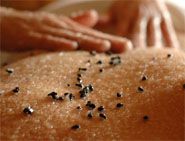 Luxury Spas & Trends:
Imagine soaking in a bath of organic essential oils, enriched with fresh, finely crushed grapes, overlooking sweeping views of some of Sonoma's most beautiful estate vineyards; or being massaged by expert hands with a potion of red grape seed extract, crushed grape seeds, red wine powder and pure grape seed oil. It's an exotic fantasy for wine connoisseurs, and you don't have to be a grape enthusiast to enjoy the unique perks of this luxurious spa.
The Kenwood Inn & Spa
is the first "vinotherapie" center in the United States to offer wine therapy, basing it's treatments on scientific studies from
Les Sources de Caudalie
in Bordeaux, France. With proof that potent antioxidants from grapes easily absorb into the skin, the oxidation process and aging is slowed substantially. Grape seeds are used to exfoliate, improving circulation and fortifying the skin. All massages use ultra-fine grape-seed oil for softening skin, maintaining elasticity and moisture.Honey, bentonite clay and wine yeast are used in body wraps, resulting in firmer, healthier skin. The menu includes exclusive treatments like the Crushed Cabernet Scrub, Merlot Wrap, Sauvignon Massage, and Wine Barrel Bath.
We're all aware that red wine is beneficial for the heart; imagine the vast benefits and the youthful glow that a little vino will reveal once applied to your skin. Bathe in a wine barrel, indulge in a warm thermal mask, relax and let a little red wine work its magic!
Vino-therapie is certainly a beauty secret worth discovering...
For LxM Sherry Martin