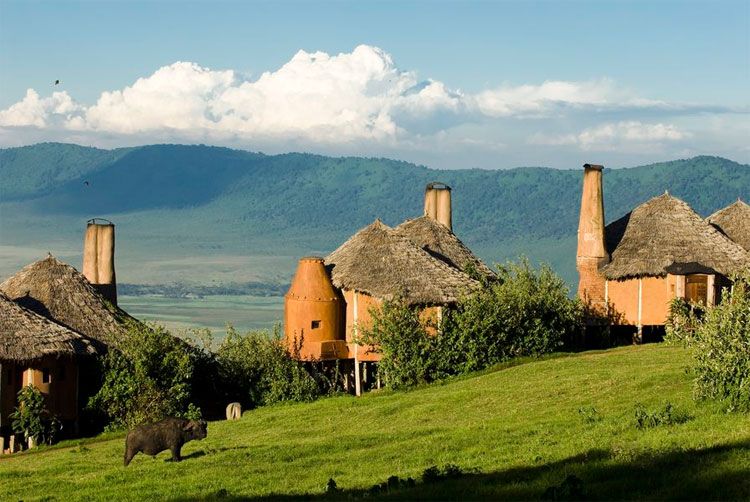 Photo Courtesy of &Beyond
If you think that taking an African safari might be roughing it, you haven't taken one with the South African company
andBeyond
. Sure, you may get a little dusty out in an open land cruiser on the Serengeti, but when you arrive back at camp and enter your enormous suite bathroom with its mahogany walls, stone floor, Oriental rugs and chandelier over the freestanding tub, you'll be put at ease by seeing that your personal butler has drawn your bath and surrounded your robe and slippers with rose petals.
Photo Courtesy of &Beyond
Sitting beside the bath inside our "cottage" at the
Ngorongoro Crater Lodge
in the north of Tanzania, was a bouquet of 56 fresh red roses. Of course, our butler has also lit a fire in the fireplace; the rim of the crater is 7000+ feet high, and it gets chilly at night here. Each suite or tent has its own diffuser hair dryer, a safe for valuables, rubber boots in case of rain, and "Gym in a Basket," with a yoga mat, weights and rubber rings and ropes in case you feel you're doing too much sitting on the game drives.
Photo Courtesy of &Beyond
Even before we reached the cottage, as we stepped out of the vehicle, staff members were there with a dampened cloth, cold or hot depending on the weather, so that we could wipe the grit from the bush off our fingers. And if your safari clothes have gotten a little soiled from viewing lions, wildebeest and zebras while out on the drive, leave them in a bag inside your suite and your butler will have them washed, ironed and returned to your room by the next morning.
Photo Courtesy of &Beyond
If you must have your morning coffee before breakfast in the dining room, your butler will bring it to you in bed. That's what butlers do in this rarified atmosphere that combines the world's most exotic big animals with elegant living arrangements. We thought a butler shined shoes and pressed your tux, but our shoes are canvas and our tux stays home while we're in Africa; even though the antiques, puddled raw silk draperies, teak paneling, formal dining rooms and crystal and linen accouterments at andBeyond lodges would seem to call for the traditional butler.
Photo Courtesy of &Beyond
Born-in-Africa Italian architect Silvio Rich designed the whimsical, Dr. Seuss-like cottages at Ngorongoro Crater Lodge, and South African interior designer Chris Brown mixed African art with a European mindset to create the mind-boggling décor. At andBeyond's Grumeti Tented Camp, the 10 tents—which are worlds away from your basic Boy Scout canvas lodging—have showers that allow you to look at the stars as you prepare for a dinner that may be set on a deck in front of the resident hippos who do their own bathing in the river.
Photo Courtesy of &Beyond
At Klein's Camp—another of the 37 properties of andBeyond—your personal veranda, and that of the dining room and bar, overlook the vast Seregenti plain where you can see elephants in the distance as you dine locavore-ly. andBeyond's motto, "Care of the Land, Care of the Wildlife, Care of the People," means that the company is actively supporting projects to protect the land and animals, as well as building schools and clinics in the neediest parts of Africa. The camps are in Maasai country, where only the Maasai people have been allowed to live because they alone exist in harmony with the animals.
Photo Credit: Julie Hatfield
Jackson Tumbagu, chef at Grumeti Tented Camp, prepares a new soup at lunch and again at dinner every day. His lunch menu one day consisted of chilled cucumber soup, pineapple soy pork chops, watermelon/avocado salad, fresh made bread, and paw paw lemon sorbet.
Photo Courtesy of &Beyond
At Grumeti Tented Camp, after a long day of finding cheetahs, hyenas and elephants, our ranger/guide drove to a particularly beautiful hillside overlooking miles of the Serengeti. He set out a portable table with a Maasai red plaid tablecloth for our "sundowners," gin and tonics at sunset. At Klein's Camp, on my son's birthday we set out on a safari walk with our guide Seleu who, knowing it could be dangerous, kept a .375 rifle, capable of killing an elephant, by his side as we started up the escarpment. On the way he showed us the plants and trees that the Maasai use as a natural pharmacy, making herbal teas and unguents from the leaves.
Photo Courtesy of &Beyond
After a half hour or so, thinking only about elephants, venomous snakes and vultures ready to pounce as we got to the top of the mountain, we saw instead a small table set with a silver ice bucket, a vase of flowers, a bottle of champagne, two glasses and a dish of raspberries. Happy birthday in the bush, Christian!
Photo Courtesy of &Beyond

You can also take a hot air balloon safari from Grumeti Tented Camp if you wish, but I'm happy to play in the infinity pool beside the hippos in the river doing their own swimming. Room prices per night at the andBeyond lodges go from $725 to $1550, and conservation, education and health projects are included in the price.