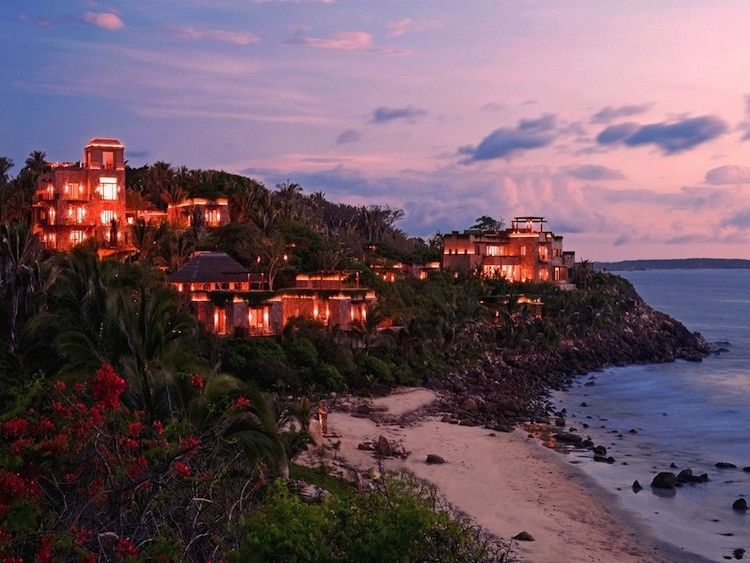 Photo Courtesy of Imanta
You could easily spend several years worth of winter vacations in Mexico without going beyond the confines of Cabo San Lucas, Cancun or the Riviera Maya. But to do so would be to miss out on some of the very best scenery the country has to offer. The Riviera Nayarit, stretching over some 200 miles of picture perfect Pacific coastline, arcs up over Puerto Vallarta—a convenient place to fly in to but best left to the cruise ship crowd. That includes over 190 miles of beaches and oceanic wonders, but also several lakes, rivers, mountains and rainforest well worth exploring.
Photo Courtesy of Riviera Nayarit
Punta Mita
And if its luxury hotels you're after, look into staying in Punta Mita, a pristine oceanfront oasis with two world-class golf courses and the stunning St. Regis and Four Seasons resorts. For a more intimate and even more luxe experience there's Imanta, the newest member of the famed Relais & Chateaux association of the world's finest hotels, an ultra-private, boutique retreat favored by celebs and royalty.
While Cabo and the Riviera Maya have more or less reached their zenith, Nayarit has incredible potential and much to discover off the hackneyed path; and more importantly the area's resorts haven't affected the authenticity of the place. Nayarit has come through the development of its various tourist attractions with its character intact, something few destinations of its caliber can claim. It's not a tourist theme park, but rather a surfer's and nature lover's nirvana where the natural attractions are highly prized and fiercely protected. There's an emphasis on an eco-friendly lifestyle that encourages careful consumption and low impact enjoyment of what Nayarit has to offer, which in no way makes it any less fun. The perfect climate means the focus is on the outdoors, where it should be. And the bounty of the ocean and the fertile land means a great meal is always ready to hand. While many places lay claim to being paradise, Nayarit's right to the title is legit.
Photo Credit: Jared Paul Stern
With amazing resorts like the St. Regis and Imanta encompassing incomparable bits of beachfront there is really no need to venture off property during your visit. But it would be truly negligent not to sample Nayarit's ample attractions. There are two towns you really need to see that embody of the area's inimitable laid-back seaside style: San Pancho (a.k.a. San Francisco) and Sayulita. Boutiques and restaurants abound, each one with a unique character that draws inspiration, ingredients and ethos from its surroundings. Local fishermen who have been plying their trade for centuries remain an important part of the community, supplying some of the freshest seafood we've had in years. Riding the waves or merely sitting on the beach eating ceviche are equally enjoyable activities, with or without a tequila chaser—this is agave territory, after all. Beauty is bountiful and there is more than enough of it to go around.
Photo Courtesy of The St. Regis Punta Mita
The St. Regis Punta Mita
Both towns are extremely easy to get to from Punta Mita, which lies like a precious gem about 10 miles north of Puerto Vallarta. The Marieta Islands, an oceanic national park patrolled by whales and other colorful sea creatures, is also within reach. The St. Regis Punta Mita Resort opened in 2008 and immediately established a benchmark in barefoot elegance. The resort features 120 artfully appointed guest rooms and suites, St. Regis' signature butler service, three great restaurants, three infinity pools with private cabana service, a state-of-the-art fitness center, private beach club, tennis courts, a posh St. Regis Remède Spa, along with access to the two Jack Nicklaus golf courses. The landscaping, with its lush palm trees and infinity pools languidly terraced to the alluring ocean, is some of the best we've seen anywhere. The luxurious amenities notable across all St. Regis properties are on offer here with just the right touch of local flavor, from cocktails to spa rituals.
Photo Courtesy of The St. Regis Punta Mita
The rooms and suites are situated in detached villas offering maximum privacy, yet still affording easy access to all the resort's luxe facilities. The 10,000-square-foot spa is infused with signature St. Regis flair, which means Champagne and truffles on offer in addition to massages and cleansing rituals. The spa features nine treatment rooms, a sauna and steam bath area, relaxation lounges including an outdoor palapa with calming pools and a state-of-the-art fitness center. The chic spa boutique offers several indispensable cosmetic items as well as some stylish accessories and local artisanal offerings. An ever-popular event is the signature St. Regis Champagne ritual, in which bottles of Veuve Cliquot are served to an always stylish crowd in the main reception area overlooking the terraced pools and swaying palms at sunset. Carefully crafted cocktails can also be had at beautiful bars indoors and out.
Photo Courtesy of The St. Regis Punta Mita
As at any St. Regis resort, their world-class dining is a must. The property has three key options ranging from casual to classy. The Sea Breeze Beach Club is the ideal spot for grabbing a bite in between pool and beach excursions. Las Marietas is casual elegance done to perfection, with an emphasis on authentic Mexican cuisine. And the resort's hallmark restaurant Carolina—decked out in black, white and silver—can compete with any oceanfront eatery in the world. Comfortable luxury is the rule of thumb here, with uncompromising quality and a AAA Five-Diamond Award to prove it. Signature dishes include tomato-scented toasted quinoa and black olive espuma with marinated cherry tomatoes, capers, sea salt, and fresh cheese powder; along with the duck pozole of duck breast and leg confit with braised corn, foie gras, garlic chips, oregano, and black truffle. The jewel box of a bar has the most sought-after spirits and the torchlit outdoor terrace that is as romantic as it gets.
Photo Courtesy of Imanta
Imanta Resort
Imanta Resort, which just joined the prestigious Relais & Chateaux collection, is one of the most amazing beach resorts anywhere on the planet, and one of the most exclusive with only 12 rooms, which are really more like private residences. Twelve years in the making, it opened four years ago but looks as if it has occupied its aerie overlooking the ocean for centuries. Imanta's indoor spaces are airy, contemporary and so aesthetically, effortlessly pleasing that the designer's hand is undetectable. It's a refreshing break from the tasteful yet contrived décor at certain high-end resorts where you can tell certain pieces were chosen by design committees and purchased by the truckload. Natural materials abound like wood, stone and fresh white cotton upholstery, touches of color and heartbreaking ocean views from huge picture windows and terraces. The suites are enormous, and so is the property; 250 unspoiled oceanfront acres with jungle, mountains, a private beach and a horse ranch.
Photo Credit: Jared Paul Stern
Imanta means "magnetic attraction" in Spanish, and that's exactly what it's got. The grounds are not groomed or manicured (which makes for a more raw experience), the service is impeccable but discreet, and the overall air is one of carefully tended privacy. The presumption at Imanta is that you are there to relax and enjoy the incomparable scenery, and over-solicitous staff bordering on obsequious, is not their style. Imanta's 250 acres adjoin the 160,000-acre Sierra de Vallejo, one of Mexico's most renowned Reservas Natural Protegidas (federal nature preserves) and one of Nayarit's key attractions, making it even more secluded and special.
Photo Courtesy of Imanta
As celebrities, royalty and some of the world's wealthiest people make up a fair share of Imanta's relatively small clientele, that buffer is much appreciated. Imanta's standard suites are an immense 1,900 square feet; it's top-drawer accommodations consist of master suites each offering three bedrooms, spacious living rooms and a chef's kitchen situated in private stone villas with infinity pools overlooking the ocean. They are as elegant and intimate as any A-lister could desire.
Photo Courtesy of Imanta
The apex is a private villa called Casona Jaguar, in reality a private mansion at 10,000 square feet, consisting of two master bedrooms, a guest room, library, living and dining rooms, a rooftop terrace with a jacuzzi overlooking the ocean, a private beach, a 65-foot infinity-edge lap pool, a state-of-the-art kitchen and outside grill. Should you possibly require anything else, Imanta also has a spa, gym, library/boutique and beach pavilions.
Photo Credit: Jared Paul Stern
There are two restaurants on the property as well as a rooftop bar called the Observatorio that boasts the best view in the area, hands down. Catch of the Day, on Imanta's private beach, is a casual dining option with the freshest of fresh seafood as the name implies. And its signature restaurant, Tupika, is everything that a resort of Imanta's caliber demands. The ever-changing menu highlights fresh, artisanal ingredients and is attuned to the seasons and the purest local products.
If you can't decide on which hotel to choose, you're in luck because since Punta Mita offers great weather year-round, you can make multiple trips and check out both resorts this year!