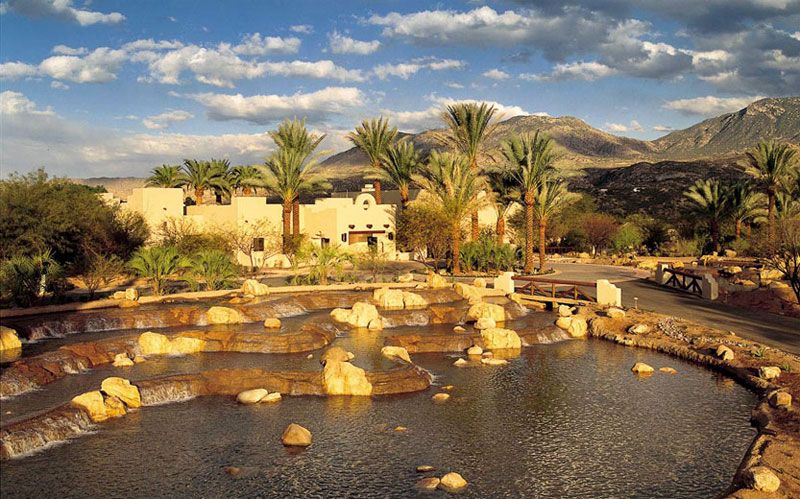 Photos Courtesy of Miraval Resort and Spa
"Expect Miracles," states a sign about half a mile from Miraval Resort & Spa in Tuscon, Arizona, the destination spa that has nourished the souls of more than a quarter of a million guests since its opening in 1995. It surely sets an expectation for the resort, even though the sign isn't affiliated with the property. Every time I run by this sign while out at Miraval though, I smile, finding how ideal a statement this is for the resort that has soothed and replenished guests for nearly two decades.
In 2012, Miraval unveiled its "Life in Balance Spa with Clarins" facility, a minimalism and sublime 16,000-square-foot spa, which continually gains media accolades and awards. Four years ago, I stayed in Miraval's modem villas designed by acclaimed Mithun Architects and Clodagh Design. When I approached the new spa on a warm Thursday afternoon, I nearly jumped for joy at the sight of the same distinct design aesthetic by Mithun and Clodagh.
The spa embraces "Life Enhancing Minimalism" and displays Clodagh's "four C's" that she introduced in her first book TOTAL DESIGN: Contemplate, Cleanse, Clarify, and Create. Natural elements of fire, wood, metal and sand blend seamlessly within the waiting areas and nooks of the spa, creating space to relax in timeless bliss. My favorite area was a quiet room, unadorned but with a modern fireplace and soft throws, which framed the stunning Santa Catalina Mountains from panoramic windows.
The spa's significant partnership with the #1 European skin care line, Clarins, also ushered in 30 new treatments, including the Anti-Aging facial, Mountain Berry Clay Renewal Ritual, and the Deep Moisture Rich massage. A year after the opening of the spa, another beauty luminary landed at Miraval: Deborah Lippmann, a globally sought-after manicurist. Lippmann's 350-square-foot parlor offers stellar desert views while top-trained manicurists, who often paint the nails of models for Bulgari, Balenciaga, and Valentino, buff away at tired toes.
Miraval entices its loyal guests, many of whom come year after year, with a constant line-up of new treatments. The Himalayan Sound Bath, just announced this February, uses sound therapy with healing bowls, guided by Master Healer Pam Lancaster. During my time in Nepal and Bhutan, I fell in love with the surreal swirling sound these bowls could produce, and I can just imagine the spirituality boost this treatment creates.

More than 90 complimentary activities are offered weekly at the property, and numerous additional courses can be enjoyed for a fee. Miraval's Challenge Course offers a rugged playground of poles, ropes, and wires within the solemn desert landscape. The Desert Sky Zipline Experience delivers a rush of freedom and fun as one sails over the desert floor. Miraval's Challenge sessions are specifically designed to push participants past their fears of height, trust, or confidence. In particular, the Zipline Experience pairs up participants, so those afraid to step off the platform know they have a "buddy" doing the jump in tandem. The Giant's Ladder course offers a more intellectual approach to facing a challenge, as teams have to contemplate how to reach the top of an awkwardly spaced 40-foot ladder, together.
For fellow photography lovers, the National Geographic Photography workshop starting this spring is an absolute must. The all-inclusive weekends include a private evening performance with a Navajo hoop dancer and Folklorico performer. Culinary inclined guests will appreciate Executive Chef Justin Cline Macy's new "Let's Get Saucy" and "Pasta Creation" courses, both aimed at interactively demonstrating how rich foods can be made into healthier versions.
Despite all the activities available and its luxury accommodations, the spa, which performs up to 250 treatments a day, is the true cornerstone of serenity at the property.