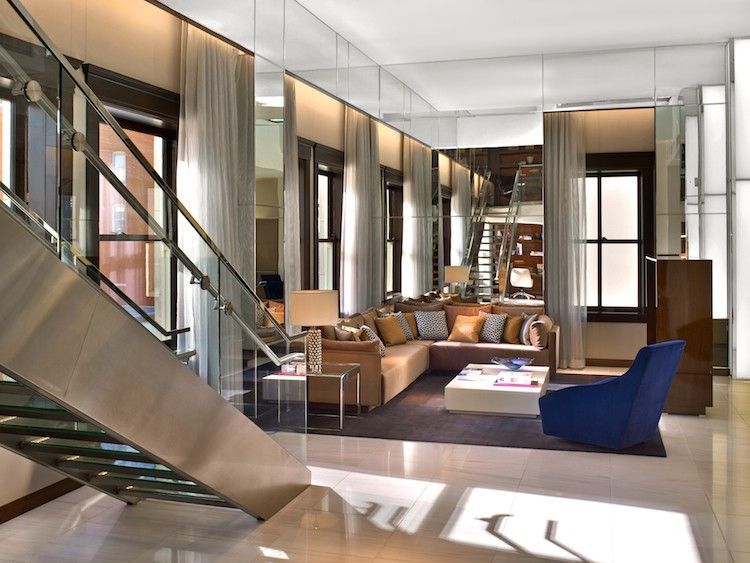 Photo Credit: Eric Laignel
When Hollywood types head to Dallas, they make a beeline for the five-star Joule Hotel. Not only is it the chicest place to stay, but it's owned by oil tycoon, real estate developer and movie mogul Tim Headington (The Departed, The Aviator, The Tourist and Hugo). The Joule recently completed a two-year $78 million revamp to make A-listers feel even more at home, and added three spectacular $10,000-a-night penthouses commanding movie-worthy views of the city.
Photo Courtesy of The Joule
The Joule, which first opened in the neo-Gothic 1927 Dallas National Bank Building, now occupies a compound of five adjoining buildings including the 1913 Scholar Building and a 1911 Salvation Army building. Famed designer Adam Tihany spearheaded the interior scheme of the renovated hotel, which gained an additional 29 guest suites, a rooftop garden terrace with a climate controlled pavilion, three new ballrooms and four new meeting rooms.
Photo Credit: Eric Laignel

The top floor penthouses feature two bedrooms, two and a half baths, a living room, library, dining room, kitchen, pool table and fireplace. Among the many changes were the additions of the 8,000-square-foot subterranean luxury spa by the UK's ESPA, eight boutiques including a Taschen book store, a museum-quality art collection and a new restaurant and lobby bar (to name a few). Rooms start at around $198 per night on weekdays.