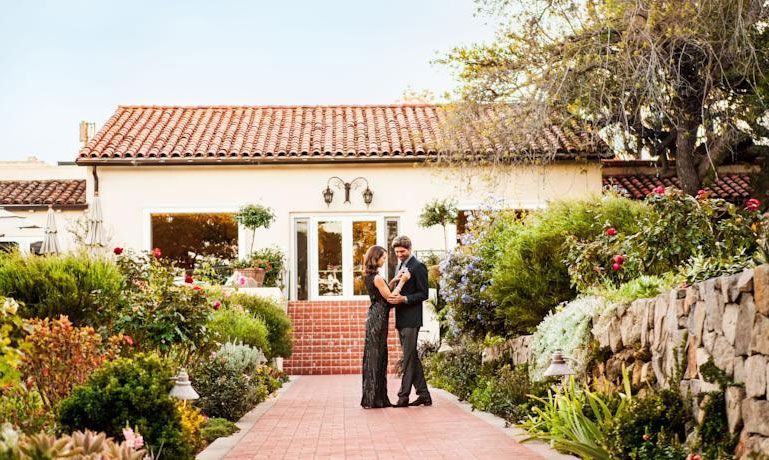 Photos Courtesy of The Inn at Rancho Santa Fe
Last summer, The Inn at Rancho Santa Fe underwent a $12 million restoration, and I recently took a trip to experience the hotel and some of its newest changes. With a tradition of guest serenity and personal attention, I found that the property's new spa and restaurant make for spectacular additions to its 12 acres of manicured grounds and pleasantly helpful staff.
Rooms and suites are presented with the comfort of everyday living in mind. The spaces come equipped with a number of sitting areas and tables to accommodate guests' needs whether enjoying a delivered breakfast on the patio or sipping fresh coffee from the in-room Keurig. Set against calming white walls and linens, the dark, distressed furnishings build an aesthetic tension that conveys a feeling of aged luxury.
Around the property, the neatly groomed grassy areas and lawn furnishings offer both serene moments and socializing opportunities at any time of day. Local flowers and winding paths make this small destination feel even more intimate. Likewise, as the sun sets and the in-room fireplaces get lit, a pleasant scent fills the air over the grounds.

Redesigned from the ground up, Morada restaurant has daringly dim lighting in the evening and large windows that filter in the warm sunlight during the day. Possibly more than any other facet of The Inn, the restaurant's atmosphere, supported by fireside dining and dark furnishings, shows just how much love went into the property's restoration. This is by no means hinting that there are problem areas within the hotel, but that Morada is a truly remarkable space (and that's without having mentioned its dishes).
Simply put, the plates are transcendent with menu options like Grilled Colorado Lamb Loin, Local Honey-Glazed Chilean Sea Bass, Braised Natural Short Rib Cassoulet and daily specials, making choosing a single plate a challenge in itself. Thankfully, our waitress was remarkably well informed and helped guide my choice.
Completely new to hotel is The Spa at The Inn. Furnished and decorated with light hues, the facility offers a vacation-from-a-vacation, so to speak. Its waiting area offers refreshments like coffee, tea and lemon water as well as an outdoor portion for those who want to enjoy San Diego County's unbeatable weather. Changing areas include any toiletries that a guest might need before or after treatment. During the spa's signature Rancho Santa Fe Massage, a pleasant citrus aroma fills the treatment room and, when combined with the stress-relieving strokes of the masseuse, my tensions were washed away and left me feeling physically refreshed and emotionally invigorated.
While I don't want to sound like I'm gushing over The Inn at Rancho Santa Fe, I can't help but praise the staff and the tranquil environments they have delicately crafted. For anyone looking to stay in the San Diego area, especially during the spring and summer months, I highly recommend this property and sincerely look forward to visiting again in the future.