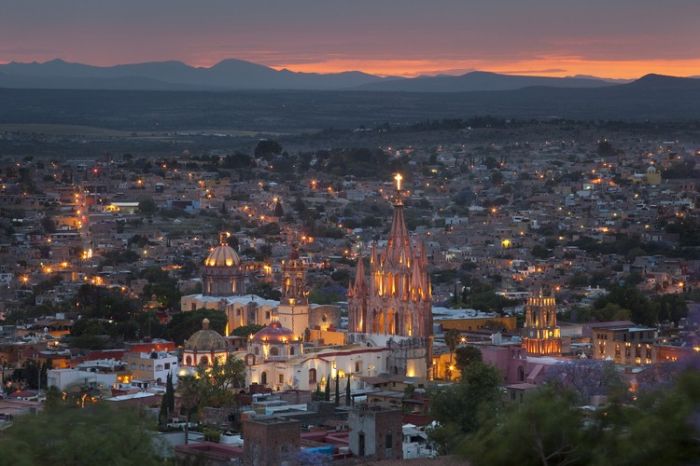 Photos Courtesy of Rosewood San Miguel de Allende
There's never been a better time to visit San Miguel de Allende. The historic town in the hills of the central highlands is renowned for its perfectly preserved Spanish colonial architecture (now a UNESCO World Heritage Site) and bustling arts scene. Around town, the large expat population makes the rounds appearing at endless openings, lectures and art classes. In this city, one of the country's finest luxury hotels, Rosewood San Miguel de Allende, opened near the town center in 2011 and has become a byword for elegant vacationing.
Designed in homage to Spanish colonial style in a harmonious complex of interconnected buildings, the hotel has just 67 spacious guest rooms boasting fireplaces, balconies and terraces overlooking the lush gardens. As with every Rosewood property, service is unparalleled and every request is facilitated. The resort offers every amenity, from a beautiful art gallery in its vaulted stone chambers beneath the main floor to Luna, the justifiably-famous rooftop tapas bar with heartbreaking views. It is also home to the iconic pink sandstone cathedral, as well as the best mojitos we've ever sampled, anywhere. Live music on some nights enhances the elysian experience, and there's no better place to watch the sun set.
The hotel also features a renowned restaurant, 1826, featuring Chef Victor Palma's masterful modern take on traditional Mexican cuisine. The Signature Sense spa offers locally-sourced ingredients in their treatments and the facility holds a sauna, massage rooms and best of all, a picture perfect outdoor swimming pool taking full advantage of the uncompromisingly beautiful weather. The Agua pool bar is great for cocktails and various snacks brought straight to your chaise as you lounge poolside. And if it's more activity you're craving, the hotel gym is fully equipped with state-of-the-art Technogym equipment, the very same used by Ferrari's Formula 1 team to stay in shape between races.
Rosewood's concierges will be more than happy to assist you in organizing any activity you desire, from ATV tours of the surrounding countryside to foraging for local gourmet items in the artisanal organic market which takes place on the hotel grounds every Saturday. However we have a few tips of our own for out-of-the-ordinary experiences on your excursion to San Miguel. To get properly acclimated, start off with a tequila and mescal tasting at the 1826 Tequila Bar, the Rosewood's cozy, leather-upholstered watering hole opening on to a stone terrace with a double fronted wood-burning fireplace for chilly nights.

With your new liquid courage, there are a couple activities unique to San Miguel that the brave-of-heart should really experience. The first is a bullfight, not terribly politically correct these days, but very firmly rooted in Spanish tradition. The fight takes place in the town's historic stone bull ring and are fought on horseback. Like a Goya painting come to life, it's operatic and breathtaking with vivid colors and some of the most amazing horsemanship and dressage anywhere on Earth. The second best view of the town, aside from Luna, is from the basket of a hot air balloon circumnavigating from above. Since much of San Miguel's beauty is hidden from the street in private courtyards, the balloon ride offers an amazing vantage point.
Charming architecture, alluring dining and a friendly staff make Rosewood San Miguel de Allende one of the top destinations in Mexico. And, of course, the country's warm climate and welcoming people are a huge part of the city's draw.