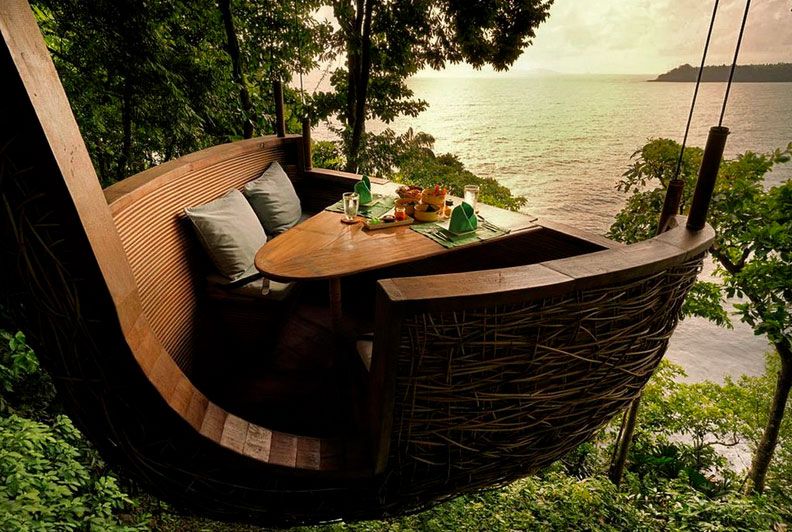 Photos Courtesy of Soneva Kiri
When Soneva Kiri resort says "al fresco dining," they really mean it; no seriously, like in a Swiss-Family-Robinson kind of way. Seated in a private bamboo pod, guests are invited to dine among Thailand's rainforest while strung high above the ground with 360-degree views. In case that wasn't enough, just wait until you watch your personal server deliver your meal via zip-line acrobatics.
While this is a pretty cool experience on its own, the rest of the hotel is also quite impressive. Set on the beautiful island of Koh Kood—about 217 miles southeast of Bangkok on the mainland—the resort sits amongst ancient rainforests and coconut palm trees in a largely undeveloped area of Thailand.
To get to the island, after arriving at the Bangkok airport, the property's private Cessna Caravan plane shuttles you to the resort. After hopping onto a boat, you're escorted to the property's entrance and, instead of heading to the lobby, are greeted with a drink and led straight to your villa. Thanks to an easy check-in procedure at the airport, there's no need to deal with the registration process; you simply arrive in your suite where you're reunited with your luggage.
Mixing the rustic feel of its surroundings and the chic amenities of a five-star resort, the hotel's one- to six-bedroom villas come with their own layouts, charming bamboo roofs and elegant Thai décor. These jungle hideaways are covered with elephant ear palms and lush green drapings that provide extra privacy for the outdoor showers. All rooms come with large terraces with sun loungers, swimming pools, telephones, espresso machines, tea and coffee making facilities, Wi-Fi, and an electric buggy for personal use.
Inside the guestrooms, organic cotton sheets dress the pillow-topped king-sized beds (mosquito nets included) that lookout onto the beautiful scenic landscapes of the island. Dark wood furniture and minimal colors pair with floor-to-ceiling windows that, as a whole, work together to create a true sense of place.

Along with the Treepod dining, the property offers six different restaurants and experiences to check out including an ice parlour and chocolate room (I'm sold). At Benz's, one of their fine-dining venues only open for dinner, Thai cuisine is served using only ingredients found on Koh Kood and neighboring Koh Chang. Crafted by Chef Khun Benz, the brilliant menu is due in part to his culinary talents and is matched perfectly with its open-air, lantern-lit atmosphere.
While the area is pretty remote, the resort does offer a host of activities to stay as active or as relaxed as you'd like. The Six Senses spa offers locally-inspired treatments and healing therapies such as Thai herbal baths, mud massages, warm oils of Ayurveda, silk facials, and wellness rituals. There are also experiences such as the Koh Kood Discovery Trip, half-day island tours, snorkeling, the So Sun Sea Safari, father and son fishing trips, mother and daughter spa days, or Cinema Paradiso private viewing parties with dinner.
The best time to visit Koh Kood is from around the beginning of November to the end of January when temperatures are relatively cool, mostly sunny and dry. Childcare and activities can be arranged for children during the days from ages five to 12, seven days a week. Rates range from around $1,400 a night to $9,500 for the six bedroom villa.