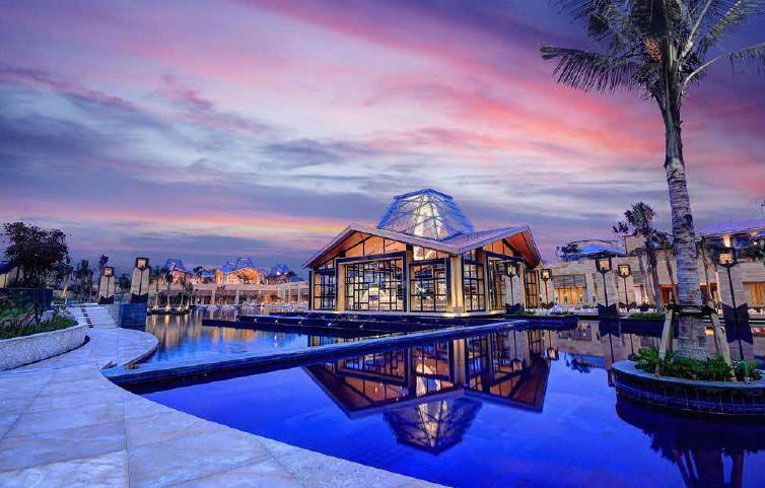 Photos Courtesy of The Mulia
It has been a rough few years for Bali. Once the premier luxury Southeast Asian beach destination for jetsetters and backpackers alike, the island suffered a downturn after the 2002 bombings (Eat, Pray, Love popularity notwithstanding), and a raft of new competing destinations like the Maldives, Koh Samui in Thailand and Danang in Vietnam began to grow in popularity. However, don't count Bali out just yet. The island still boasts some of the best beaches in the world, a rich history, stunning scenery in the mountains and jungles, and some of Asia's most exclusive luxury resorts, including newcomer, The Mulia.
Opened at the end of 2012 in the tony area of Nusa Dua on Bali's southern tip (but just a half-hour from the international airport), The Mulia is actually three resorts in one. The Mulia Resort is the largest with 526 traditional hotel rooms and suites, various restaurants, an events center and several pools. The Mulia Villas are 108 self-contained villas with one or two bedrooms (there's also a six-bedroom Mulia Mansion) for those looking for privacy, while The Mulia itself is a high-end boutique property with just 111 suites, each of which comes with butler service.
While families and longer-term travelers will probably prefer the villas, The Mulia, which actually opened slightly later in early 2013, is a better fit for a beach getaway thanks to the classic hotel amenities but the smaller scale that allows for a bespoke experience. Not only that, but while guests at The Mulia have access to all the facilities across the entire resort, guests at the other accommodations on the property do not have access to The Mulia, so the feel is more exclusive.
Upon check-in at The Mulia (accompanied by a refreshing scented towel and a glass of cold juice), guests are shown to their suite by a dedicated butler. All the suites include signature touches like 1,100-thread count bedding and 24-hour butler service (including unpacking and packing services if you so choose), a small sitting area with a divan and chair arranged around a coffee table and facing the flatscreen TV, a work desk for staying connected, and a spacious balcony with lounge chairs and an infinity spa tub. The walk-in closets are enormous, as are the bathrooms with dual vanities, a glassed-in shower and separate free-standing bathtub framed by a window with an Indian Ocean view.

But chances are you won't be spending much time in your room with so much to do around the hotel. To start, there are nine bars and restaurants across the resort. For casual dining, there is the all-day Café, where guests can choose from various cuisines at the multiple food stations placed throughout the large space. The resort's signature fine-dining restaurant is Soleil, where chef Corky O'Connor serves a Mediterranean-inspired menu of dishes incorporating many locally-sourced products including yellowfin tuna Carpaccio with foie gras toast and Ossetra caviar; and squid ink risotto with clams, calamari, fish and prawns. Those with a yen for sushi and teppanyaki can try Edogin. The resort also just debuted Table8, serving Szechuan and Cantonese Chinese food including decadent delicacies like Australian five-head whole abalone braised with wild mushroom. In the evening, Cascade Lounge at the Resort is the perfect spot for sundowners, while guests looking to party the night away need look no further than ZJ's Bar & Lounge, a night club right on-property.
For daytime relaxation, there is a choice of three main pools including the enormous beachfront Ocean Pool complete with semi-private sundecks and cabanas, plus dramatic Hellenized sculptures of Balinese women standing guard over the central area, as well as a private beach area with sunshades and lounge chairs to choose from.
However, if looking for complete relaxation, stop by the spa. Visits start with an ice-cold glass of sweet ginger juice and then guests can opt to head right for their treatment or to spend some time in the hydro-tonic pool suite. The room boasts a high-tech "emotional sauna" complete with programmable lighting effects (dubbed "chromotherapy" and meant to rebalance your energy), and aromatherapy steam shower functions. It also holds the Asia Pacific region's only ice fountain room for you to cool off in after a good, long steam and before a rigorous Balinese massage to work out all your kinks.
Though guests often find it hard to leave the property, the nearby beach at Uluwatu is one of the world's famous surf spots, and Kuta has cute boutiques and bars. And, every visit to Bali should include a day trip to the traditional village of Ubud's galleries, shops and museums about an hour from the resort. Once you return to the resort after a long day out exploring the island, there will still be plenty more places to lounge, dine and drink.