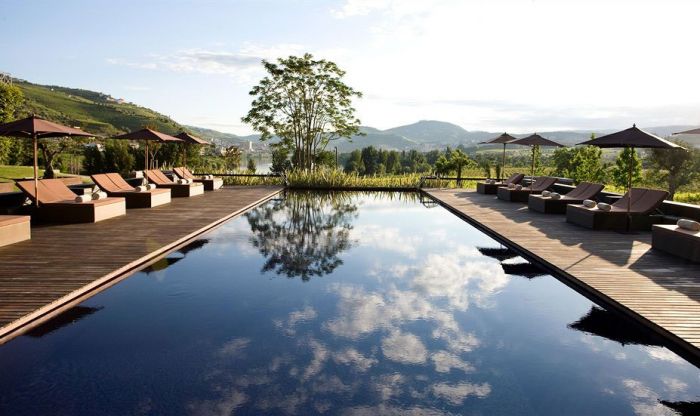 Photo Courtesy of Six Senses Douro Valley
I mean, c'mon, that view, that glistening pool, the cocktail that will undoubtedly be in your hand—don't act like you're not impressed by Six Senses' first European property. Located in the Portuguese UNESCO World Heritage area of the Douro Valley, the well-known spa brand is expanding in the region's wine country with an opening slated for spring of 2015.
With modern interiors juxtaposed against romantic 19th century architecture, the hotel will sit on 19 acres of land and will boast 71 guestrooms inclusive of suites, villas and one- to three-bedroom options. Surrounding the property, golden rolling hills give credence to the meaning behind Duoro's name which means sun-kissed. This region is among the oldest in the country and through its vineyard-sprinkled hills winds a sparkling river headed for the Atlantic Coast.
Photo Courtesy of Six Senses Douro Valley
Like any good wine country, special care will be given to food and beverage menus. Drawing from their own garden and the area's abundant fresh produce, both all-day dining and specialty venues will feature a contemporary take on Portuguese classics. They'll also be offering an interactive and instructional Wine Academy where guests can learn about varieties and styles by leading Portuguese winemakers and the resort's sommelier.
A 24,000-square-foot spa will hold 10 treatment rooms and will offer specialty treatments and multi-day programs based on a menu of locally-inspired therapies. One cool feature is the Six Senses Visiting Practitioner Program which will invite the world's best wellness experts and healers to the property for an even greater variety of treatments. Additional amenities include a heated outdoor pool and bar, an indoor pool, and a full-service gym.
Photo Courtesy of Dinozzaver/Shutterstock
Only 20 minutes from Vila Real Airport, the resort will also cater to helicopter arrivals at the nearby Quinta Romeneira helipad. This will be the brand's 12th property to join their portfolio. And dont' worry, we'll keep you updated on its progress so that you can be among the first to book, well, second to us.