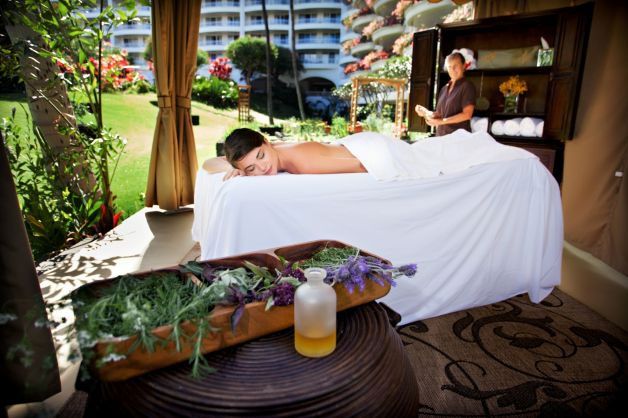 Photos Courtesy of Fairmont Kea Lani
Though the farm-to-table movement has long been a fixture on the fine-dining scene, luxury spas across the country are heading into the garden as well to harvest healing plants and herbs and incorporate them in innovative new treatments. Here is how four West Coast spas are taking advantage of nature's bounty to pamper their guests to the fullest.
Photo Courtesy of The Ritz-Carlton, Kapalua
The Ritz-Carlton, Kapalua — Maui
While most folks head to Maui for the surf and sun, all that saltwater and sunshine can leave the skin feeling dried out and damaged. So the spa at The Ritz-Carlton, Kapalua has developed a new facial treatment with kaffir lime leaf extract that has been harvested from the resort's own chef's garden (why stop at farm-to-table when you can also have farm-to-spa?).
The kaffir lime facial and scalp treatment begins with a soothing skin steam and gentle exfoliation using Éminence biodynamic products from Hungary, then continues with a deep moisturizing masque and refreshing scalp massage using the leaf extract. The essential oils and antioxidants found in citrus ease the fine lines caused by sun damage, promote healthy hair growth, and leave the skin feeling soft and dewy along with an application of coconut oil. It's the perfect way to end a trip to Maui looking your best without sacrificing fun in the sun.
Photo Courtesy of Fairmont Kea Lani
Fairmont Kea Lani — Maui
At its newly rebranded Willow Stream Spa, the Fairmont Kea Lani is also inviting guests to forage their own wellness these days with all-new garden spa experiences this summer. Guests can now book treatments in the facility's Garden Spa Cabana that incorporates herbs grown in the resort's own chef's garden. With a choice of rosemary, lemongrass, lavender, sage and four types of basil, there is an aroma-therapeutic fragrance for everyone.
Once the guest has made their choice, their therapist will infuse it into a customized massage oil or exfoliating scrub to use during the treatment. This new ritual is part of two unique spa treatments performed only in the Garden Spa Cabana. The first is an herbal infusion massage customized to each guest's needs. The second is a natural body refresh that begins with an herb-infused body polish and continues with a hydrating essential oil application that is massaged into the skin, before ending with a foot and scalp pressure point massage, all of which leave you rejuvenated and refreshed.
The spa here was recently reopened after an over $8 million renovation, and features new elements such as a Vichy shower with infrared light technology, spa showers inspired by the various rainfall Maui experiences, and a new soothing mud bar. Who needs the beach?
Photo Courtesy of Farmhouse Inn
Farmhouse Inn — California
The entire ambiance at the rustic-luxe Farmhouse Inn in Northern California's Russian River Valley is inspired by farm culture and produce, and now that extends to its new "farm-to-table" (get it, the massage table?) spa as well. Opening in September, the new facility was created in partnership with spa consultancy Francis & Alexander.
Treatments here will incorporate all kinds of local products, including those grown on the property itself. Spring forest honey is infused into a ginger massage oil that stimulates the immune system and revitalizes the skin. Lavender grown in the hotel's garden is used in a body butter for massages and facials as well as a lavender-orange hair and scalp therapies while organic grape seeds from local wineries enrich nourishing skin treatments. During apple season, heirloom cider varietals from Farmhouse Inn owner Catherine Bartolomei's own orchard are grated and steeped with chamomile then made into soothing sachets for the spa's "apple of the eye" treatment.
Guests can choose their own essential oils, lotions and serums—distilled right at the hotel in a special copper still—from the spa's new Apothecary Bar Cart, as well as fruit scrubs and all-natural herbal soaps and bath salts. The signature Roll in the Hay is a couple's treatment that begins with an invigorating mocha scrub that smooths the skin followed by an outdoor rinse. After that, it's a relaxing recline along an herb-filled body pillow while alfalfa hay is rolled over the body. Then a relaxation session accompanied by fresh fruit and a couple's massage using an aphrodisiacal Lover's Lotion blend completes the therapy.
Photo Courtesy of The Ritz-Carlton, Los Angeles
The Ritz-Carlton, Los Angeles — California
The Ritz-Carlton, Los Angeles developed its Garden-to-Glamorous spa menu last year and incorporates California's agricultural bounty to comprise an array of unique, seasonal treatments that can only be enjoyed at its spa.
Summer means stone fruit, so now through the end of August, patrons can enjoy both a peach Bellini manicure and pedicure, and the peaches and cream body treatment. Both take advantage of the high levels of vitamin C found in peaches that nourishes the skin, brightens the complexion and leaves it refreshed and rehydrated after a day in the summer sun. The body polish begins with a full-body scrub performed with a sugar-salt exfoliant and fresh mint and peach extract derived from fruit grown on the hotel's rooftop garden. Then comes the ginger-peach crème massage for that soothing summer glow.
Perhaps even more relaxing? Guests will be treated to a choice of either freshly blended peach smoothies or classic peach Bellini's.