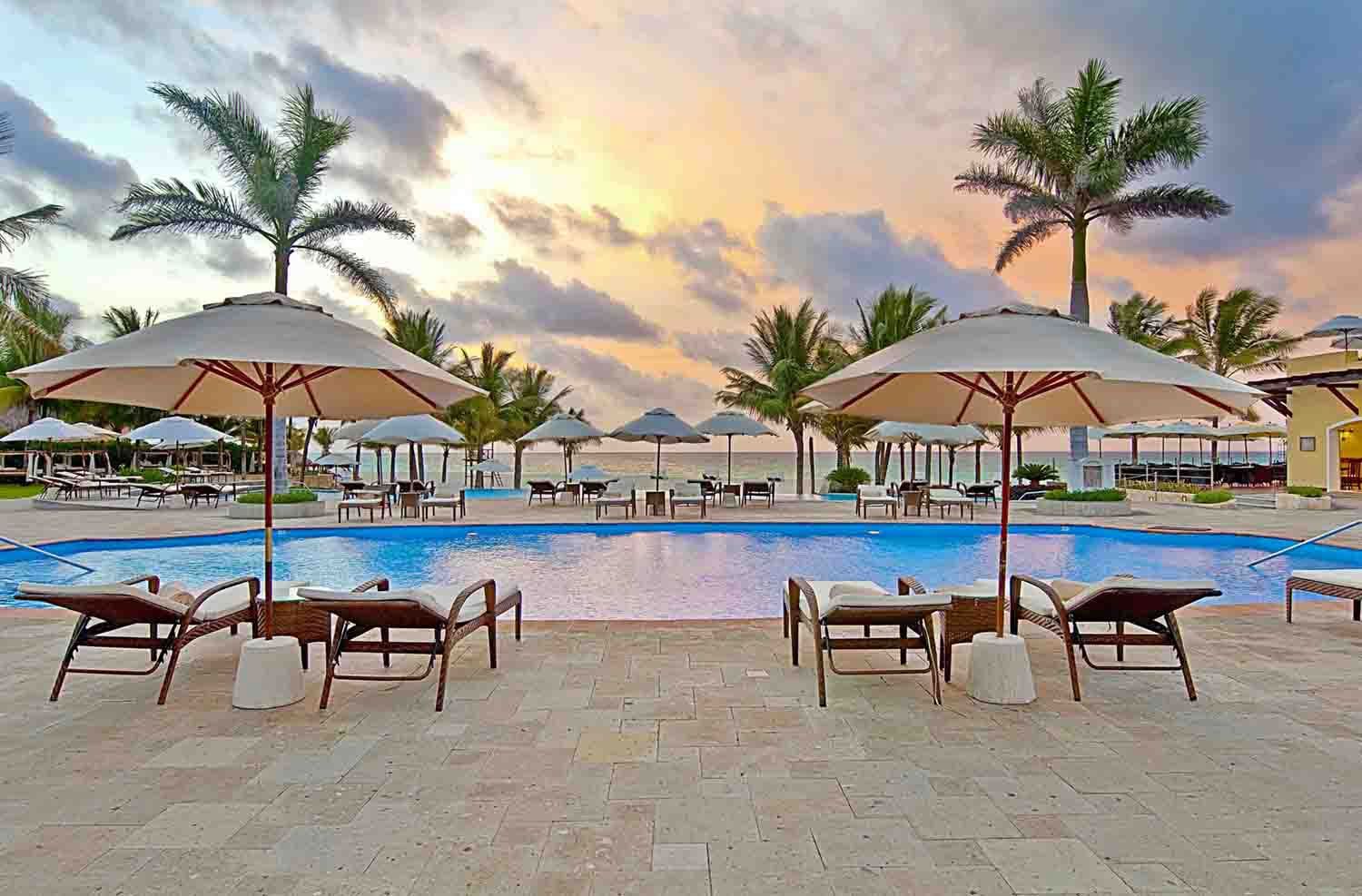 Photos Credit: Royal Hideaway Playacar
It's kind of a coming-of-age awakening when you first venture outside the hectic city of Cancun in search of a more grown up resort experience on Mexico's Caribbean coast. And if you value classic luxury, service and style, you will most likely find yourself at the Royal Hideaway Playacar. Part of the Occidental Hotels and Resorts collection is an adults-only, all-inclusive resort.
First opened in 1998, the property was able to occupy a large piece of prime beachfront real estate in a way that is all but unthinkable today. Set on 13 landscaped acres in Playa del Carmen just 45 minutes south of Cancun, it's a member of the Leading Hotels of the World and was one of the first Mexican resorts to win the prestigious AAA Five Diamond award.
Rather than packing everything into one building (the way more space-starved properties do), the luxe accommodations at the Royal Hideaway Playacar are spread out around the property. Elegant two-story villas are designed in Mexican-colonial style, giving them each a sense of privacy and poise. Each villa features its own concierge, furnished terraces, marble baths with hydro-massage tubs and rich carved dark wood furniture.
Visit once and you are likely to return, the resort features a 36 percent repeat guest rate. One of the main draws is the attentive, gregarious staff of more than 400 which translates to a 2.2 staff to guestroom ratio, a reminder of a bygone era of luxury. Because of the high staff ratio, waiters, beach attendants and maître d's always have time to chat. At the beach and pool, some even take the time to truly socialize and join in games, promoting a much more relaxed atmosphere.
There are no fussy little wristbands or lower levels of service which can make you feel like branded cattle or a second-class citizen at some properties. We were particularly impressed with the classic architecture and its elegant spaces. Everything is done on a grand scale, which serves to elevate even the simple act of eating breakfast. Another relaxing touch is that you are never asked to sign a guest check—after all, why go to an all-inclusive resort if you still have to count pennies?
Around the property, travelers can enjoy a selection of recreational activities including scuba diving, cooking classes and live entertainment. The hotel has six refreshing swimming pools, including a main location by the beach club and smaller, more private ones for the guest villas. The Retreat by Royal Hideaway, the resort's signature spa, features the western hemisphere's only Thalasso/Marine Care Center designed by French Thalassotherapy expert Thalgo. It also boasts a fitness center, spa pool, steam room and sauna. The spa features skin care and spa products from Spain's renowned Germaine de Capuccini.
When it comes to taste, however, there's no topping the six different culinary destinations offered at the resort, including the acclaimed Japanese and Thai fare at Azia and al fresco Italian at Palazzo. Las Ventanas, the resort's signature restaurant, is where the extremely-talented and personable Executive Chef Eugenio Villafaña holds sway to the delight of guests. And the most exclusive experience of all is Villafaña's Chef's Table, a private perch inside the kitchen where the cuisine compares favorably with the likes of The French Laundry and other top tasting menus around the world.
Twelve-plus courses paired with fantastic wines are designed and presented by Villafaña and his talented team. Unlike other Chef's Tables, Villafaña's is not an afterthought or a gimmick to overcharge tourists. His fame is justly increasing daily, and Chef's Table reservations are taken far in advance. The unique gourmet and sensory experience includes both time-honored and modern gastronomic techniques, with just the right amount of showmanship. Villafaña understands that smoke and molecules can't compensate for dishes that are lacking in gustatory integrity. Some of the sensational concoctions we sampled included Foie Gras My Way with Xocolati chocolate, nopal cactus, corn and fig; and Hot Spoon black chilpachole soup with duck breast, chayote (a species of edible gourd) and chile de abrol. Paired wines ranged from Möet & Chandon to Monte Xanic Calixa Cabernet–Syrah and Mexico's Valle de Guadalupe.
The resort in its own rite is one of most elegant, pleasant and relaxing places to stay anywhere on the Caribbean. With Villafaña's talents added on top of that, it becomes a truly exalted experience, one to satisfy the most spoiled traveler, and the most demanding gourmand.